Prosciutto-Wrapped Shrimp with Bourbon Barbecue Sauce
Wow, it's been 9 months since I've posted on my blog. Sadly, I didn't really miss it. I'm not sure at this point if I'll begin to post more again, or if just on occasion I'll post some recipes I really like. Time will tell.
Today is Christmas Day, 2013. It's hard to believe how fast this year has gone by. It's been a busy year. This Christmas I feel especially blessed for the travel that Scott and I have been able to do. We visited California wine country in February and in April/May spent almost 3 weeks in Paris. For our Christmas lunch/dinner, I decided that we'd celebrate with some of the wine/spirits we have brought back from our trips.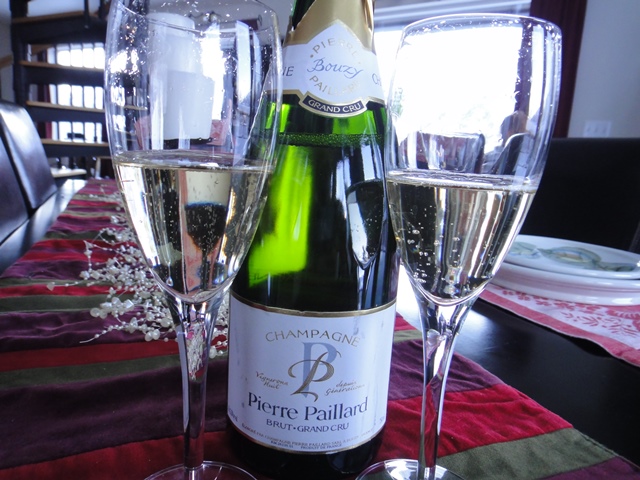 Our day didn't go exactly as planned, as we were too full to enjoy all of the food I planned, so I didn't end up cooking it all. Here's what the original plan was:
Lunch-
Prosciutto-wrapped Shrimp with Barbecue Sauce
Cheese Soufflé
Salad with apples, pecans and a mustard vinagrette
Black Magic Cake with Butterscotch filling and Cream Cheese Icing
Served with a bottle of Champagne we brought back from France
Dinner-
Salmon Rilletes with crusty bread
Corn Potato Chowder
Biscotti served with Vin Santo we brought back from Italy
We started with just coffee and a few cookies for breakfast. We weren't very hungry and the dishes were taking longer to prepare than I thought, so brunch turned into a late lunch. The shrimp were delicious and I will be serving those again. Easy to make. You could make the barbecue sauce up to 3 days ahead and also prep the shrimp the night before. I'll share that recipe with you here today. The cheese soufflé, a Classic French soufflé made with Gruyere cheese, was also delicious. Perfect with the salad. And the cake? Over the top. The soup wasn't made, so dinner was the salmon. Another recipe I really enjoyed. Much lighter than the salmon dip I thought it would be like.
So, here's the recipe. This was in the December issue of Food & Wine. Sorry about the poor quality of the photos. The light this time of year is low and no sunshine in our house for a couple of months. My special lights were all stowed away, so you'll just have to make believe these pictures are so good that looking at them makes your mouth water.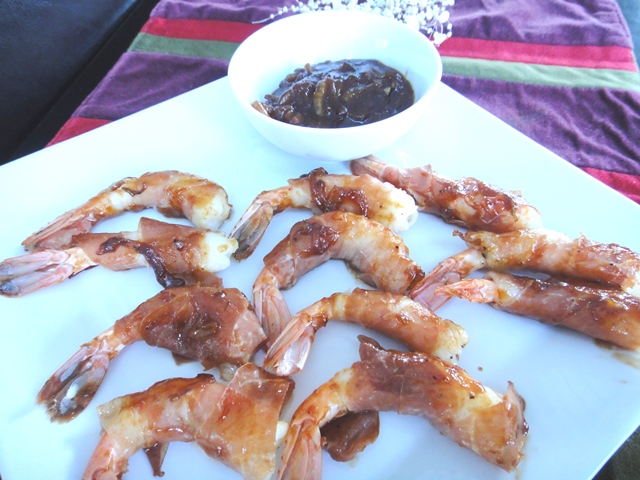 Proscuitto-Wrapped Shrimp with Bourbon Barbecue Sauce Makes 24 shrimp
Adapted from Food & Wine
Barbecue Sauce-
1 tablespoon exta-virgin olive oil
1 medium onion, halved and thinly sliced
1 teaspoon chopped rosemary leaves
1 teaspoon chopped garlic
2 tablespoons bourbon
2 tablespoons brown sugar
1 tablespoon Dijon mustard
1 tablespoon apple cider vinegar
1/2 cup prepared barbecue sauce, preferably a less sweet brand
Dash of Worcestershire sauce
Dash of hot sauce
Salt and freshly ground black pepper
Shrimp-
24 extra-large shrimp, shelled and deveined, with tail left on
1 tablespoon extra-virgin olive oil
Salt and freshly ground black pepper
12 slices of Proscuitto, halved lengthwise
2 tablespoons flat leaved parsley
1. Make the barbecue sauce. In a medium skillet, heat the olive oil. Add the onion and rosemary and cook over medium heat, stirring occasionally, until the onion begins to brown, about 6 minutes. Add the garlic and cook until softened and fragrant, about 5 minutes. Stir in all of the remaining barbecue sauce ingredients and season with salt and pepper. In a food processor, purée the sauce until smooth. Transfer the sauce to a bowl. (Really, the recipe calls for pureeing this? How did I not see those instructions until just now? I thought that was strange for them to have you leave the onion in slices, but that's what I did and it worked.)
2. Prepare the shrimp. Preheat the oven to 400 degrees F. In a medium bowl, toss the shrimp with the olive oil and season with salt and pepper. Wrap each shrimp in a half slice of Proscuitto and lay on a rimmed baking sheet. Brush the shrimp with some of the barbecue sauce and arrange them 1″ apart. Roast the shrimp for 5 minutes. Turn the shrimp over, brush with more barbecue sauce and roast about 5 minutes more. Transfer the shrimp to a platter and sprinkle with chopped parsley. Serve with any remaining barbecue sauce for dipping.
Enjoy!