French Country Dinner by the Fireplace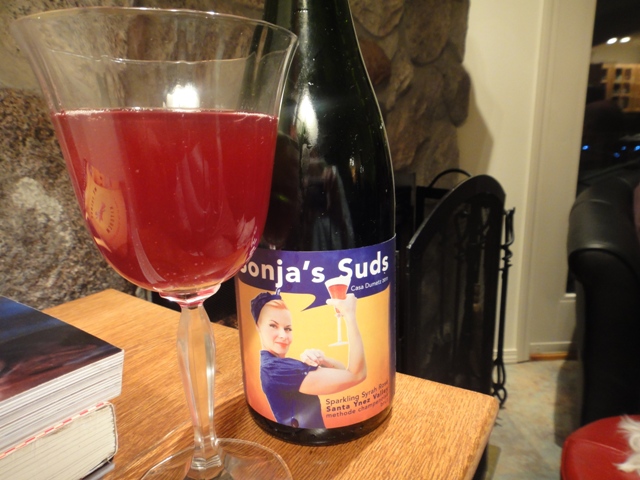 Last night, I was feeling a little (okay, a lot) blah, and I decided to try to cheer myself up by making a simple French country dinner to have in front of the fireplace with my husband. Good food often has a way of cheering me up. And good wine also. I thought I'd open a bottle of Sonja's Suds, a wine I had brought home from our Los Alamos, California trip.
Sonja's Suds is from Casa Dumetz Wines. Their tasting room, called Babi's Tasting Room, is right on the main road in Los Alamos. Sonja's Suds is a sparkling syrah rose. It was a small batch production; only 75 cases were made. Drinking sparkling wines always add a touch of fun to the drink. This wine is not only fun to drink, but delicious also!
Casa Dumetz was started by Sonja Magdevski. Sonja is an adorable, bubbly blond lady who happens to be engaged to Emilio Estevez. They have their own vineyard in Malibu, but most of the grapes used for their wines are from Tierra Alta Vineyard in the Santa Ynez Valley. She makes a variety of wines, including Gewurztraminer, Viognier, Syrah, 2 kinds of Grenache, and the sparkling syrah. Her wines were so good we brought home over a case and had her ship another case to us. Happy me! To read more about Casa Dumetz wines, click here for their website.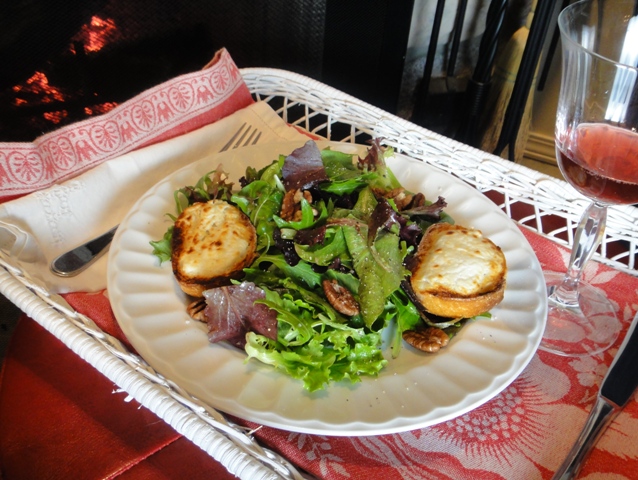 Back to the dinner. I started us off with a typical French salad – green salad with goat cheese toasts. Make a simple vinegrette of red wine vingar, Dijon mustard, grainy mustard, and olive oil. Set aside, and make the goat cheese toasts. Cut a couple of slices each of a baguette, spread a soft goat cheese on top, and place under the broiler until it all begins to brown. Toss mixed greens with a little of the dressing, top with toasted walnuts (or if you're like me and out of walnuts, substitute pecans) and top with the toasts. Yum!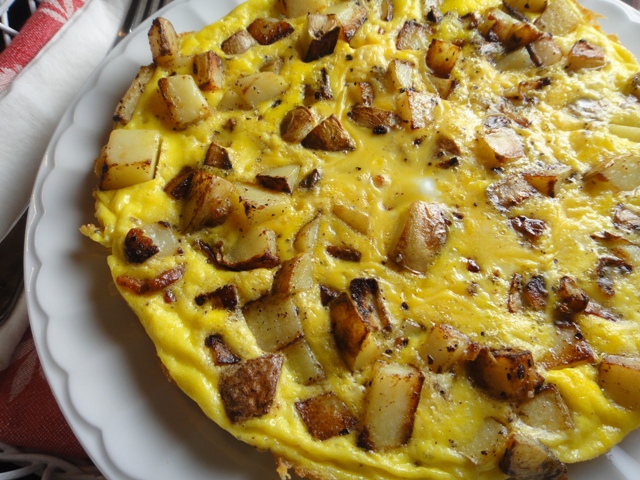 Our entree was a Country French Omelet. I didn't want to cook fish last night, and wanted to use ingredients I had on hand. The recipe is an Ina Garten recipe which was found on the Food Network website.
Country French Omelet Serves 2
1 tablespoon olive oil
3 slices thick-cut bacon, cut into 1-inch pieces
1 cup (1-inch-diced) unpeeled Yukon Gold potatoes
Kosher salt and freshly ground black pepper
5 extra-large eggs
3 tablespoons milk
1 tablespoon unsalted butter
1 tablespoon fresh chopped chives
Directions
Preheat the oven to 350 degrees.
Heat the olive oil in a 10-inch ovenproof pan over medium heat. Add the bacon and cook for 3 to 5 minutes over medium-low heat, stirring occasionally, until the bacon is browned but not crisp. Take the bacon out of the pan with a slotted spoon and set aside on a plate.
Place the potatoes in the pan and sprinkle with salt and pepper. Continue to cook over medium-low heat for 8 to 10 minutes, until very tender and browned, tossing occasionally to brown evenly. Remove with a slotted spoon to the same plate with the bacon.
Meanwhile, in a medium bowl, beat the eggs, milk, 1/2 teaspoon salt, and 1/4 teaspoon pepper together with a fork. After the potatoes are removed, pour the fat out of the pan and discard. Add the butter, lower the heat to low, and pour the eggs into the hot pan. Sprinkle the bacon, potatoes, and chives evenly over the top and place the pan in the oven for about 8 minutes, just until the eggs are set. Slide onto a plate, divide in half, and serve hot.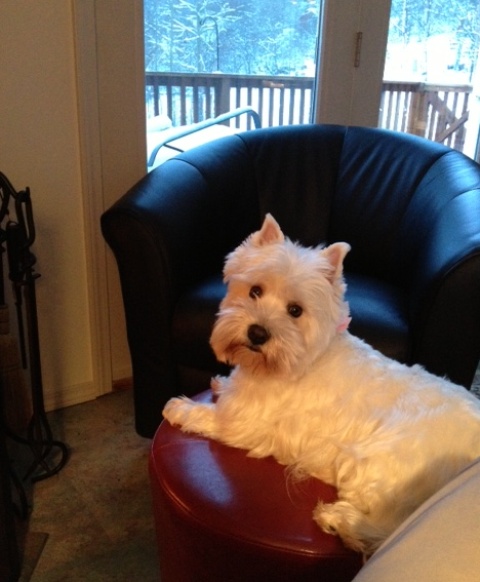 We had a very nice evening, and even Bella loved joining us in front of the fireplace.
.