m. jacques' armagnac chicken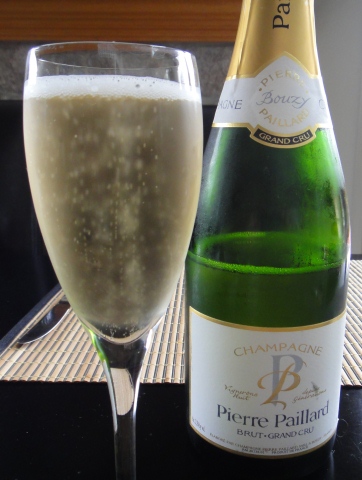 Today was Labor Day. I was off work for 3 days in a row. We had originally planned on going out on the boat, for probably what would be the last trip of the season, but the weather didn't cooperate – the seas were calling for 6 foot, so we were not able to go. That left us to think what else we might want to do over the long weekend. We had reservations at doggie day care to board our dog, so going out of town could have been easy. But the weather was not pleasant this weekend. Cold, rainy, and extremely windy. So we chose to stay around the house and do some chores that we hadn't completed this summer. For me, that meant cleaning out some closets and drawers. Although I'm not through, I threw away 4 trash bags and have 3 to dontate to charity. Not bad. I think I'm feeling good about that, even though I won't feel completely good until we start working our way towards cleaning out our full crawl space.
Anyway, on to cooking. Tonight I wanted to make us a nice dinner of a local chicken I had purchased earlier in the year. I thought I'd roast the chicken, and open a bottle of champagne that we brought back from Paris in April. We did a wine and cheese tasting at O Chateau, and our sommelier was from a 8th generation family of champagne makers, Pierre Paillard. We tasted the champagne during our tasting, and I really liked it and decided to bring back 2 bottles to help us keep our Parisian memories alive.


We started off with a simple cauliflower soup. I just steamed cauliflower until tender, then pureed it along with salt, pepper, a garlic and onion powder, half and half, and 1% milk. Then I topped it with a little Italian cured beef (which the name of is escaping me right now).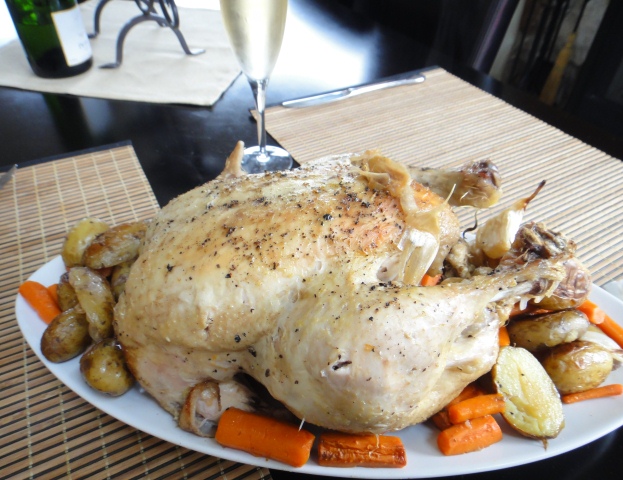 For the chicken, I decided to make m. jacques' amagnac chicken, from "Around My French Table" by Dorie Greenspan. I had made the recipe once before, so had some armagnac on hand. I don't tend to drink Cognacs, so I might as well cook with this $50 bottle that I previously had to have a liquor store special order for me.
The results were delicious, and this is such an easy dinner to make. Place the chicken along with potatoes, carrots, onions and garlic, and some fresh herbs, in a heavy casserole. Pour the cognac over, place in the oven, and about an hour later you have a fantastic dinner waiting for you.

M. Jacques' Armagnac Chicken
Makes 4 servings
Adapted from "Around My French Table" by Dorie Greenspan
1 tablespoon olive oil
8 small thin-skinned potatoes, scrubbed and halved lengthwise
1 medium onion, halved and thinly sliced
1/2 head of garlic, cloves pulled off and smashed lightly
5 carrots, trimmed, peeled, and thickly sliced
Salt and freshly ground pepper
2 sprigs thyme
2 sprigs rosemary
2 sprigs sage
1 chicken, about 4 pounds, preferably organic
1/2 cup armagnac
Center a rack in the oven and preheat the oven to 450 degrees F.
In a large heavy casserole with a tight-fitting lid, place the chicken, breast side up. Rub with the olive oil. Season with salt and pepper. Place the herbs and garlic inside the cavity of the chicken. Place the vegetables in the crevices around the chicken, and pour the armagnac around. Place the lid on the pot, and place in the oven.
Roast undisturbed for 60 minutes. Check at that time to make sure the chicken is done. Transfer to a platter along with the vegetables. For gravy, thicken the pan juices with cornstarch or flour over low heat (add up to a cup of water if needed), then strain.
Serve the chicken along with the vegetables and gravy.
For dessert, we had a wonderful Zucchini Cake with Lemon Glaze, which I'll post about in a couple of days. It was a nice ending to a long Labor Day weekend.