Sauteed Greens Braised in Mustard Broth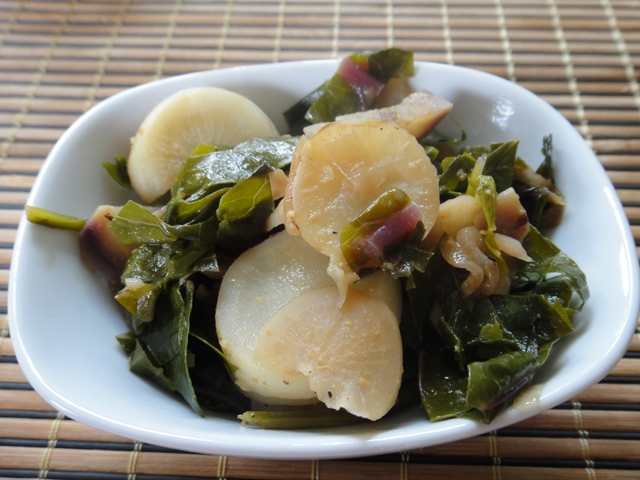 I don't know if it is quite this way in other parts of the country, but here in Alaska if you belong to a CSA or visit the farmer's markets and are trying to eat locally and seasonally, it means you will be eating a lot of greens. And saying a lot is putting it mildly. I belong to one of the few local CSA's and every week my bag contains mostly greens. Turnip greens with beautiful little white turnips attached, beet greens, bok choy, chard, kale, radish greens, etc. etc. So I'm always looking for a new way to cook them besides just sautéing in olive oil and garlic. I adapted this recipe that was given to us by the CSA. The braised greens are made delicious by being simmered in a chicken broth flavored with Dijon mustard. And topping anything with toasted nuts is only going to make it better.
Both my husband and I really enjoyed this dish and I've been serving it weekly now. Give it a try if you're trying to add more nutritious greens to your diet.
Sautéed Greens Braised in Mustard Broth
1 tablespoon olive oil
1 shallot, chopped
1 clove garlic, chopped
1 teaspoon red pepper flakes (to taste)
1 bunch greens, washed, stemmed, and sliced ( you can use turnip greens, book Chou, beet greens, or any combination)? You can include the turnips if you have them also.
Freshly ground black pepper
1 tablespoons Dijon mustard
1/2 cup chicken stock
1/2 cup chopped pecans, toasted
Heat olive oil in large skillet over medium heat. Add shallot, garlic and red pepper flakes and sauté until tender. Add the washed and cleaned greens. Mix together. Cook until they have wilted down, about 3 minutes. Add pepper to taste.
In a small bowl, whisk the Dijon mustard with the chicken stock. Add to the wilted greens and cook until the liquid has all but evaporated and the greens are tender. Add the toasted pecans and serve immediately.