Baked Halibut in a Saffron Broth over Mashed Potatoes with a Tomato and Black Olive Ragout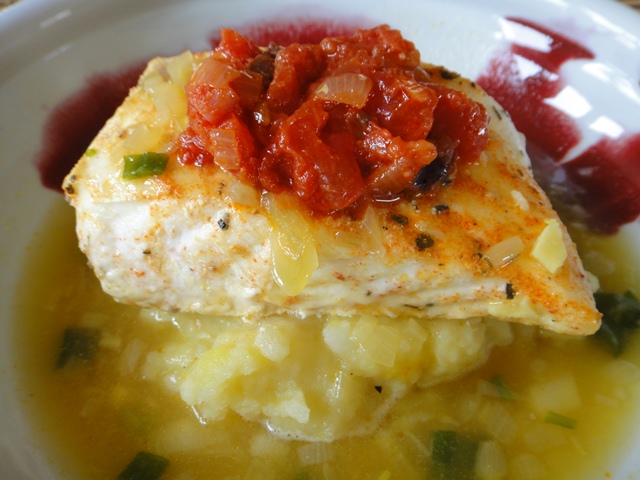 Last weekend I had some neighborhood friends come over for dinner. I thought I would cook either halibut, salmon, or shrimp, which I still have in my freezer and need to use up to make room for this year's catch. I looked online for various recipes, and wanted to find something that was unique, since lots of people up here get tired of eating that fish and shrimp.
I found a Emeril Lagasse recipe on foodnetwork.com, for Baked Halibut in a Saffron Broth over Mashed Potatoes with a Tomato and Black Olive Ragout. I'm not sure that I've made many of Emeril's recipes, but this one got good reviews and I was anxious to try it.
It was nice that I could make many of the components earlier in the day. I made the tomato and black olive ragout, and just left it in the saucepan on the stove to be reheated later. I also made the saffron broth and mashed potatoes ahead, and they heated up perfectly on the stovetop also. So all I had to do when the guests were there was put the fish in the oven, heat all of the components, and plate.
This recipe produced a restaurant-quality meal. Who in their own house serves mashed potaotes in a bowl surrounded by a saffron/onion-flavored broth, topped with a spicy piece of fish and a tomato black olive ragout on top? I thought the broth might be rather odd, but it was delicious. Subtle flavor of saffron, sweetness from the shallots, and the flavor of the chicken stock came through. The potatoes were sublime, as they were cooked in that saffron stock and so they absorbed that saffron flavor. And then the tomato and black olive ragout. This week I've topped a frittata and also some couscous with the leftovers for an added punch of flavor.
So give this recipe a try. It looks long, but if broken up into steps is really quite simple to make.
Baked Halibut in a Saffron Broth over Mashed Potatoes with a Tomato and Black Olive Ragout Adapted from foodnetwork.com
Serves 8
Tomato and Black Olive Ragout
3 tablespoons extra-virgin olive oil
1/2 cup chopped onion
1 tablespoon chopped garlic
1 pound ripe plum tomatoes, peeled, cored, seeded and diced
1 tablespoon tomato paste
1/2 cup Kalamata olives, pitted and halved
1/4 cup basil chiffonade
1 teaspoon finely chopped thyme leaves
Salt and freshly ground black pepper
1/4 teaspoon crushed red pepper
1/2 teaspoon sugar (optional)
In a saucepan, heat olive oil. Add onions and saute until translucent, about 5 minutes. Add garlic and cook another 1 to 2 minutes. Add tomatoes, tomato paste and olives and cook until the sauce is thick and most of the liquid has evaporated. Season with the herbs, salt and pepper to taste. If necessary to correct acidity, add the sugar. Keep warm while cooking the rest of the components.
Mashed Potatoes and Saffron Broth
2 quarts chicken stock
1 large pinch saffron (about 1/4 ounce)
Salt
5 large Idaho potatoes, peeled and cubed
1/3 cup unsalted butter, cut into pieces
1 1/4 cups warm milk
Freshly ground pepper
3 large shallots, peeled and minced
1 tablespoon chopped garlic
2 tablespoons olive oil
1/2 cup finely chopped green onions
In a large saucepan combine the chicken stock and saffron and bring to a boil. Add salt to taste, add potatoes, and cook, covered, until fork-tender, about 15-20 minutes. Strain liquid into another large saucepan and reserve. Add butter to potatoes and stir and mash until completely melted. Add milk, stir well, and add salt and pepper to taste. Keep potatoes warm while making the halibut. In a saucepan, saute shallots and galic in the olive oil until soft, about 3 minutes. Add reserved saffron stock and simmer for 10 minutes. Add green onions and simmer for 5 more minutes. Keep warm until ready to serve.
Halibut
8 (6-ounce) halibut fillets
Creole seasoning (recipe below)
1/4 cup olive oil
1/2 cup of saffron broth from above
Preheat oven to 425 degrees F. Season halibut fillets with creole seasoning on both sides. Rub fillets with olive oil and place on a lightly oiled shallow casserole or baking sheet with sides and pour saffron broth around fillets. Cover fillets loosely with aluminum foil and bake for 5 minutes. Uncover and bake another 5 minutes, or until flesh flakes easily (my fillets were rather thick, and took 15-20 minutes to cook through).
Serve the fillets in large shallow bowls on top of the mashed potatoes, with saffron broth ladled over all and the top the fish with a large dollop of the tomato olive ragout.
Creole Seasoning
2 1/2 teaspoons paprika
2 teaspoons salt
2 teaspoons garlic powder
1 teaspoon black pepper
1 teaspoon onion powder
1 teaspoon cayenne pepper
1 teaspoon dried oregano
1 teaspoon dried thyme
Mix all ingredients thoroughly.