Today, we really wanted to sleep in a little, but unfortunately, that didn't happen. Although our bed is comfortable in our apartment and it's quiet enough at night, neither one of us is sleeping well. Besides waking up a lot throughout the night, by 5 or 6am, we can no longer lay in bed. You'd think that would mean we would get an early start, but that's not been the case. It is nice to be able to lounge around in the mornings. Today I caught up on my blogging from Belgium. I'm surprised that I'm caught up with blogging, because it takes me a long time to sort through my photos, name, resize, and write up the posts and I'm really having to push myself to keep up with it.
Today we decided to go to Marche de la Bastille. This is a market that we went to last time we were here, and we really enjoyed it. We hadn't planned on going, and when we were deciding what to do today, I was surprised to see the market was being held today. We took the metro over and wondered around for a while. I bought a sweater for 10 euros, which I'm looking forward to wearing as I'm getting tired of wearing my same black sweaters (I thought I brought enough warm clothing, but that wasn't the case.) We shared some type of meditteranian flatbread thing, and each had a caramel crepe (Scott's had bananas also). I would have liked to have a marathon cooking day and really had to hold myself back from purchasing a large variety of fish, vegetables, and fruits. It all looked so good. Here's some photos from the market.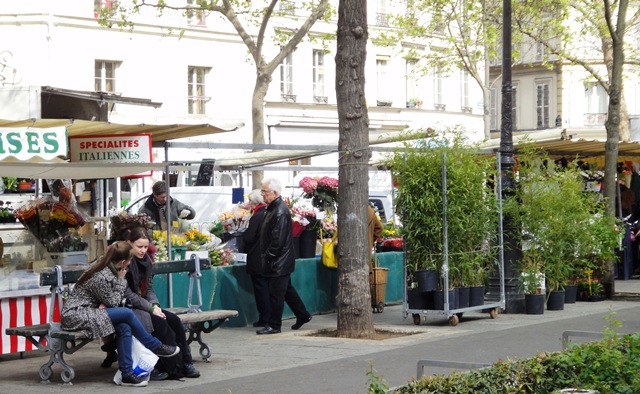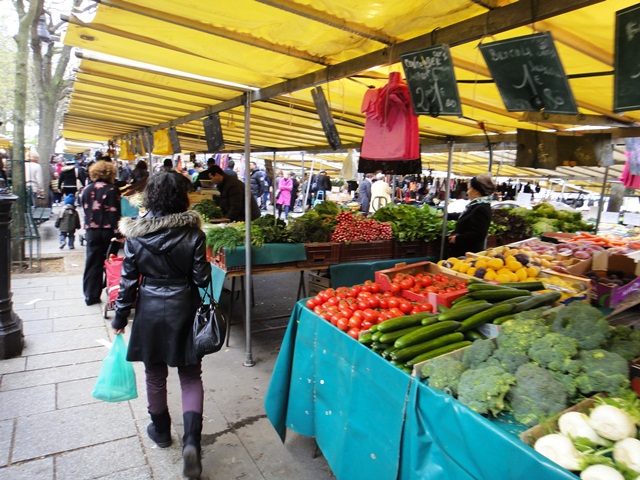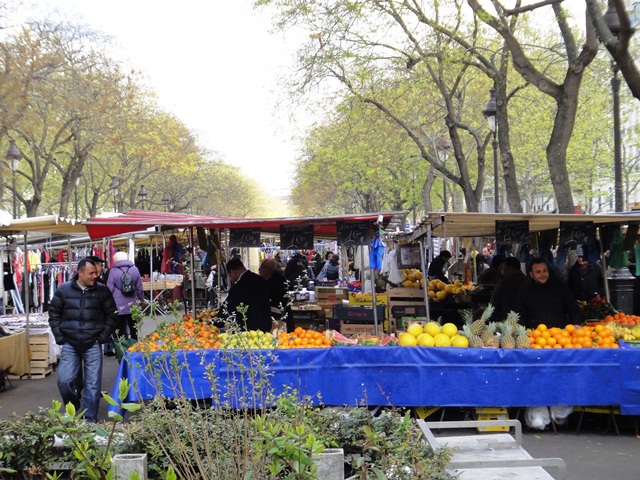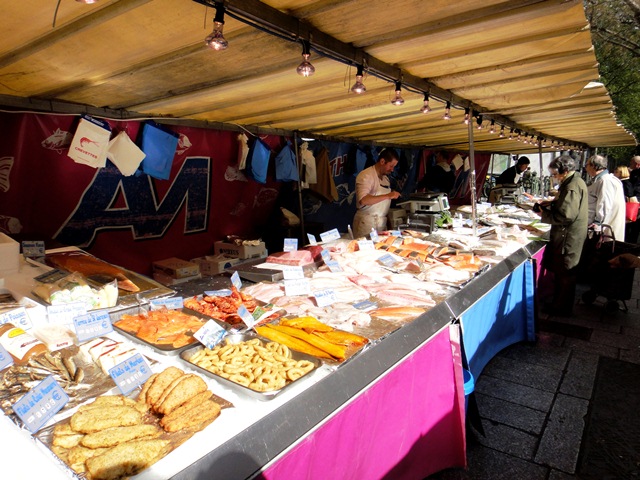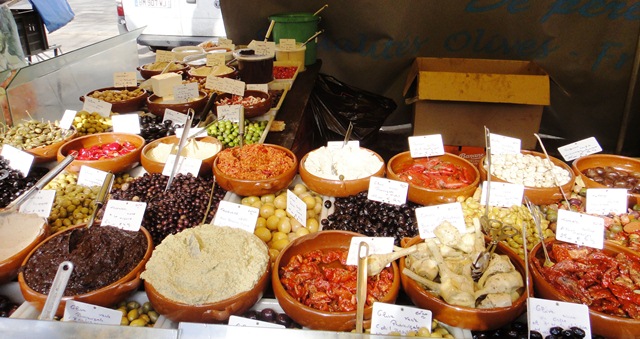 After the market, we took the metro over to Rue Montorgueil. This is a street that is pedestrian only, and has really good shops and restaurants. We decided to eat at Bistrot des Petits Carreaux. I had read about this place on David Lebovitz's blog, and during our last visit here I had to try their duck confit. Today, that's what Scott ordered. He really enjoyed it along with a bottle of red wine. I couldn't believe he didn't finish all of those delicous potatoes.


I had the Beef Tartare. I couldn't even get Scott to taste this. He thought the raw beef was too much, but the raw egg on top about sent him over the edge. I thought it was very good. But it would have been more appealing in the beef were chopped by hand instead of looking like it had just come out of the meat grinder. I think I've only had steak tartare one other time in my life. I remember being on a business trip in Chicago, and a vendor taking me out to this fancy restaurant in a very old hotel. I was in my early twenties, so it made quite the impression on me.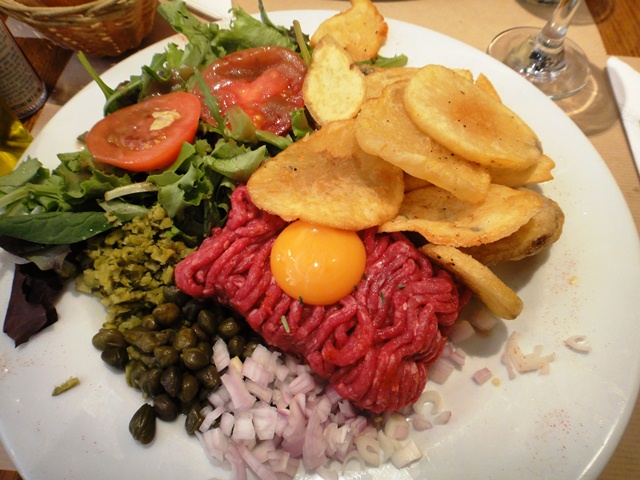 Scott had creme brulee for dessert and I had a cafe with 3 small desserts-apple tatin, a gooey chocolate cake, and a macaroon (thank goodness each was just a few bites).
Doesn't Scott look happy after this meal?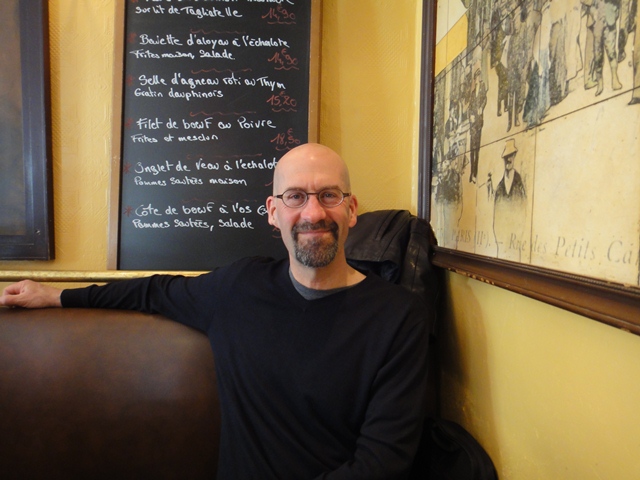 And me.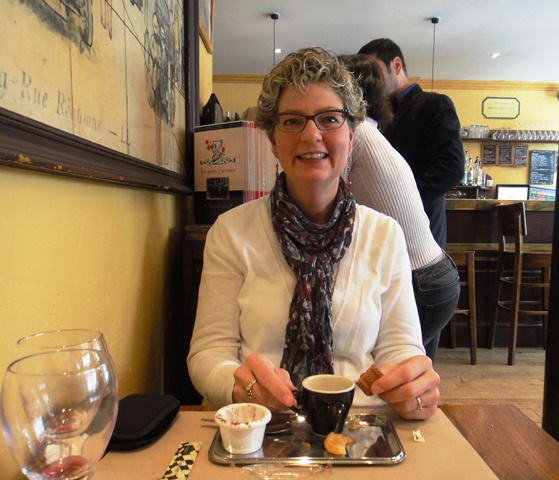 Right around the corner is one of my favorite stores, G Detou. This store carries lots of different food items, including 6 lb bags of Valhrona chocolate. I walked out of the store purchasing a lot less than I thought I would. Here's my purchases.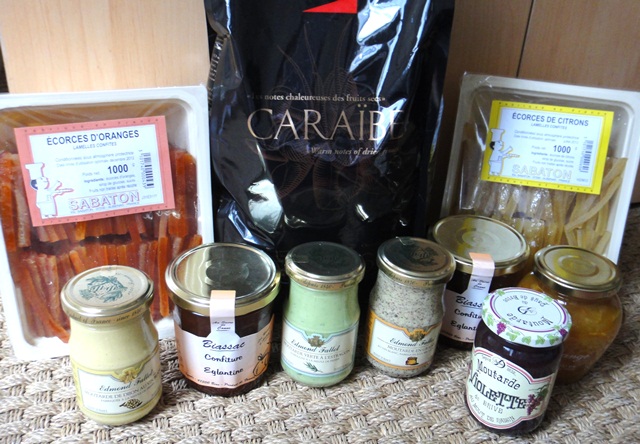 I bought another of the 6 lb bags of chocolate (I bought one last time we were here), candied orange peel and citron peel (great for coating in chocolate or using in pannetone), and several types of mustards and jams.
I took a photo of all of my purchases I've made so far. I decided to get an early start on things and go ahead and wrap them up (I always bring bubble wrap and packing tape with me, along with large zip lock bags).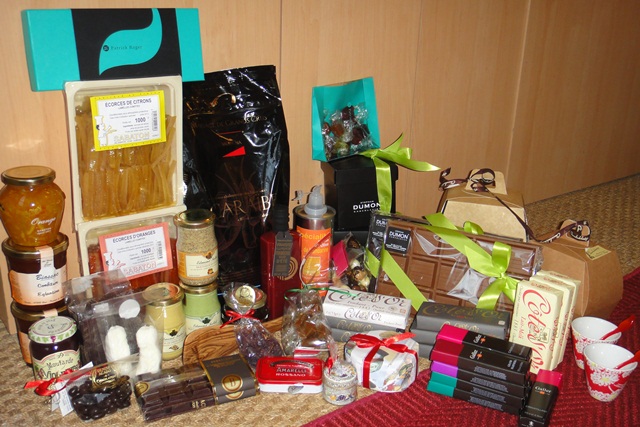 Let's see what I've purchased so far. I just listed what I bought today, then there's all of that chocolate from Brugge (LOTS!), from a Provence store I bought an olive-wood spoon, some raspberry vinegar, mandarine olive oil and orange/olive chutney, my purchases from Denise Acabo's candy shop, which included marshmallows, chocolate, prune stuffed prunes, Sauternes-soaked chocolate covered raisins, caramels, and several hard candies, a nice box of chocolates and caramels from Patrick Roger, and 2 espresso cups and little spoons. And while I wasn't planning on bringing any wine home, I do have 2 bottles of champagne packed up to bring home. Well, my purchases aren't so much, maybe I should do some more shopping! (But no more chocolate, as I think I've got enough to last years.)
We were planning on going to the Eiffel Tower tonight to see it lit up. But we were too tired to go. I think on the night we're planning on going, we shouldn't open a bottle of wine until after we get back. After some bread, cheese, and wine, we feel a little sluggish and we just can't seem to push ourselves out the door. We've got 5 more nights left to see it though.
We haven't been to any museums yet, and I think we'll start that beginning tomorrow. I've got to look and decide what days will be best to use the Museum Pass on, and how many days we want to buy. Then tomorrow night we're meeting another couple for dinner. The female is someone that grew up in Scott's hometown of Henryetta, Oklahoma. He hasn't seen her since around 3rd grade. She and her husband have been in France on a vacation, and we're having dinner before they fly out the next day.