Scott and I arrived in Paris yesterday morning. We were both very jet-lagged. Scott slept just a little on the plane, and I didn't sleep any. We met the owner of the apartment where we're staying, then walked around for a couple of hours. Then we were back at the apartment, napping off and on (against my better judgement, but just couldn't help it.)
Last night, I slept well, but only for about 3 1/2 hours. I felt good most of the day, but late afternoon and it was time for a long nap. I hope I sleep longer tonight.
We walked around the 10th district quite some time today. This is where we're staying. It's not a touristy area. But I like that about it. We started off the day by going to a bakery that is listed on David Lebovitz's ParisPastry App. The name of the bakery is Du Pain et des Idees, and it happens to be very close to our apartment. I think we will be visiting every day. I had a croissant, which I think is the best one I've ever had. Scott had a pain du chocolat, with the addition of bananas. We also bought a 1/4 of a sourdough bread.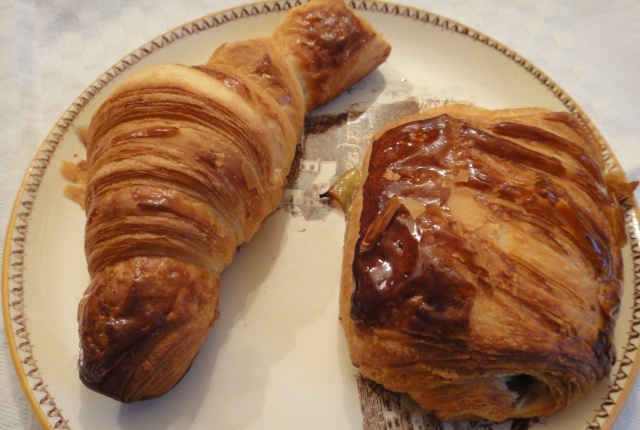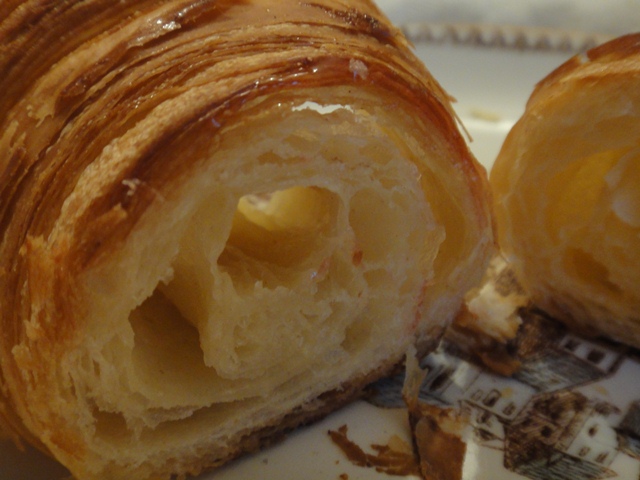 After breakfast we walked for quite a while around the neighborhood, looking at all of the restaurants around. French, and every ethnicity you could want. We then went to the Saint Quentin Market. This is a nice indoor market with lots of vendors – cheese, vegetable/fruit, meat, fish, roasted chickens, etc. We bought from 3. The first, which I didn't take photos of, was the cheese vendor. We bought 3 cheeses-a 3 year aged Comte, a fresh chevre, and something that was soft and oozing and looked really good, but we both hated. Too stinky for us! At one of the vegetable/fruit vendors, we bought things for lunch and dinner – lettuce and tomatoes for a salad for lunch and vegetables to cook for dinner. And a beautiful basket of strawberries grown here in France (they look better than they taste unfortunately). The we went to the fish monger, where we bought a trout for me to cook for dinner.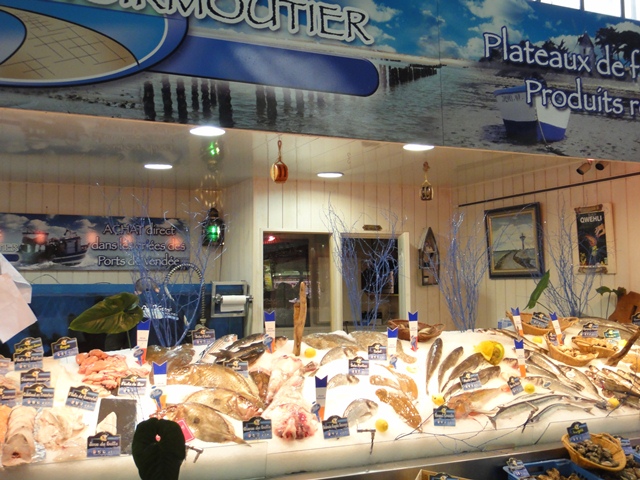 We stopped by the bakery for a baguette, and lunch was cheese, bread and fruit. Suprisingly, we skipped the wine at this meal.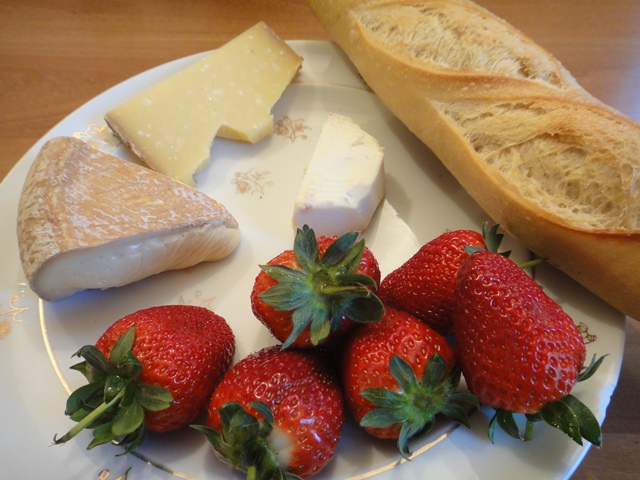 After lunch, we were planning on taking the metro someplace, but that's when the jet-lag hit us again and we napped off and on the rest of the afternoon.
For dinner, I decided to use our tiny kitchen. I'll post photos of it later, but let me tell you, it is small. Only one person at a time can fit in there, and there's almost no counter space to work on. But it is very well stocked. At the market, I bought a trout I thought I would roast for dinner. Only later did I discover we have a 4 burner stove, a microwave, and even a dishwasher, but no oven. So I had to cook it in a skillet, which worked just fine.
Here's a photo of our dinner.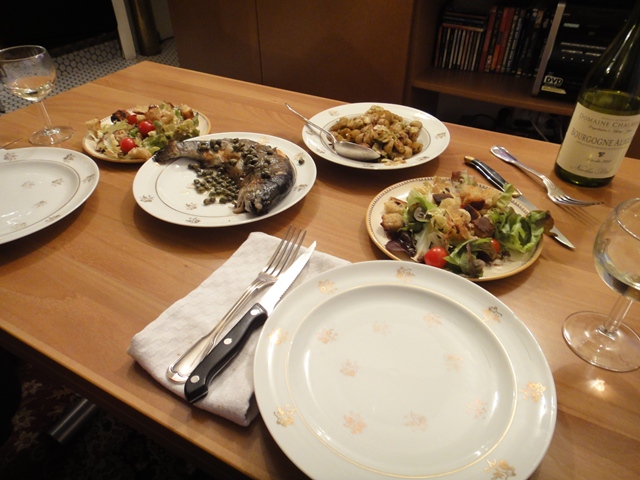 I fixed fried potatoes with fennel and leeks.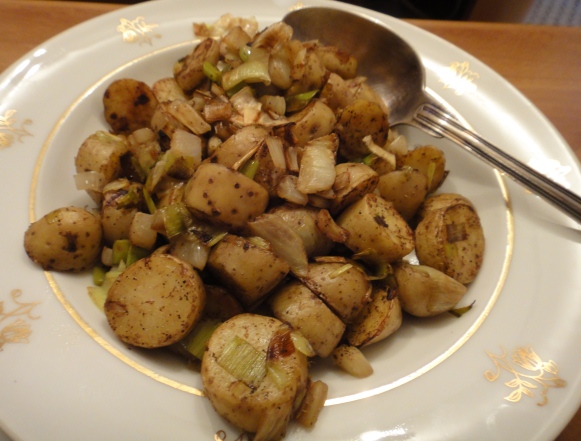 And a pan-fried trout with caper-butter sauce.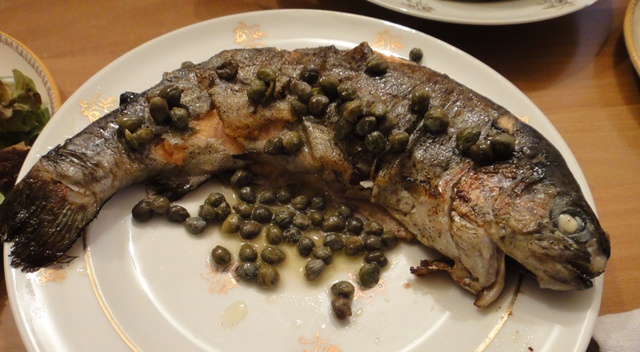 And then we had a salad. It's easy to make a nice balsamic vinegar dressing with olive oil, balsamic vinegar, and Dijon mustard. And I used leftover bread to make some croutonss.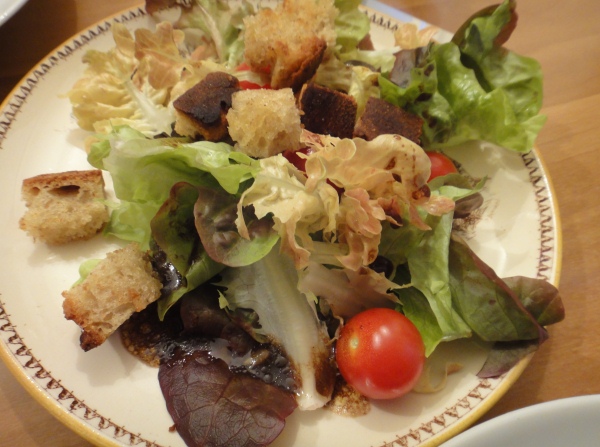 We finished off the evening with a couple of delicious very large butter cookies that Scott bought at the bakery across the street. (We discovered if you wait until 7:30pm, most of the pastries are gone.)
Tomorrow we'll start off our day with a pastry from the same bakery as this morning, then i think we might visit the Louvre. I should be posting on my blog almost daily, so follow along if you'd like.