Espresso Cocoa Nib Meringues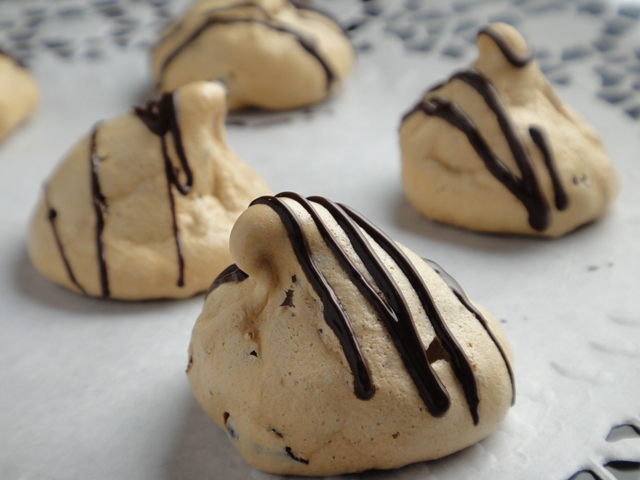 This week our Flavors ingredient is coffee/espresso. I love espresso and drink a double latte every day. I had several ideas in mind, but most of them contained a lot of cream, butter, and other fattening things. I decided to make a cookie that really isn't so bad for you – meringues.
I took a basic meringue recipe, added powdered espresso powder and cocoa nibs. The cocoa nibs taste almost like an interesting nut. If you don't have cocoa nibs, you could use very finely chopped chocolate. (If you don't chop it finely enough, you won't be able to pipe it through a pastry tip.)
I really enjoyed these. There's a nice hit of coffee flavor, and the chocolate on top sends them over the edge. They were very quick to make, and last about 3 days. And when I figured out the calories, they're only about 14 calories each!!!
Espresso Cocoa Nib Meringues Makes about 80 meringues
4 large egg whites, room temperature
2/3 cup sugar
2 teaspoons espresso powder
1 teaspoon vanilla bean paste
2 ounces cocoa nibs
1-2 ounces semisweet chocolate
1. Preheat oven to 325 degrees F.
2. Beat the egg whites and sugar in a mixer with a whip attachment until soft peaks form. Add the espresso powder and vanilla bean paste and continue whipping just until stiff and glossy. Fold in the cocoa nibs.
3. Fill a pastry bag fitted with a large plain or star tip with the meringue mixture. Pipe bite-sized "kisses" onto 2 cookie sheets that are lined with parchment paper or silpats.
4. Bake the meringues until they are light golden brown, about 30 minutes. Test for doneness by removing one from oven, cooling 1 minute, then tasting. You want it to be dry and crisp all the way through. Let cool on pans.
5. While cooling, melt 1-2 ounces of finely chopped semisweet chocolate. When melted, take a fork and drizzle chocolate over meringues. Let chocolate harden, about 1 hour.