Brugge, Belgium 4-17-2012
Today, we took a side trip to Brugge, Belgium. We had decided to take a side trip for 2 days. We had heard that Brugge was a beautiful town set along canals, and that it was a great place for buying chocolate. We took the Thalys train from Paris Nord to Brussels Midi station, which took around 1 1/2 hours, then switched to a IC (Inter City) train to take us to Brugge, which took about 1 hour. We had booked our hotel in advance at Bourgoensch-Hof Hotel, and had splurged to get a canal view room.
I knew that it was going to be even colder in Brugge than Paris, but I wasn't prepared for as cold as it was. When we left the train station, we didn't really know where we were going but we saw others mainly walking in one direction so we went that way too. Here's a view as we began walking down the streets of Brugge.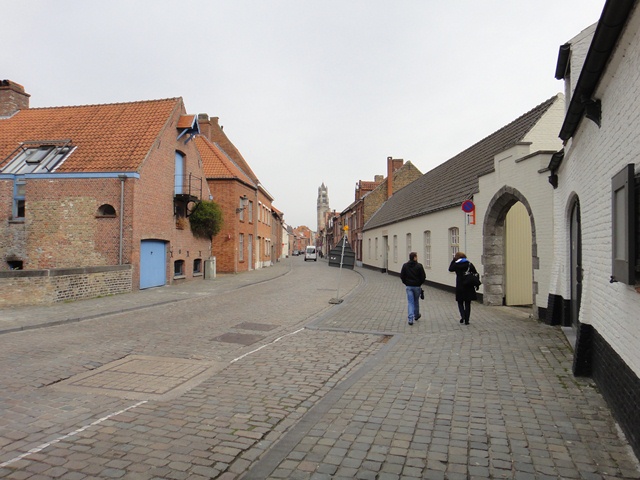 As we walked closer to the main part of town, the city got even more pretty. We checked into our hotel, and headed out in search of a place to eat lunch. We chose to eat at Bierbrasserie Cambrinus, a place that serves over 400 different beers.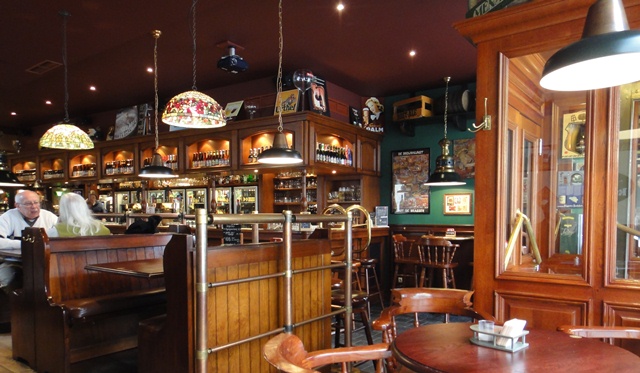 I wish I had taken a photo of the menu, as it was a couple of inches thick. I don't like any kind of beer, so I know, but I had a glass of wine instead. I decided to start with a onion soup.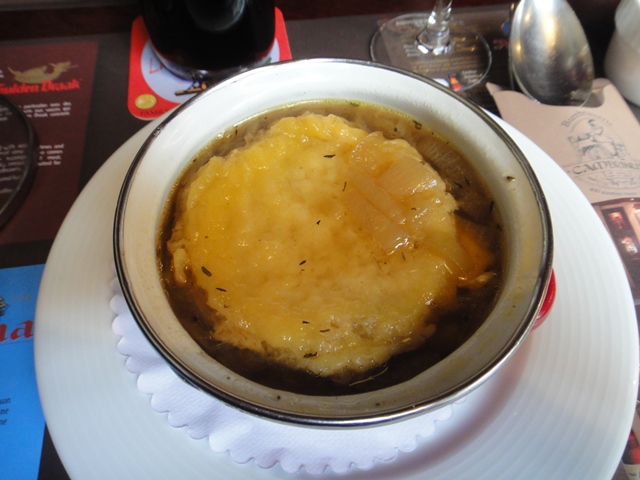 Scott started with the Trappist cheese croquettes.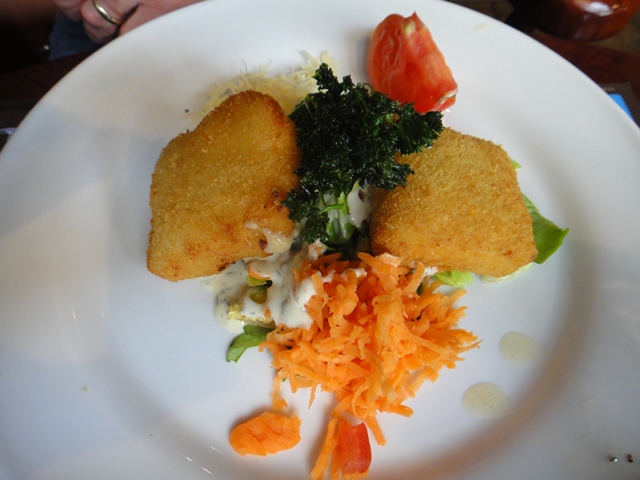 Both were good, and I could immediately tell that I had not gotten away from the heavy food of France. This was just different here-lots of fried food, along with lots of cheese again.
For my main, I had rabbit with prumes prepared with house beer "Grambrivinus". On the side was applesauce and it also came with potato croquettes. It was very flavorful. I just love rabbit.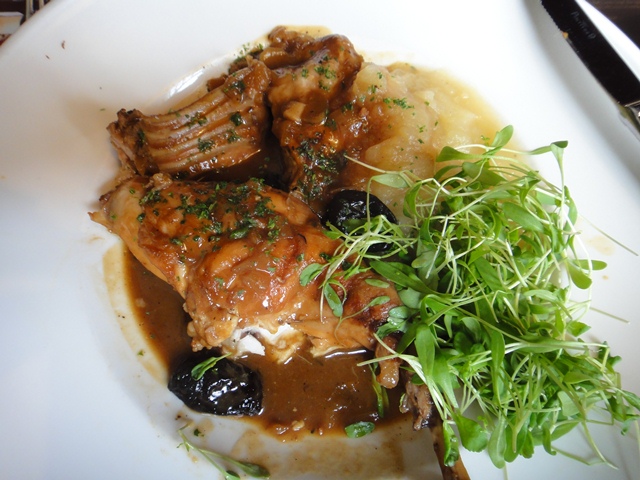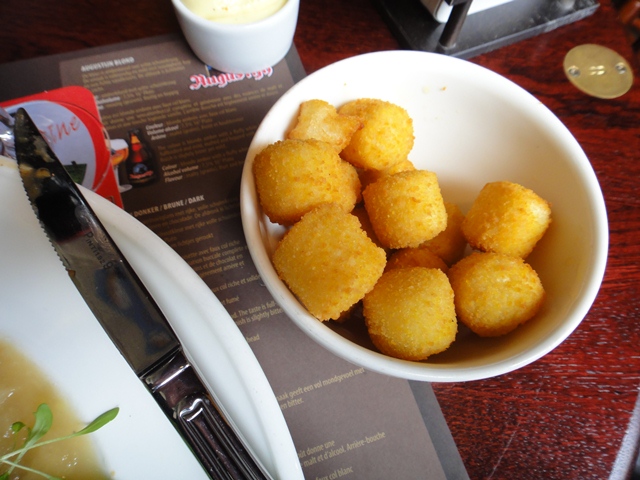 Scott had the Flemish carbonades prepared with "Gulden Braak" beer. His also came with apple sauce and a side of frites. He also enjoyed his.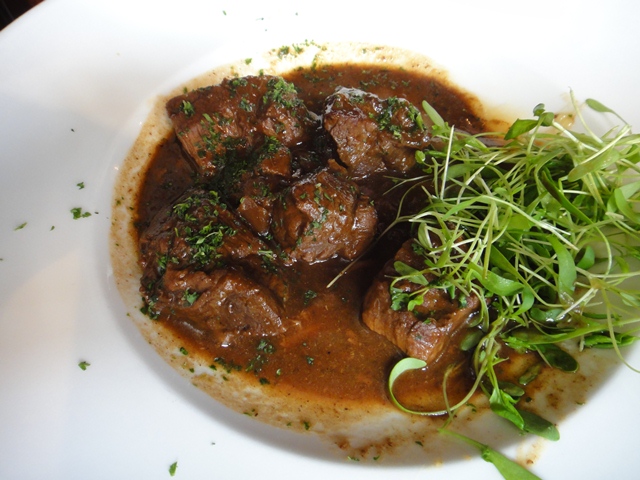 Scott had a dessert of Creme brulee perfumed with the dark Abbey beer of Ename. I had a couple of bites and thought the beer added a terrific flavor. Almost spicy. Here's a photo of Scott during lunch.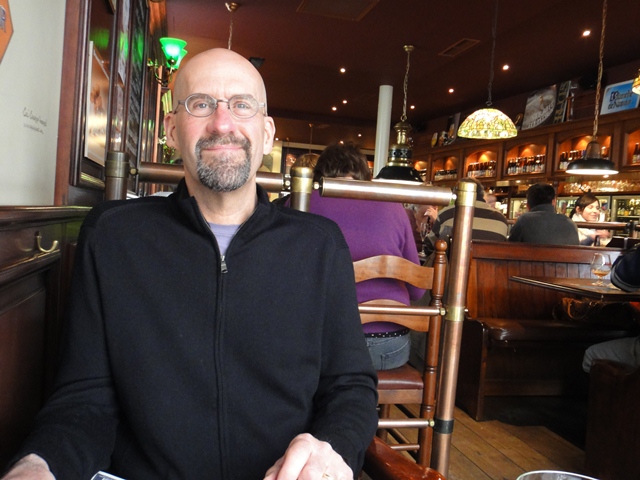 After lunch we walked over to the old square. It was quite beautiful, but by this time it was raining even harder and our small travel umbrellas were turning inside out in the wind. We didn't hang around for too long.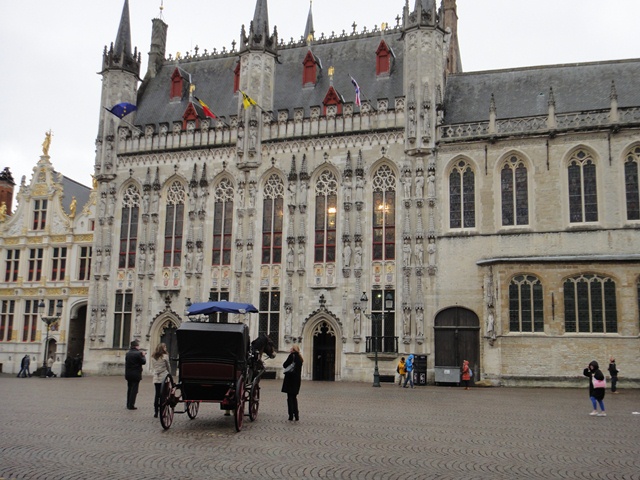 Below is a photo of the more new square. Although the buildings were very interesting to look at, this was more touristy with mainly restaurants lining the square.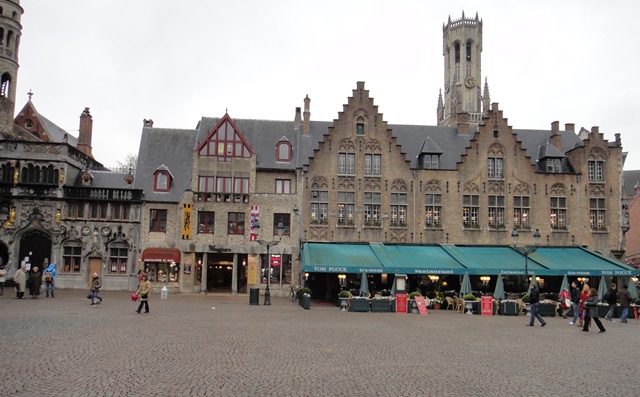 And below, a photo from another interesting little plaza.


Along the way, we did some shopping for chocolate. There are so many different shops, it's hard to know where to stop. So we just bought at several! Here's our purchases from the first day (yes, we bought more the 2nd day).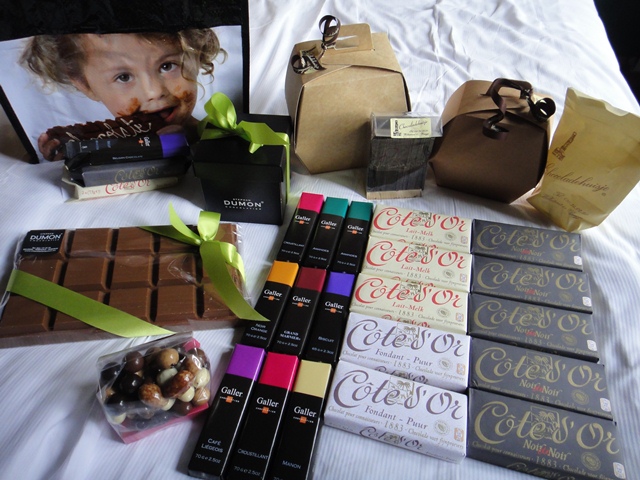 Back in our dry hotel room, we watche out our window at the people taking the boat tours on the canal. You can tell from this first photo, that even when it wasn't raining, it still looked very cold.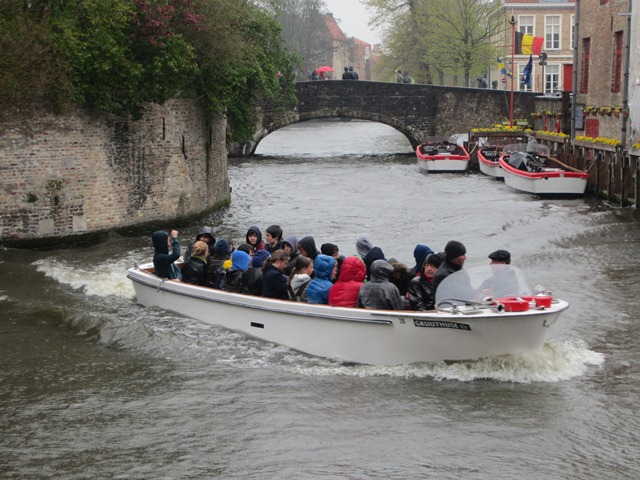 But here's the brave people in the rain. I'm not sure how much they could see from underneath all of those umbrellas.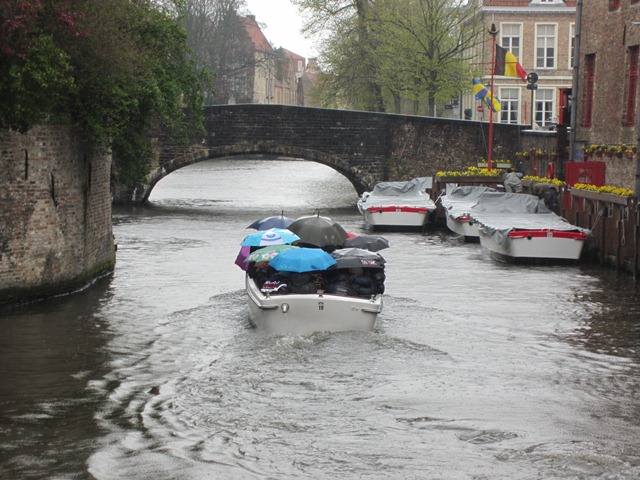 We ended our evening with a nice dinner in the restaurant in our hotel. I had a mixture of seafood in a rich cream sauce and Scott had a beef steak with mushroom sauce.
I'll leave you with a photo out our bedroom window. Tomorrow I'll show you more photos of the pretty buildings lining the canals.