Spaghetti Squash Topped with Kale Saute and Goat Cheese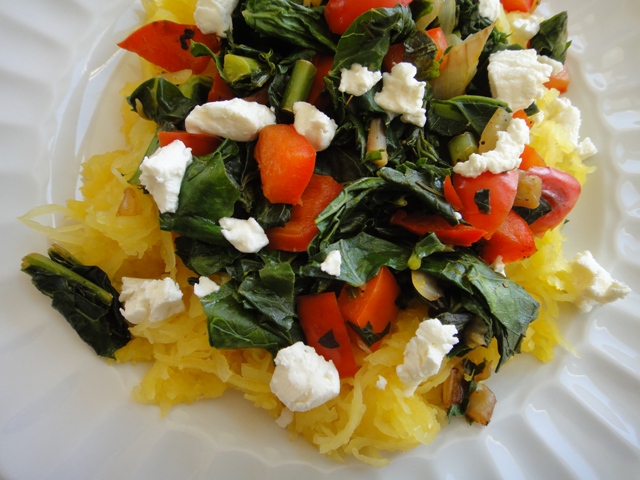 As I mentioned on my last post, I've been trying to get my motivation back to begin blogging. Sometimes it only takes simple moves like having the camera handy while I'm cooking dinner. I'm also trying to lose weight, and eat very healthy. So you're going to see somewhat of a change to my blog.
I don't follow many recipes. Yes, I do if I'm baking, or having company over for dinner. But most evenings, I see what's in my fridge and pantry and throw together a dish based on that. And since I don't follow a recipe and don't measure what I put in, it's hard to give you quantities on my blog. So in the future, you will see recipes when I've followed them, and some of the items will be fattening decadent desserts. But more often you'll see a photo of what I've fixed for dinner with a summary of what ingredients I've used and a description of how I made it. Experiment for yourself and come up with new dishes of your own.
I also joined a CSA again. And this time, instead of the every 2 week box like I used to get, I'm getting a box weekly. Alaska is hard for CSA's because our growing season is too short. So some of them also source organic fruits/vegetables from other states to supplement the box. The company I'm going with, Glacier Valley Farms, uses mainly Alaskan vegetables this time of year. That means I'll be cooking a lot of potatoes, and after that lots of carrots, cabbage, and other cold-season vegetables. So you'll be seeing lots of vegetables, supplemented with the salmon, halibut and shrimp that makes up a huge majority of our meals.
Okay, let me describe what you're seeing in the photo above. I love spaghetti squash, and it's a good alternative to pasta. I sliced it in half, scooped out the seeds, placed the halves in a covered baking dish (I had to cook each half separately), added about 1/2″ water, and placed in the microwave for 10 minutes. When done, let cool, take a fork, and "rake" off the strands of squash. In the meantime, I heated a little olive oil (maybe a tablespoon) in a large skillet. When hot, I added 1 chopped onion and 1 chopped red bell pepper. Cook until beginnning to soften, then add 1-2 bunches thinly sliced kale. Salt and pepper to taste. I also added a big spoonful of a Peruvian pepper paste I had, but you could just add some red pepper flakes. I also threw in some chopped fresh herbs-I had rosemary and sage. Cook until the kale is softened, maybe 15 minutes. If it dried out too much, add a small amount of water to the skillet. To serve, place the squash on a plate and top with the kale. Then sprinkle over as much soft goat cheese as you'd like. It was so delicious and very filling, and really low in calories, as long as you don't use too much cheese. Along with a glass of wine, or was the perfect meal.