October Daring Bakers – Doughnuts!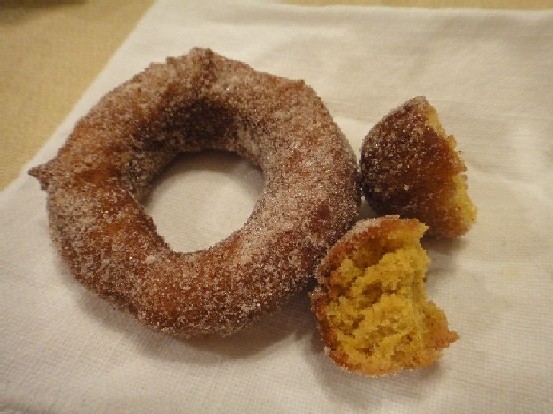 The October 2010 Daring Bakers challenge was hosted by Lori of Butter Me Up. Lori chose to challenge Daring Bakers to make doughnuts. She used several sources for her recipes including Alton Brown, Nancy Silverton, Kate Neumann and Epicurious.
I've been absent from Daring Bakers for a month or two now. I've been so busy with my other cooking projects (Pomodori E Vino) that I simply ran out of time. Well, that, and I just got back from a 3 week vacation to Italy and France.
When I saw the October Daring Bakers Challenge, I knew I didn't have long to complete it, but I was excited to do so. I have never made doughnuts, and I rarely fry anything and have a deep fryer I've never used. All of the recipes sounded good, and I didn't have time to do a lot of searcing of others to possibly make. So I chose the recipe on Epicurious for Pumpkin Doughnuts. This fall weather has me thinking of squashes and those spices that go with them such as nutmeg and cinnamon.
It was a great choice! I made the batter on Saturday afternoon, and made some doughnuts that evening. What a nice dessert. I can only imagine how good these would be made as doughnut holes and served with a vanilla ice cream and a caramel sauce. Or just a caramel ice cream. Yum!!! On Sunday morning, I fryed up the remainder of the dough. It was still perfect after being in the refrigerator all night. I did get them a little crunchier than they probably should have been. My fryer only has set temperatures, and I had a choice in this range of 350 or 375. I chose 375. I was afraid the center wouldn't cook, but it did. Next time I could make them a little thicker and probably still have the center cooked.
The pumpkin flavor really comes through in the doughnuts, as does the spice flavors. I didn't do the glaze, but simply coated them all in the Sugar Spice mixture.
I know that doughnut making is now something I will have to do again in the future. I was really suprised at how easy they were

Pumpkin Doughnuts with Powdered Sugar Glaze and Spiced Sugar Doughnut Holes
Epicurious Bon Appétit | October 2004
Use a clip-on deep-fry thermometer to gauge the oil temperature when frying these doughnuts: too low and they'll absorb oil, turning leaden and soggy; too high and they'll burn before the insides are cooked through.
Yield: Makes about 24 doughnuts and 24 doughnut holes
Spiced sugar
1 cup sugar
4 teaspoons ground cinnamon
2 teaspoons ground nutmeg
Doughnuts
3 1/2 cups all purpose flour
4 teaspoons baking powder
1 teaspoon salt
1 teaspoon ground cinnamon
1/2 teaspoon ground ginger
1/2 teaspoon baking soda
1/4 teaspoon ground nutmeg
1/8 teaspoon ground cloves
1 cup sugar
3 tablespoons unsalted butter, room temperature
1 large egg
2 large egg yolks
1 teaspoon vanilla extract
1/2 cup plus 1 tablespoon buttermilk
1 cup canned pure pumpkin
Canola oil (for deep-frying)
Powdered Sugar Glaze
2 cups powdered sugar
Whipping cream
For spiced sugar:
Whisk all ingredients in medium bowl to blend.
For doughnuts:
Whisk first 8 ingredients in medium bowl to blend. Using electric mixer, beat sugar and butter in large bowl until blended (mixture will be grainy). Beat in egg, then yolks and vanilla. Gradually beat in buttermilk; beat in pumpkin in 4 additions. Using rubber spatula, fold in dry ingredients in 4 additions, blending gently after each addition. Cover with plastic; chill 3 hours.
Sprinkle 2 rimmed baking sheets lightly with flour. Press out 1/3 of dough on floured surface to 1/2- to 2/3-inch thickness. Using 2 1/2-inch-diameter round cutter, cut out dough rounds. Arrange on sheets. Repeat with remaining dough in 2 more batches. Gather dough scraps. Press out dough and cut out more dough rounds until all dough is used.
Using 1-inch-diameter round cutter, cut out center of each dough round to make doughnuts and doughnut holes.
Line 2 baking sheets with several layers of paper towels. Pour oil into large deep skillet to depth of 1 1/2 inches. Attach deep-fry thermometer and heat oil to 365°F to 370°F. Fry doughnut holes in 2 batches until golden brown, turning occasionally, about 2 minutes. Using slotted spoon, transfer to paper towels to drain. Fry doughnuts, 3 or 4 at a time, until golden brown, adjusting heat to maintain temperature, about 1 minute per side. Using slotted spoon, transfer doughnuts to paper towels to drain. Cool completely.
For powdered sugar glaze:
Whisk powdered sugar and 4 tablespoons whipping cream to blend. Whisk in additional cream, 1 teaspoon at a time, to form medium thick glaze. Can be made up to 3 hours ahead. Add doughnut holes to bowl of spiced sugar and toss to coat. Spread doughnuts on 1 side with Powdered Sugar Glaze. Arrange doughnuts, glazed side up, on racks. Let stand until glaze sets, at least 30 minutes.