10-6-10 Monte Oliveto Maggiore and Pienza
Yesterday we went to Monte Oliveto Maggiore abby and to Pienza. I'm behind on my blogging, and it's hard to remember all of the wonderful things we're seeing from day to day, but I'll try.
On our drive there, we had an amazing experience. We saw a hillside of sheep, and decided to pull over to take some photos. As soon as we stopped we heard the hundreds of bells. All of those sheep had bells on, and with every movement they rang. Even across the large hillside and quite a distance from us, you could hear the choir of bells. I could have set there all day listening to them. It was a very special experience.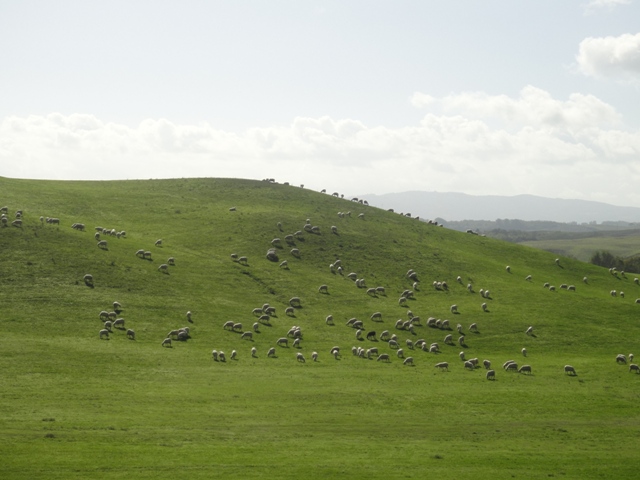 We arrived at Monte Oliveto Maggiore only ½ hour before closing time. That meant that we had very little time to look at the famous fresco cycle. After a too quick glance, we headed for the cantina to taste the wine they make there. We tasted the red, and didn't care much for it. We then went to the shop where they sell other goodies they produce there at the abbey. I purchased more farro and ceci beans (why am I buying all of these beans and grains???). I also bought some flavored honey, and 2 liquors-Grappa e Frutti di Bosco and Flora di MonteOliveto. Luckily, they had these in small sized bottles.
Next, we continued on to Pienza. We arrived about lunchtime, and decided to eat at Ristorante Dal Falco. I had read several good reviews. We were able to get a table outside, so that was very nice on a sunny day.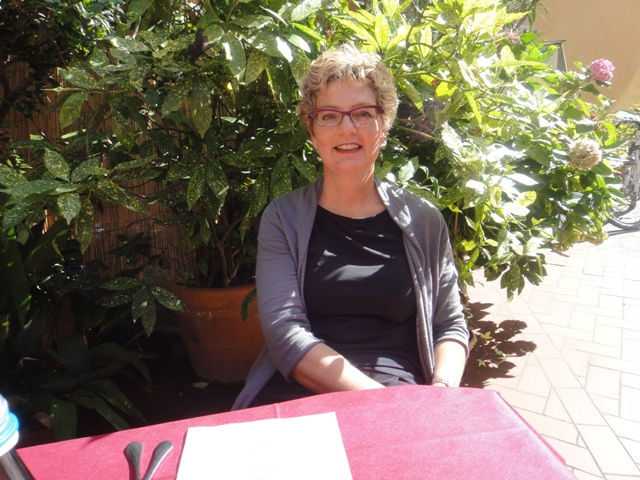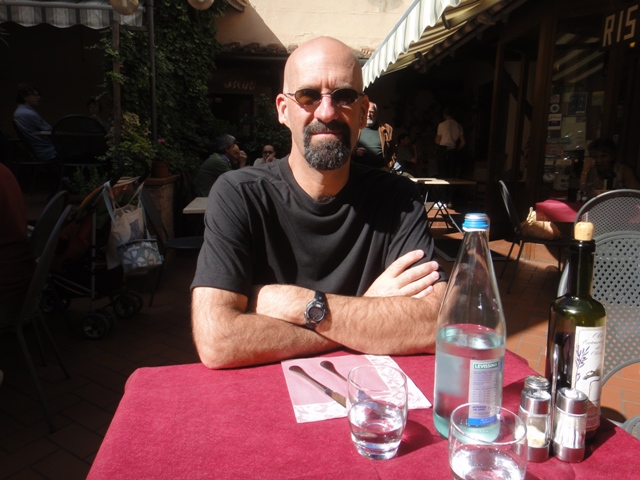 We started off with an appetizer of Pecorino and assorted meats from the Crete Sienese pig. And an order of Bruschetta with Pomodori.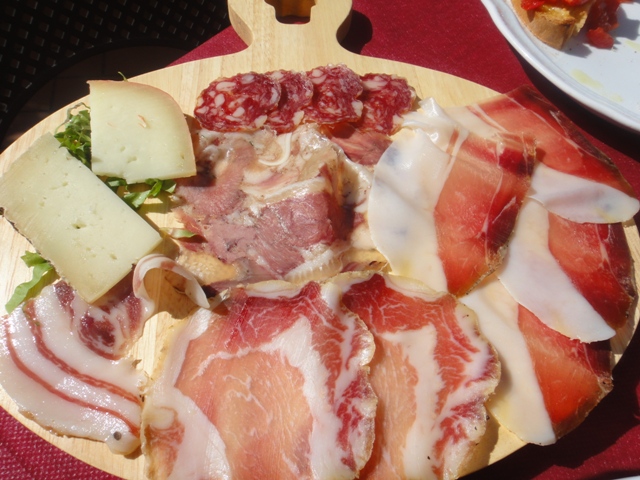 Next, Scott had the gnocchi with truffle sauce. It was not good. The gnocchi were good, but the sauce was not. We never could put our finger on what was wrong with it.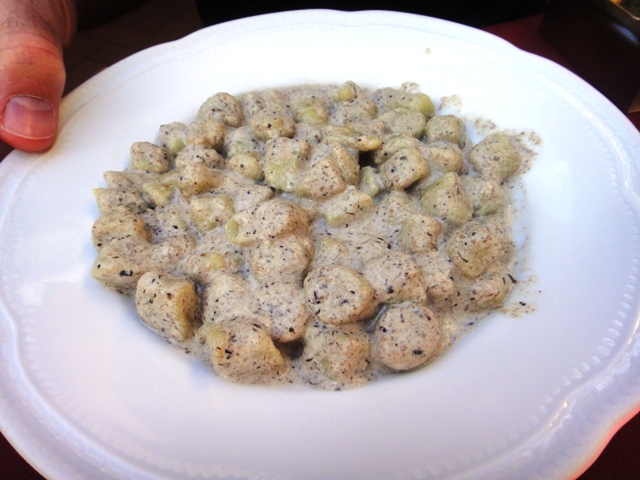 I had a pici pasta with what was supposed to be chingiale sauce, but was just a meat ragu. It was good though.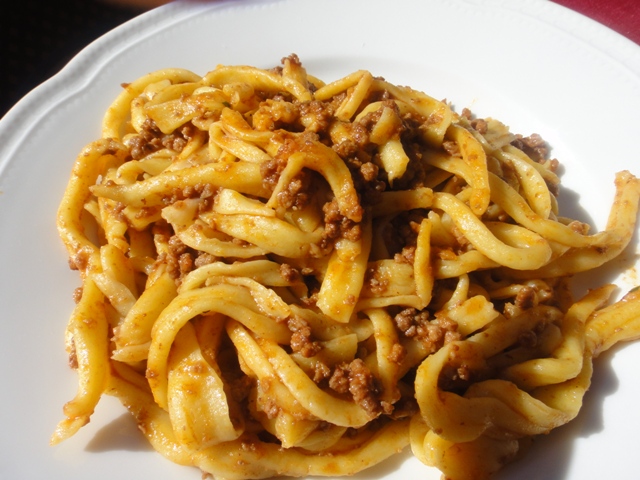 With 2 antipasti, 2 primi, ½ liter of house wine and water, the total was 40.50 Euro.
Next, we waddled (oops, I mean walked) our way around the town. We were on a mission to buy Pecorino cheese to bring home. The first shop we went in was extremely busy, and there was no way we were going to get any help from the one man working there. We went to a different shop, and ended up with 3 cheeses. The first was a 2 kg Pecorino Vecchio. The second was a 1.5 kg round of Pecorino Semi-Stragionato. And the third was a small Ricotta Salata. I've never tasted Ricotta Salata. I've tried to buy it before, but never had any luck in finding it. So another addition to my cheeses.


My only other purchases were 3 bars of fragrant soap.
After arriving back home, we knew we were going to eat dinner at Locanda Nel Cassero again. I had been dreaming of the pumpkin potato gnocchi with truffle sauce that Scott had a few nights earlier. I started with a terrine of pheasant and chicken. It was served on a bed of greens and had various mushrooms on top. All served cold. It was very good, and different than things I had been eating, which was a positive thing.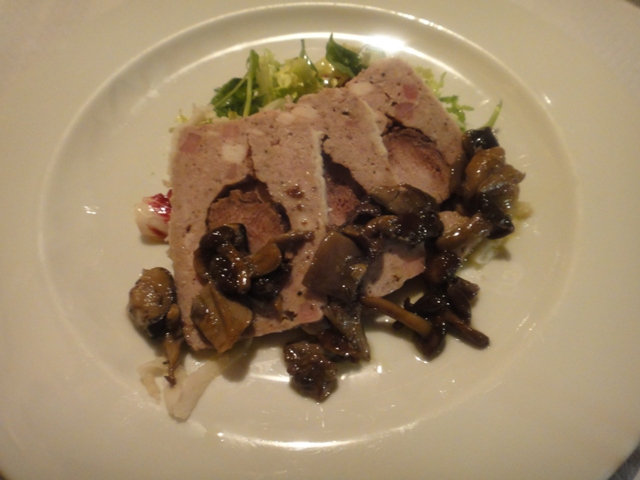 Scott started with the Lasagnette with mushrooms. It also was heavenly. Rich bechamel sauce, cheesey, mushrooms, all between layers of homemade pasta. Then placed in the oven to make the top brown and the edges crispy.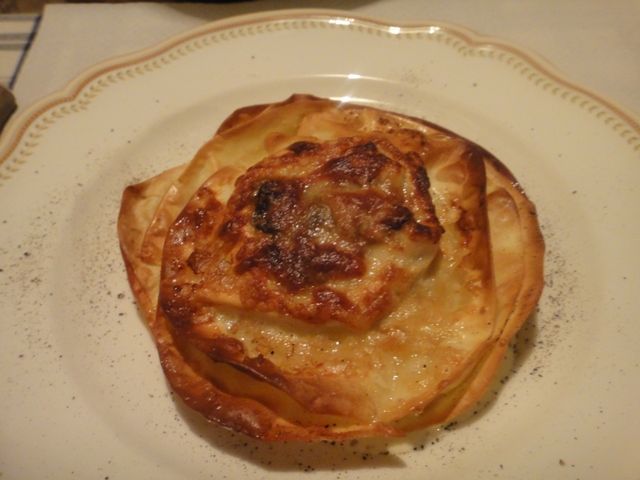 My next course was the gnocchi, and Scott had the Rabbit that I had a few nights ago. Scott had dessert, an interesting cheesecake. Not dense at all, graham-cracker type crust, and not too sweet. Served with some type of sauce-maybe fig, that was very sweet and paired perfectly with it. Another bottle of wine. It was another night of going to bed being absolutely stuffed.