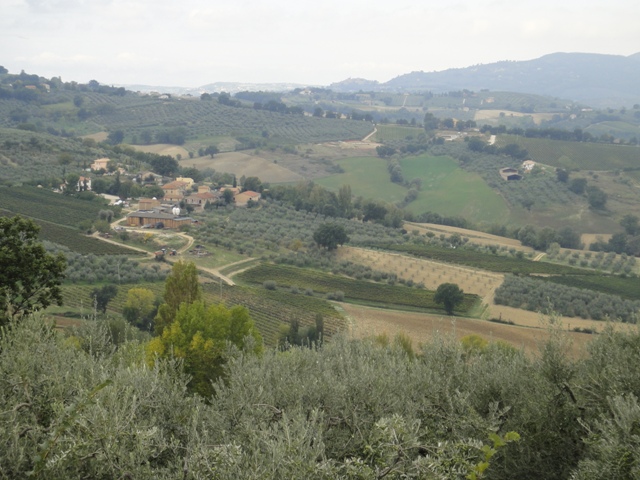 Today we were going to go to Assisi, but decided to stay in small uncrowded places instead. We drove the backroads to Montefalco, another beautiful drive with acres of vineyards and olive tree fields.
The town of Montefalco was easy to find, and the parking was very easy. The town was not crowded at all, again, having me think that tourist season must be over. The first shop I had to visit was the Pardi shop. I would have liked to purchase a table cloth, but I forgot to measure the length of my table before leaving, so I didn't want to take the chance of purchasing the wrong size. So I bought 2 table runners, 2 placemats, and 6 napkins. All very beautiful. And I couldn't believe what a great price they were.


We next visited a couple of churches. I'll go into detail more later when I have time to edit my photos. And since I know you want to see the food photos, I'll talk about that instead.
We decided to have lunch at L'Alchimista Enoteca. I had read at least one review on SlowTrav, and it sounded really good. We stopped by early to make reservations, and at that time it was a sunny warm day. So we reserved one of the 4 tables outside. It was nice outside, but by the time we left it was cold and windy and the warm inside dining room sounded really nice. Anyway, we're in the region of Sagrantino wine, and we hadn't tasted it yet. So we each started with a glass, and it was really nice. My Primi was Strangozzi(Umbrian pasta) with a black celery and ground meat sauce. It is a specialty of this region this time of year I believe, and was very good. I'm not sure how to describe the black celery. It didn't taste like regular celery, but in a way was simliar. So much for me describing food.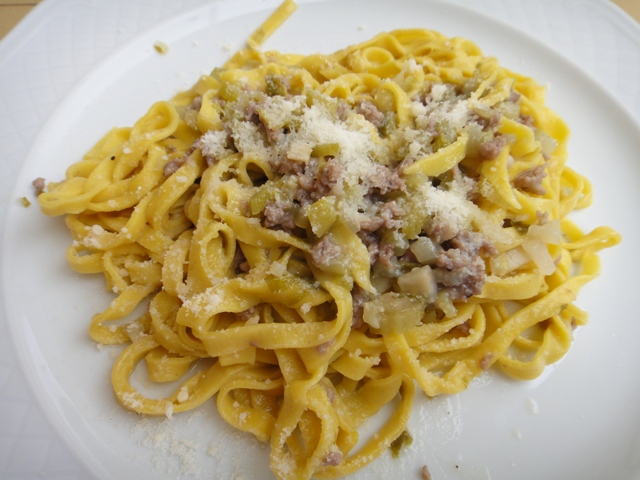 Scott had pasta with a carbanara sauce, which also was good. Very rich though.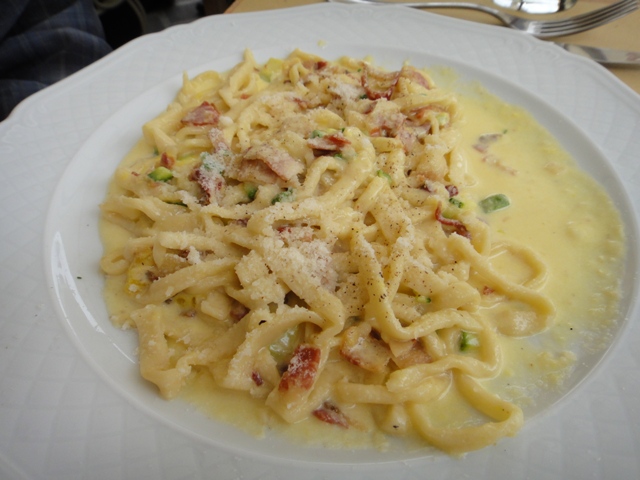 We were starving, and decided to have Secondi. I had a pork roast with Sangrantino grapes. The sauce had the small grapes, along with some golden raisins, and pan juices from the pork.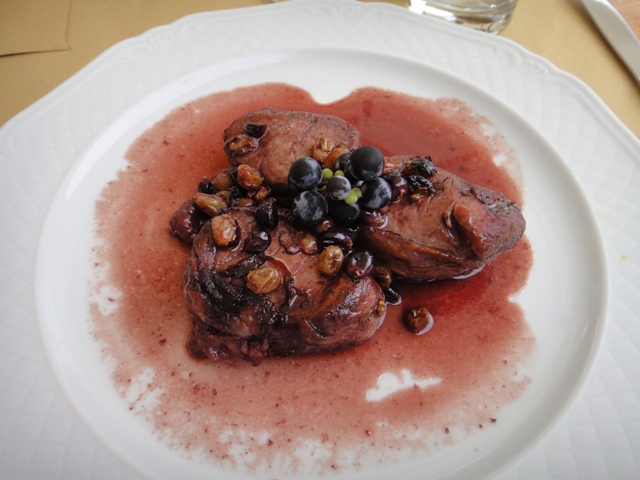 Scott had a beef fillet with a Sangrantino wine sauce, also good.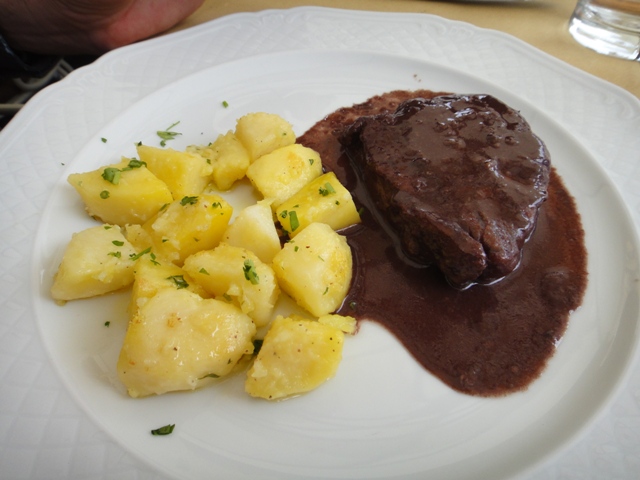 Scott had read that the tiramisu was great, so he had to try it. It was good, but not his favorite. Our total was 61.50 euros. This was for 2 primi, 2 secondi, 2 glasses of wine, 1 bottle of water, 1 tiramisu, and 2 caffes.
We drove to Deruta next, and checked out just one pottery store. I decided I had purchased enough for now. By this time it was raining, and again, we took a nice, very windy road back. And I don't know if it was less walking today, or only one glass of wine, or what, but this is the first day I've come back to the apartment and not been exhausted.
We don't have reservations for dinner tonight, but since the village is very slow, we'll take our chances with a different restaurant than what we've been having dinner at. I'll review it tomorrow.
Ciao!