It's Ice Cream Time – Malted Milk Ball Ice Cream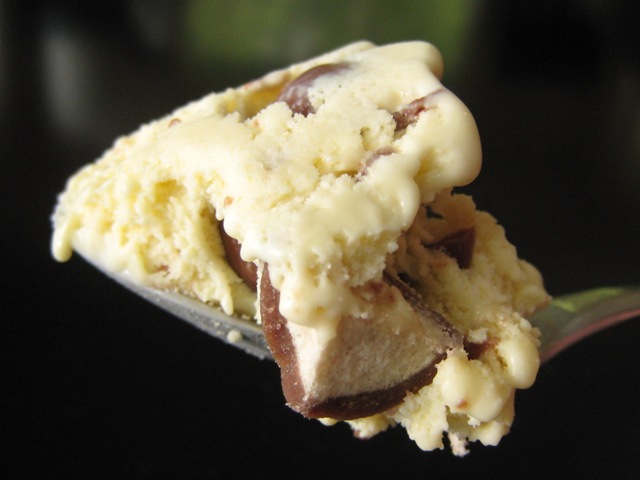 It's been 2 years since a group of us called Sunday Slow Scoopers worked our way through "The Perfect Scoop" by David Lebovitz. If you love ice cream, you need this book.
My husband's favorite from the book was the Malted Milk Ice Cream. It's a very rich ice cream. It has malt powder added to the base, and then the crunch of malted milk balls are added at the end.
I had some heavy cream that needed to be used, and my husband asked if I'd make this ice cream. It is very easy and quick to make. I didn't have any half and half on hand, so I substituted half skim milk and half heavy cream, and it worked beautifully. I meant to add a little liquor at the end to keep it from freezing too solidly, but I forgot. It really didn't matter because the ice cream does not freeze rock hard.
The only problem I've had with this ice cream is in NOT eating it all. My husband left town the day after it was made, and I keep sneaking bites from the freezer. They're only small bites, but somehow that container is looking quite barren.

MALTED MILK ICE CREAM
Makes about 1 1/2 quarts
1 cup half and half
3/4 cup sugar
Pinch of salt
2 cups heavy cream
1/4 teaspoon vanilla extract
2/3 cup malt powder (don't use Ovaltine-it's not the same thing)
6 large egg yolks
2 cups malted milk balls, coursely chopped
Warm the half and half, sugar, and salt in a medium saucepan. In a large bowl, whisk together the heavy cream, vanilla, and malt powder and set a mesh strainer on top.
In a separtate medium bowl, whisk together the egg yolks. Slowly pour the warm mixture into the egg yolks, whisking constantly, then scrape the warmed egg yolks back into the saucepan.
Stir the mixture constantly over medium heat with a heatproof spatula, scraping the bottom as you stir, until the mixture thickens and coats the spatula. Pour the custard through the strainer and whisk it into the malted milk mixture. Stir until cool over an ice bath.
Chill the mixture thoroughly in the refrigerator, then freeze it in your ice cream maker according to the manufacturer's instructions. As you remove the ice cream from the machine, fold in the chopped malted milk balls.