Essentials of Classic Italian Cooking-Baked Stuffed Mushroom Caps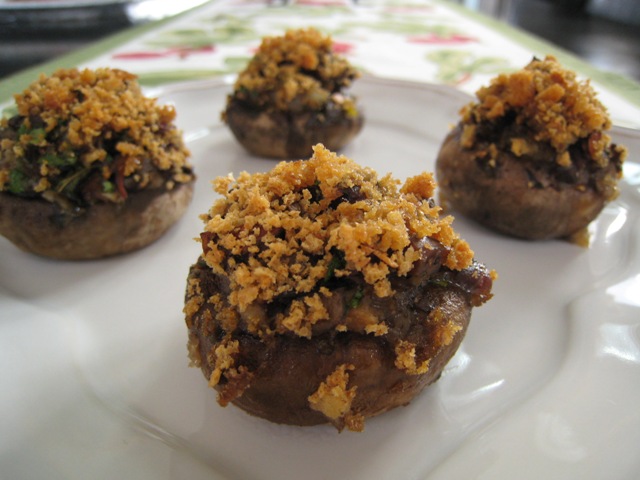 It's time for my third recipe in our challenge as we cook our way through Marcella Hazan's "Essentials of Classic Italian Cooking". And I'm enjoying every minute of it. I've made 2 cold appetizers so far, and now it's time for me to move on to hot appetizers. My appetizer for the day is Baked Stuffed Mushroom Caps. This recipe was different than any others I've made before-you know, bread crumbs, onions, spices, maybe sausage? In this recipe, you do have the bread crumbs and chopped mushroom stems, but there's lots of additional interesting ingredients. One such ingredient is dried porcini mushrooms. So can you imagine the taste of a baked mushroom which contains of stuffing of porcini mushrooms, pancetta, anchovy fillets, basil, garlic and marjoram? Very flavorful!
I do have one thing I would do different in this recipe if I were to make them again. The recipe calls for a fair amount of pancetta. I love the flavor of pancetta. If you don't know what pancetta is, Marcella gives a wonderful description in her book. Basically, it is the Italian version of bacon. I bought some while in Little Italy in San Diego, and was really looking forward to using it. It was the kind known as pancetta stesa, which is a cured, flat version still attached to it's rind. Anyway, the piece of pancetta I had was almost all fat. There was very little meat on it. In the recipe, you finely dice it and add it to the other raw ingredients, which are then stuffed in the mushroom and baked. Unfortunately, my pieces of pancetta didn't break down well during the cooking, and I was left with a lot of small pieces of flavorful fat in my mushrooms. While the flavor was good, the mouthfeel wasn't. So next time, if my pancetta contains a large amount of fat, I would pre-cook that pancetta to render out some of the fat first.