DINNER LAST NIGHT-SALMON WITH MUSTARD PANKO TOPPING AND GRILLED ROMAINE SALAD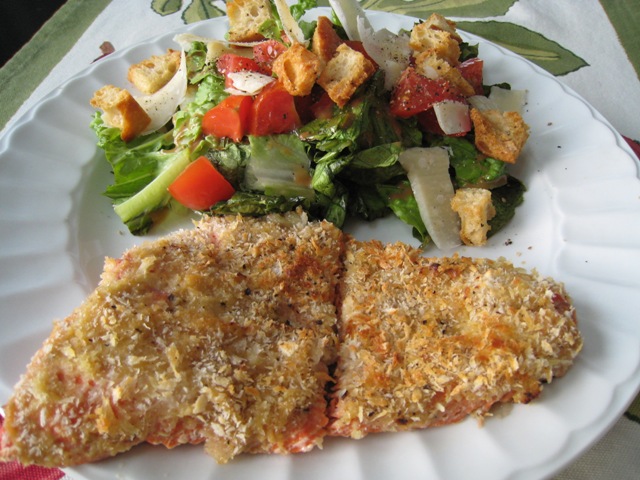 I decided to grill last night-it was warm enough to go outside, and the snow had melted off the deck. I didn't follow recipes, so I can't give you the exact recipe, but I'll give you the steps I went through because dinner was really good.
For the salmon, I mixed in a small bowl some dijon mustard, lemon juice, olive oil, and a little maple syrup. I spread that on top of salmon fillets, then topped with panko, salt and pepper. I placed that on foil, skin side down, on a grill until cooked to your desired doneness (don't overcook or it will be too dry). Oh, one other thing. The topping started to get soggy, so I place it under the broiler for a minute or two until it was crispy.
For the grilled romaine salad, make a lemon vinegrette. In a small food processor, I mixed 1 clove garlic with a variety of vinegar (I was using the remains of a bottle of sherry vinegar and something else similar). I added a big squeeze of lemon juice, salt and pepper. I then drizzled in olive oil-I used a mixture of extra-virgin, then some lemon and orange I had. The lemon is best. Then for the salad, cut your romaine in half lengthwise. Drizzle olive oil on it and place it on the grill until it starts to char, turning often. Take it off the grill, and top with the dressing, chopped tomatoes, shaved parmesan, and home-made croutons. If you do a search on my blog, you'll find the recipe for this salad.
I served it with a wonderful Pinot Munier wine from August Briggs, and enjoyed the taste of spring!