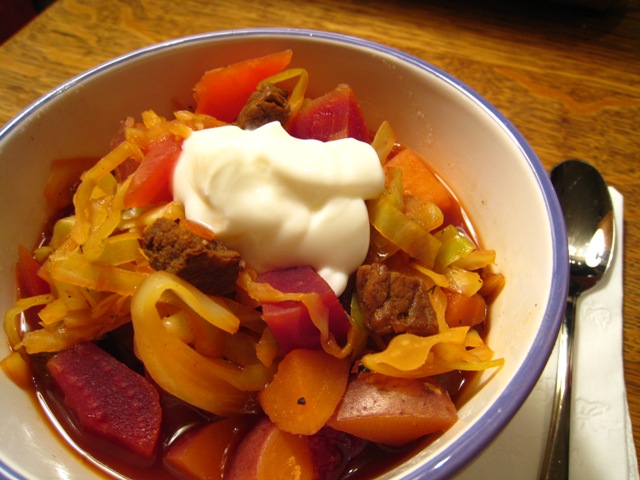 I cook dinner every night (okay, except when we're having leftovers). You wouldn't know that by looking at my blog, because I don't post that often. But the reason that I don't is that I don't follow recipes very often. When I'm busy at work, I like to make a soups that will last us a few days. Or a lot of stew-type dishes. I decided that I'd start to show you more of these dishes that I just throw together. I won't give you recipes, but I'l tell you what I did. Maybe it will give you ideas for yourself.
Tonight, I wanted to use some beets that I roasted a couple of nights ago, and roasted garlic I had leftover from Thanksgiving. I don't think I've ever made Borscht soup, but that's what I thought I'd do. I had a small piece of sirloin in my freezer, probably about 1/4 pound. I chopped it into small pieces, and browned it in some olive oil. I then added 1 large chopped shallot(I was out of onions), the chopped roasted garlic, and about 8 or so baby red potatoes, chopped. And seasoned with salt and pepper. It began sticking, so I deglazed the pan with a good splash(okay, more than a splash) of red wine. I cooked that on low to let the potatoes soften while waiting for my husband to come home from the store with my beef broth and cabbage.
When he arrived, I add the beef broth, and thinly sliced cabbage. I adjusted seasonings, and added dill. I also added a big squirt of tomato paste and a few dashes of worchestershire sauce. I cooked this until the potatoes and cabbage were soft. I served it with some low-fat sour cream on top. It was very flavorful and I will have to remember to make this again.
So this is the type of soups that I throw together without recipes. I try to make them low-fat, quick, and use up produce or other left-overs that need to be eaten.
Let me know if this type of post is of interest to you, or if you only want to see recipes.