SUNDAY SMALL BITES WEEK #8 – PUMPKIN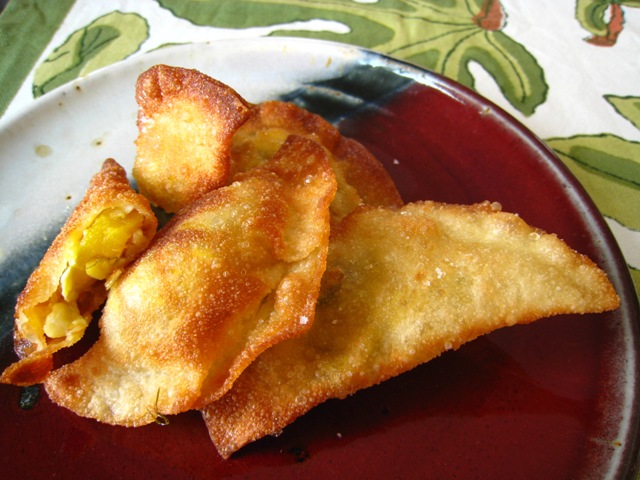 This week our Sunday Small Bites ingredient was chosen by Deborah. She chose pumpkin. I had to do a little searching to find an appetizer using pumpkin. I thought of making a soup, but wanted to try something different. I have a cookbook titled "The Foods of the Greek Islands" by Aglaia Kremezi. I chose a recipe from this book called Bourekia Me Kolokytha, or Savory Pumpkin and Fennel Pies. The book says that these pumpkin and fennel pies, with or without cheese, are made all over Chios. The cheese versions are more common in hte southern villages of the island. Traditionally, these are wrapped in homemade phyllo pastry, but the book suggest using spring-roll wrappers instead. I had some wonton wrappers in my fridge, so that's what I used. The recipe calls for frying these. Just in case you think about saving the fat and baking them instead, don't bother. I tried, and the wrapper just comes out tough and chewy, not crisp and crunchy. These are really tasty, and would be a wonderful start to any meal or as part of the selection at an appetizer party.

Savory Pumpkin and Fennel Pies
Makes 20-25 small pies
Filling:
1/3 cup olive oil
1 cup diced onions
2 1/2 cup diced pumpkin or winter squash such as butternut or Hubbard (about 3/4 pound)
1 fennel bulb, trimmed(fronds and tender stalks reserved) and coursely grated
1/3 cup coarse or fine bulgur
1/2 teaspoon Aleppo pepper or pinch of crushed red pepper flakes
1/2 cup chopped fennel fronds plus tender stalks, or fresh dill
1 1/2 cups crumbled feta cheese
2/3 cup grated hard myzithra or Pecorino Romano cheese
Salt (optional)
Spring-roll wrappers, thawed if frozen
1 large egg white, lightly beaten
Olive oil and safflower oil for frying
Make the filling:
In a large skillet, heat the oil and saute the onions over medium heat for 4 to 5 minutes, or until soft. Add the pumpkin or squash and grated fennel, increase the heat to high and saute for 10 to 12 minutes, or until the vegetables are soft. Add the bulgur wheat and pepper and cook for 2 minutes more; remove from heat. Stir in the fennel fronds or dill, cover and let stand for 15 minutes.
Stir the cheeses into the filling mixture. Taste and add salt if necessary-the cheeses are very salty, so taste first.
Place a wrapper on a work surface, and place a small mound of fillling in middle. Moisten the edges of the wrapper with the egg white, fold over into a half-circle, and crimp the edges with a fork. Continue with the remaining wrappers and filling.
In a large skillet, heat about 1 1/2 inches of a combination of olive and safflower oil to 350 degrees F. Add no more than 2 or 3 bourekia and fry, turning once, until golden brown, about 4 minutes. Repeat with remaining bourekia. Transfer to paper towels to drain.
Serve warm or at room temperature.
Note: They keep well, covered, in the refrigerator for up to 5 days. Reheat them in a preheated 400 degree oven for about 15 minutes.
Note: I did not grate the fennel, I just chopped it and sauteed it along with the onions. I also think you can reduce the olive oil that you saute the onions in to 1/4 cup or less. Also, my bulgur wouldn't soften. I added 1/4-1/2 cup of water to the skillet, covered it, and cooked until the bulgur was soft.