OCTOBER DARING BAKERS – FRENCH MACARONS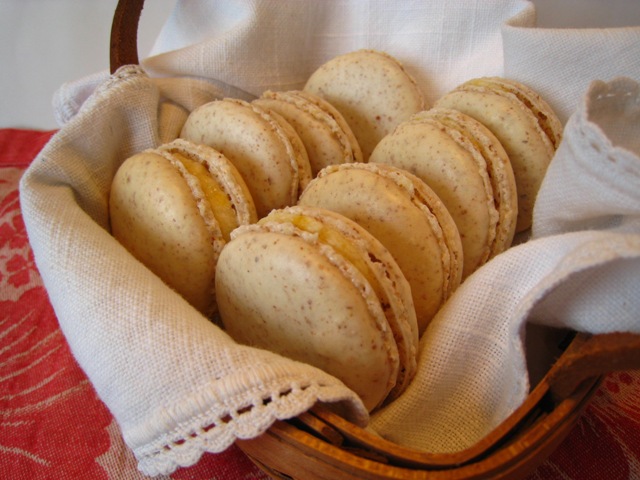 It's almost the end of October, which means it's time to share our October Daring Bakers challenge. The 2009 October Daring Bakers' challenge was brought to us by Ami S. She chose macarons from Claudia Fleming's The Last Course: The Desserts of Gramercy Tavern as the challenge recipe.
I was so excited when I saw this, because I've always wanted to make French Macarons. I've read about how difficult they can be to make, so I had never attempted them. Until now. Oh yeah, for those of you who don't know what a French Macaron is, it's a cookie based on either ground almonds or almond paste, combined with sugar and egg whites. The texture can run from chewy, crunchy or a combination of the two. Frequently, two macaroons are sandwiched together with ganache, buttercream or jam, which can cause the cookies to become more chewy.
A lot of people said they were having trouble with the recipe we were to use for this challenge, so I decided to not only make the challenge recipe, but two others as well! I'll give you a brief overview of what I made, but I'll give more detailed posts later on the other recipes. Today I'll concentrate on our challenge recipe.
We were given Claudia Fleming's recipes for the macarons. We were required to use that recipe, but we were allowed to flavor them as we pleased, along with choosing any filling we wanted.

I decided to start with David Lebovitz's recipe for French Chocolate Macarons. I'm not sure why attempted these first, because I had heard that chocolate macarons can be harder to make. As these baked, I peeked in the oven and saw the sign of a good macaron-"feet". Feet are the ruffled skirt that forms along the bottom of the cookie. So I had feet, but I also had something I didn't want-a cookie that looked like a Hersey's kiss. I didn't have my batter quite molten enough, and my cookies didn't flatten out when baking. Had I known more about what I was doing, I probably could have taken a wet fingertip and pushed down that little point from my piping, but I didn't know. On another positive side, these cookies may have the best texture out of all of the cookies-a nice crunchy shell with a slight chewy interior.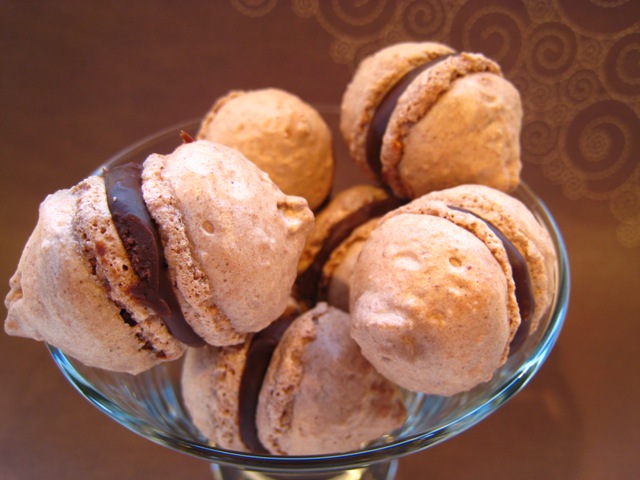 The second recipe I made was our challenge recipe. I had a problem with this recipe, but I think I know what the problem was. I overwhipped my egg whites. They were too stiff. My cookies looked very nice and had the appropriate texture, but there was no feet at all. If you didn't know what a macaron looked like, you might think these were perfect. I followed the recipe as written, and didn't add any additional flavoring. I filled them with 3 different fillings-a chocolate ganache to which I added some Italian orange jam, a Marionberry Lavender jam, and the Italian orange jam by itself. You can store these cookies in an airtight container in the refrigerator for a few days, and they tend to get a little chewier. Yum!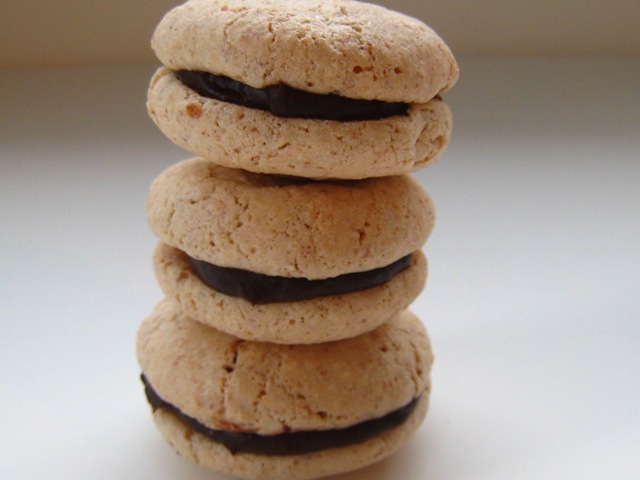 Then it was time for my last batch. This time I used a recipe from Tartelette. I added the contents of a Ginger Tea bag (contents were just dried ginger) to the batter. For the filling, I used an orange buttercream. This time, I didn't overbeat the eggwhites. They piped nicely, and flattened as they should have. But baking at the lower temperature she suggested didn't work for me. So I turned the heat up to 375 degrees F to finish baking, and out popped the feet! This batch was as close to perfect as I was going to get on my first few batches. The feet weren't really large, but I think the cookies looked beautiful, and the ginger added a wonderful flavor.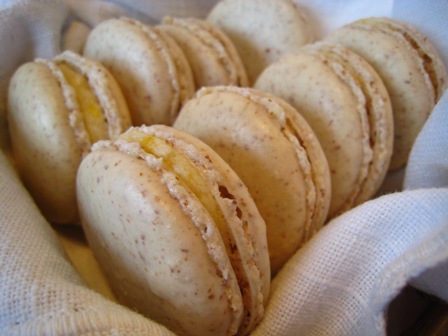 I will certainly be making French Macarons again in the future. They are elegant, beautiful, and can be made in such a variety of flavors. Next October, my husband and I will be visiting Paris, and I can't wait to visit various pastisseries and do a taste test of my own.
French Macarons
Preparation time: Not taking into account the amount of time it takes for you to bring your egg whites to room temperature, the whole baking process, including making the batter, piping and baking will probably take you about an hour to an hour and a half. How long it takes to make your filling is dependent on what you choose to make.
Actual baking time: 12 minutes total, plus a few minutes to get your oven from 200°F to 375°F.
Equipment required:
• Electric mixer, preferably a stand mixer with a whisk attachment
• Rubber spatula
• Baking sheets
• Parchment paper or nonstick liners
• Pastry bag (can be disposable)
• Plain half-inch pastry bag tip
• Sifter or sieve
• If you don't have a pastry bag and/or tips, you can use a Ziploc bag with the corner snipped off
• Oven
• Cooling rack
• Thin-bladed spatula for removing the macaroons from the baking sheets
• Food processor or nut grinder, if grinding your own nuts (ouch!)
Ingredients
Confectioners' (Icing) sugar: 2 ¼ cups (225 g, 8 oz.)
Almond flour: 2 cups (190 g, 6.7 oz.)
Granulated sugar: 2 tablespoons (25 g , .88 oz.)
Egg whites: 5 (Have at room temperature)
Directions:
1. Preheat the oven to 200°F (93°C). Combine the confectioners' sugar and almond flour in a medium bowl. If grinding your own nuts, combine nuts and a cup of confectioners' sugar in the bowl of a food processor and grind until nuts are very fine and powdery.
2. Beat the egg whites in the clean dry bowl of a stand mixer until they hold soft peaks. Slowly add the granulated sugar and beat until the mixture holds stiff peaks.
3. Sift a third of the almond flour mixture into the meringue and fold gently to combine. If you are planning on adding zest or other flavorings to the batter, now is the time. Sift in the remaining almond flour in two batches. Be gentle! Don't overfold, but fully incorporate your ingredients.
4. Spoon the mixture into a pastry bag fitted with a plain half-inch tip (Ateco #806). You can also use a Ziploc bag with a corner cut off. It's easiest to fill your bag if you stand it up in a tall glass and fold the top down before spooning in the batter.
5. Pipe one-inch-sized (2.5 cm) mounds of batter onto baking sheets lined with nonstick liners (or parchment paper).
6. Bake the macaroon for 5 minutes. Remove the pan from the oven and raise the temperature to 375°F (190°C). Once the oven is up to temperature, put the pans back in the oven and bake for an additional 7 to 8 minutes, or lightly colored.
7. Cool on a rack before filling.
Yield: 10 dozen. Ami's note: My yield was much smaller than this. I produced about two dozen filled macaroons.