SEPTEMBER DARING COOKS – INDIAN DOSAS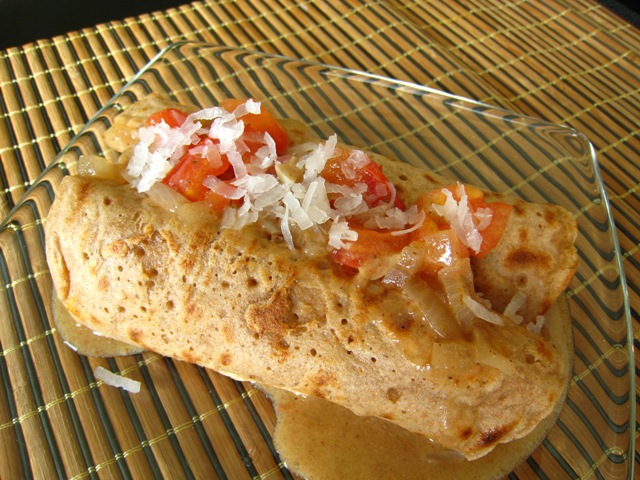 It's time for another Daring Cooks Challenge.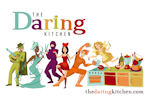 This months challenge was brought to us by Debyi from http://www.healthyvegankitchen.com. Here's what she had to say about the recipe she chose: "I am so excited to be your host for the September 2009 Daring Cooks challenge. It took almost a month to decide which recipe that I wanted to do. I wanted to choose something that could be easily adapted for our GF'ers and other Alternative Cooks, as well as still being tasty for everyone else. So, I finally decided on Indian Dosas from the refresh cookbook by Ruth Tal. My hubby and I had the wonderful pleasure of visiting one of the Fresh Restaurants (www.freshrestaurants.ca) in Toronto, Canada during a business trip. We ate 3 out of our 5 meals there, it was that good. If you ever get a chance to visit, I highly recommend it, they have 3 locations in Toronto. If not, their cookbooks are amazing, everything we have tried has been great."
Here's what our requirements for the challenge were-Must be free of animal products. That means no cows milk, butter, meat, poultry, fish, chicken/beef broth, etc. This dish is also 99% oil free, using only what you need to keep the dosas from sticking (I used a quick spritz of cooking spray on the first dosa only), which isn't too bad with a nonstick pan. (I did use a little olive oil when sauteing the onions, because my pans are not non-stick.) We could use a different filling/sauce if we wanted , but it had to be free of animal products.
I chose to make the recipe almost as written. I did add some zuchhini to the garbanzo bean filling. The curry powder I used is Sri Lankan curry powder. It's wonderful tasting, but very hot. So I did use a little less than called for.
This was an interesting challenge. I've cooked with many of the flavors before, so that wasn't new to me. But I had never made the dosas. The dosas were easy to make and tasty, and it was nice to know that this was a healthy meal. I can't say it was low in fat because of the coconut milk, but I used light coconut milk, so that helped. I served the leftovers over rice, and that was also good.
If you're looking for an interesting, authentic Indian dish, give these Dosas a try.
Now I just have to figure out what to do with all of the leftover spelt flour…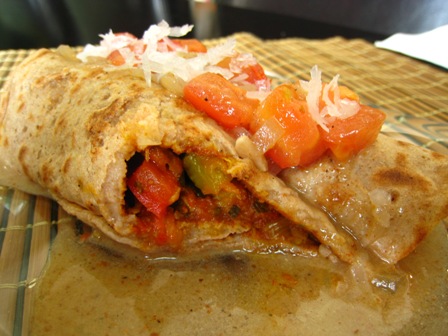 Indian Dosas
This recipe comes in 3 parts, the dosas, the filling and the sauce. It does take awhile to make, but the filling and sauce can be made ahead and frozen if need be. You can serve them as a main course with rice and veggies, or as an appetizer.
Serves 4
Dosa Pancakes
1 cup (120gm/8oz) spelt flour (or all-purpose, gluten free flour)
½ tsp (2½ gm) salt
½ tsp (2½ gm) baking powder
½ tsp (2½ gm) curry powder
½ cup (125ml/4oz) almond milk (or soy, or rice, etc.)
¾ cup (175ml/6oz) water
cooking spray, if needed
Dosa Filling
1 batch Curried Garbanzo Filling (see below), heated
Dosa Toppings
1 batch Coconut Curry Sauce (see below), heated
¼ cup (125gm) grated coconut
¼ cucumber, sliced
Dosa Pancakes
1.Combine the dry ingredients in a bowl, slowly adding the almond milk and water, whisking until smooth.
2.Heat a nonstick skillet over medium heat. Spray your pan with a thin layer of cooking spray, if needed.
3.Ladle 2 tablespoons of batter into the center of your pan in a circular motion until it is a thin, round pancake. When bubbles appear on the surface and it no longer looks wet, flip it over and cook for a few seconds. Remove from heat and repeat with remaining batter. Makes 8 pancakes.
Curried Garbanzo Filling
This filling works great as a rice bowl topping or as a wrap too, so don't be afraid to make a full batch.
5 cloves garlic
1 onion, peeled and finely diced
1 carrot, peeled and finely diced
1 green pepper, finely diced (red, yellow or orange are fine too)
2 medium hot banana chilies, minced
2 TBSP (16gm) cumin, ground
1 TBSP (8gm) oregano
1 TBSP (8gm) sea salt (coarse)
1 TBSP (8gm) turmeric
4 cups (850gm/30oz) cooked or canned chick peas (about 2 cans)
½ cup (125gm/4oz) tomato paste
1.Heat a large saucepan over medium to low heat. Add the garlic, veggies, and spices, cooking until soft, stirring occasionally.
2.Mash the chickpeas by hand, or in a food processor. Add the chickpeas and tomato paste to the saucepan, stirring until heated through.
Coconut Curry Sauce
This makes a great sauce to just pour over rice as well. This does freeze well, but the texture will be a little different. The flavor is still the same though. My picture of this sauce is one that I had made, had to freeze, then thaw to use. It tastes great, but the texture is a little runnier, not quite as thick as it was before freezing.
1 onion, peeled and chopped
2 cloves garlic
½ (2½ gm) tsp cumin, ground
¾ (3¾ gm) tsp sea salt (coarse)
3 TBSP (30gm) curry powder
3 TBSP (30gm) spelt flour (or all-purpose GF flour)
3 cups (750ml/24oz) vegetable broth
2 cups (500ml/24oz) coconut milk
3 large tomatoes, diced
1.Heat a saucepan over medium heat, add the onion and garlic, cooking for 5 minutes, or until soft.
2.Add the spices, cooking for 1 minutes more. Add the flour and cook for 1 additional minute.
3.Gradually stir in the vegetable broth to prevent lumps. Once the flour has been incorporated, add the coconut milk and tomatoes, stirring occasionally.
4.Let it simmer for half an hour.
Happy eating!