SUNDAY SALAD SAMPLERS WEEK #15 – TROPICAL RICE SALAD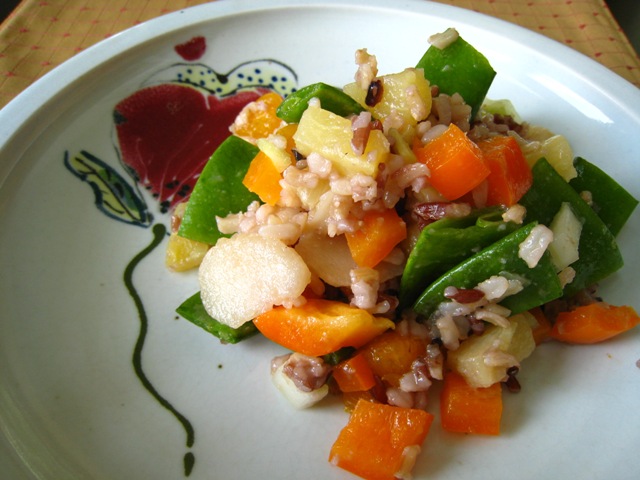 We're almost at an end to our salad-making, and wouldn't you know this is the time I get behind. This salad was our chosen salad for last Sunday. It was created by Palma. For those of you who don't know, Palma is a fabulous cook. She came up with this recipe while looking for a salad for a tropical-themed wedding shower.
The salad is really flavorful. I followed the directions with only a couple of changes-I used a mixed rice blend(brown, wild, etc.) instead of the white rice called for, and used orange bell pepper instead of red. Great with grilled fish or chicken. Thanks Palma.

TROPICAL RICE SALAD
2 c. chicken stock
1 c. white rice (I've never tried it with other rice, but feel free)
1 c. halved snow peas
1 c. chopped red bell pepper
3/4 c. celery
2/3 c. (or one can) sliced water chestnuts
2-3 green onions, chopped
1 can mandarin oranges, drained
1 can crushed (or chunk) pineapple, drained well
Dressing:
2 t. orange juice concentrate
2 t. honey
1 t. soy sauce
1 t. olive oil
1/2 t. sesame oil
1/2 t. lemon juice
1/2 t. minced garlic
1/4 t. minced gingerroot
Cook rice in chicken stock. Drain well. Cool rice. Put rice in a large mixing bowl. Add all other ingredients. In a small bowl, whisk together dressing ingredients. Pour over rice mixture and toss. Chill six hours, and toss again before serving.