SUNDAY SALAD SAMPLERS WEEK #14 – THAI BEEF SALAD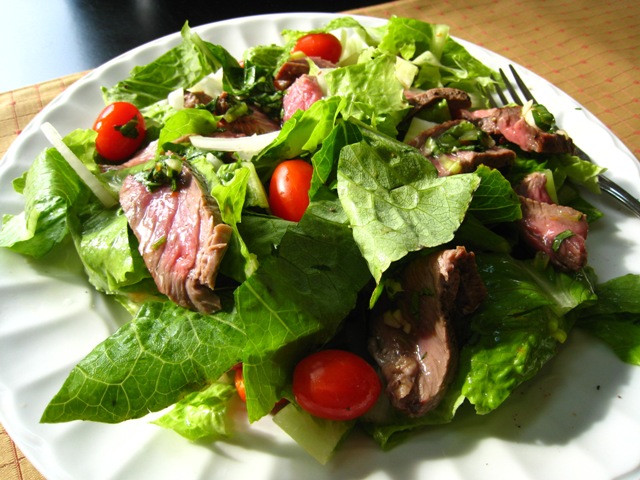 Okay, I'm a week behind on this one. Might be the first time all season that I've been so behind. Today is supposed to be Palma's Tropical Rice Salad. I'll post on that in the next couple of todays. So today, it's the salad for last week.
The recipe was chosen by Maria. Here's her description of the recipe: "This salad is one of the favorites in restaurants and home kitchens alike in Bangkok and Central Thailand. This version was given to me by my niece Isabel who for many years assisted her Thai mom in Atlanta-area restaurants."
I followed the recipe as written, with a few minor changes. I added a little sugar to the dressing. I also forgot to add the Thai chilis to my salad, but I had added garlic-chili sauce to the dressing also so it was very spicy. I also used sweet onion instead of red onion.
I loved this salad. It is so flavorful, and very healthy as long as you use a cut of beef that isn't too fatty. The dressing has no oil in it, but you don't miss it at all. You can also substitute shrimp for the beef.

THAI BEEF SALAD
1 lb tender beef steak, such as top sirloin.
For the salad:
1/2 red onion thinly sliced
1 tomato, cut into wedges
1 cucumber, peeled, cut lengthwise in half and thinly sliced
1-2 Thai bird's-eye chilies or according to taste (I use 1-2 serrano chilies)
For the sauce:
1/4 cup Thai fish sauce
1/4 cup lime juice
2 – 3 garlic cloves, minced
1/2 cup cilantro leaves, roughly chopped
1/4 cup chopped scallions
Grill beef until medium to well-done. Slice thinly on the bias and set aside. Combine all the salad ingredients and add the sliced beef. Make the sauce by mixing together all the ingredients and toss with the salad.
Serve over a bed of green lettuce (e.g. Romaine) whole or chopped, or place individual servings over a large lettuce leaf.
Variations – Mint and sliced shallots can be added to the salad. Grilled shrimp or calamari may be substituted for the beef. Instead of lettuce, the salad may be served with a wedge of fresh cabbage. Palm sugar (or any other sugar) may be added for a slight touch of sweetness.
This salad uses many of the same ingredients in Jerry's Thai Chicken Salad, so the same seasoning guidelines posted for his recipe can be followed for this salad:
quote:
Adjust the seasonings – there should be a balance of hot, sour, and salt. To adjust seasonings in Thai food follow these rough guidelines . . . if it is too sweet add more fish sauce . . . too salty add more sugar . . . not tangy enough – add more lime juice . . . not hot enough – add more chili