SUNDAY SALAD SAMPLERS WEEK #13 – ISRAELI SALAD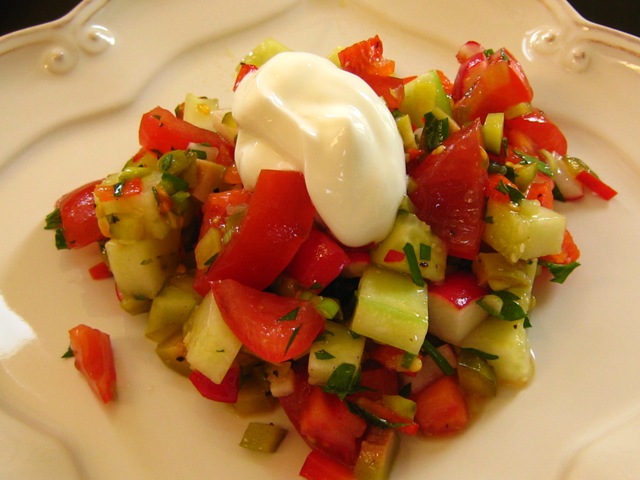 This week's salad was chosen by Terry. She chose a recipe from a cookbook that I've had for many years-Molly Katzen's book, The Enchanted Broccoli Forest. Terry first ate this salad while in Israel, and said they eat salads like this a lot for breakfast. I'm not sure that I was too thrilled to make this salad. I just couldn't imagine a salad with pickles in it. Well, I made it and LOVED IT! It's so fresh-tasting. I followed the recipe except I used a red pepper instead of green, and I didn't measure anything. I also minced everything by hand instead of using a food processor. I topped mine with some plain yogurt. My husband really liked this salad also, and he doesn't care for olives or pickles.

Israeli salad
1 large English cucumber, or 2 6″ regular ones (the English cucumbers have fewer seeds)
2-3 medium-sized ripe tomatoes
12 radishes
1/2 cup pimiento-stuffed green olives
2 scallions
1 large Kosher pickle
1 medium green pepper
3/4 cup (packed) fresh parsley
1/4 cup olive oil
juice from 1 large lemon
salt and freshly ground pepper, to taste
Cut the cucumber and tomatoes into small cubes and place in large bowl.
In your food processor, place the radishes and olives; pulse until roughly chopped. Add to the large bowl.
Place the scallions, pickle, and green pepper in the food processor and mince. Add to the large bowl.
Mince the parsley in the food processor; add to large bowl.
Add the olive oil, lemon juice, salt and pepper to your salad, and toss everything together gently. Chill.
Optional additions: feta cheese on top, or you can serve with yogurt or sour cream or little cubes of cream cheese on top.