RABBIT, MUSHROOM AND TARRAGON STEW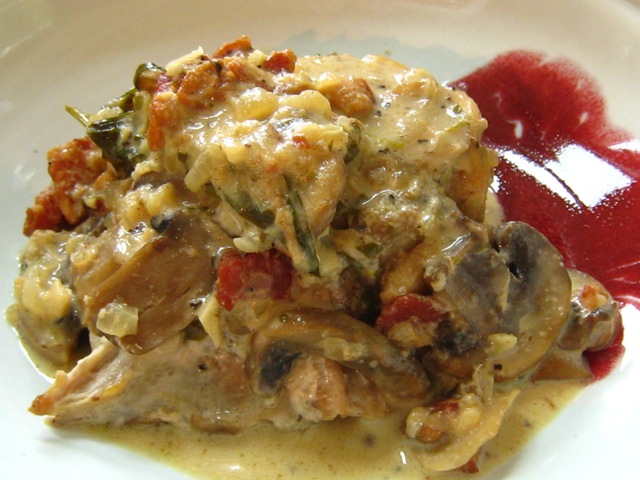 I had a couple of rabbits in my freezer I needed to cook, and went in search of a recipe. I found this recipe on the blog We Are Never Full. I've tried a few other recipes from their blog, and they've always been very good. This was no exception.
This stew was very flavorful due partially to the bacon and cream in the recipe. Obviously it is rich. If you've never tried rabbit you should-it is really delicious. I just have to get better at cutting it into pieces-unfortunately, I tend to have little bones where there probably shouldn't be any bones.

RABBIT, MUSHROOM AND TARRAGON STEW
From the blog We Are Never Full
3 rashes of bacon, cut into pieces
1 small onion, diced finely
3 cloves garlic, minced
1 box of button mushrooms, cleaned and sliced lengthwise
1 whole rabbit, cut into pieces
3 sprigs of tarragon – 2 with tarragon leaves removed and chopped and 1 left whole, bruised by back of a chef's knife
2 1/2 cups of white wine
2 heaping tablespoons of dijon mustard
1 1/2 cups of chicken stock
1/2 cup light cream
Heat heavy-bottomed pan/pot to medium-high and cook bacon pieces until almost crispy. Remove with a slotted spoon and set aside.
Pour bacon fat into a bowl and, starting with one tablespoon, add the fat back to the pot. Cook onion, garlic and mushroom in the bacon fat until medium-soft (about 5-6 minutes). Remove and set aside in the bowl with the bacon.
Season the rabbit pieces with salt and pepper. Add a bit more bacon fat (or butter if you'd prefer) back to the heavy-bottomed pan and add your rabbit pieces. Sear the outside on all sides of each piece until they are nice and golden brown (about 6 to 8 minutes). Remove to a plate for a moment.
Deglaze the bottom of your pan with wine – keep heat up to medium and scrape all the bits from the bottom of the pan. After about a minute or so, add your chicken stock, tarragon, bruised tarragon sprig and mustard. Stir.
Now, add back everything – rabbit, mushrooms, bacon, onions, garlic, etc. – to the pan. Bring to a boil and then lower to medium/medium-low and simmer, covered for 30 minutes. After that, continue to simmer the dish uncovered for another 20 to 30 minutes. It will cook down to a thicker sauce.
Finish by stirring in the cream and fishing out the loose tarragon sprig