JULY DARING BAKERS – COOKIES!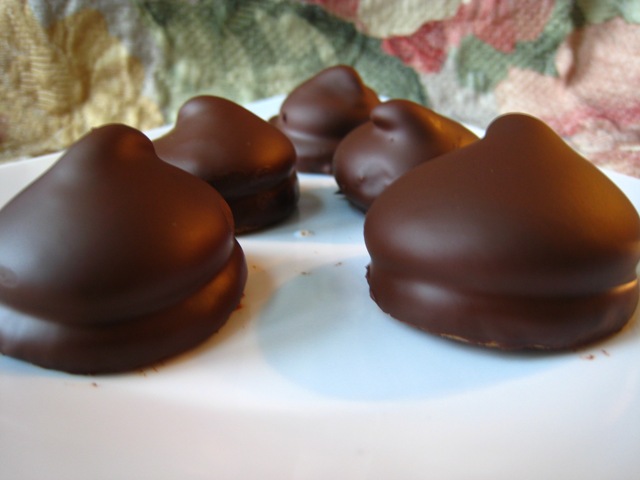 The July Daring Bakers' challenge was hosted by Nicole at Sweet Tooth. She chose Chocolate Covered Marshmallow Cookies and Milan Cookies from pastry chef Gale Gand of the Food Network. She had been wanting to try Gand's version of her favorite store bought cookies which were the Peppridge Farm Milano Cookies and the Mallows (Chocolate covered Cookies).
I had high hopes for these recipes, but unfortunately, I was disappointed.
The Mallow cookies were the best. The problem with this recipe was it was hard to get the chocolate coating to harden, and the yield was way off. I forgot to count, but it made dozens of cookies. I followed the recipe for the cookies and coating, but used a different one for the marshmallows. I've posted it below. The homemade marshmallow filling was flavored with strawberry puree and orange flower water. They were really yummy and I'll for sure be making more homemade marshmallows in the future.

I ended up with 3 cookie sheet full of mallows. Some I coated in dark chocolate, and some in milk chocolate. Here's a photo of the cookies sitting after being dipped in the chocolate.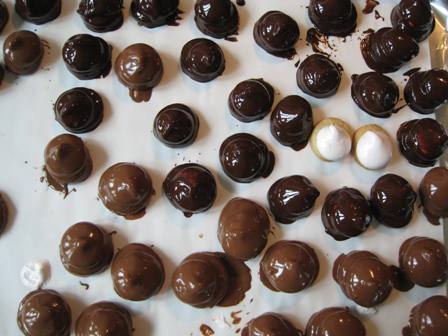 I'm not sure what went wrong with the Milano cookies. Part of the problem was my fault-the eggs were too cold and the butter wasn't quite at room temperature. But I don't think that the entire fault was mine, as I saw many photos from others that had problems with this recipe. I'll post the recipe here, but be forewarned-they may or may not turn out.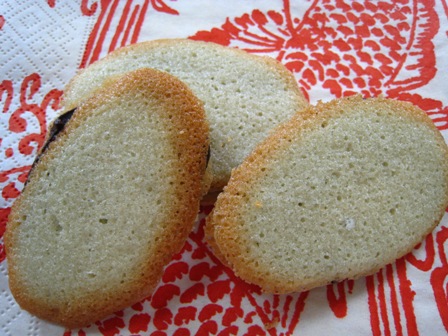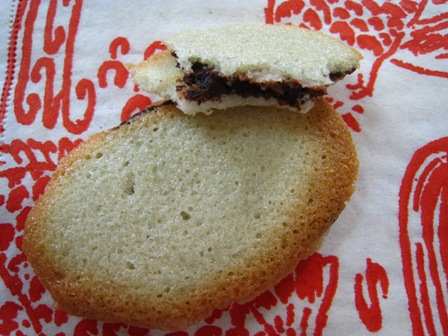 Mallows(Chocolate Covered Marshmallow Cookies)
Recipe courtesy Gale Gand, from Food Network website
Serves: about 2 dozen cookies
• 3 cups (375grams/13.23oz) all purpose flour
• 1/2 cup (112.5grams/3.97oz) white sugar
• 1/2 teaspoon salt
• 3/4 teaspoon baking powder
• 3/8 teaspoon baking soda
• 1/2 teaspoon ground cinnamon
• 12 tablespoons (170grams/ 6 oz) unsalted butter
• 3 eggs, whisked together
• Homemade marshmallows, recipe follows
• Chocolate glaze, recipe follows
1. In a mixer with the paddle attachment, blend the dry ingredients.
2. On low speed, add the butter and mix until sandy.
3. Add the eggs and mix until combine.
4. Form the dough into a disk, wrap with clingfilm or parchment and refrigerate at least 1 hour and up to 3 days.
5. When ready to bake, grease a cookie sheet or line it with parchment paper or a silicon mat.
6. Preheat the oven to 375 degrees F.
7. Roll out the dough to 1/8-inch thickness, on a lightly floured surface. Use a 1 to 1 1/2 inches cookie cutter to cut out small rounds of dough.
8. Transfer to the prepared pan and bake for 10 minutes or until light golden brown. Let cool to room temperature.
9. Pipe a "kiss" of marshmallow onto each cookie. Let set at room temperature for 2 hours.
10. Line a cookie sheet with parchment or silicon mat.
11. One at a time, gently drop the marshmallow-topped cookies into the hot chocolate glaze.
12. Lift out with a fork and let excess chocolate drip back into the bowl.
13. Place on the prepared pan and let set at room temperature until the coating is firm, about 1 to 2 hours.
Note: if you don't want to make your own marshmallows, you can cut a large marshmallow in half and place on the cookie base. Heat in a preheated 350-degree oven to slump the marshmallow slightly, it will expand and brown a little. Let cool, then proceed with the chocolate dipping.
Homemade marshmallows:
• 1/4 cup water
• 1/4 cup light corn syrup
• 3/4 cup (168.76 grams/5.95oz) sugar
• 1 tablespoon powdered gelatin
• 2 tablespoons cold water
• 2 egg whites , room temperature
• 1/4 teaspoon pure vanilla extract
1. In a saucepan, combine the water, corn syrup, and sugar, bring to a boil until "soft-ball" stage, or 235 degrees on a candy thermometer.
2. Sprinkle the gelatin over the cold water and let dissolve.
3. Remove the syrup from the heat, add the gelatin, and mix.
4. Whip the whites until soft peaks form and pour the syrup into the whites.
5. Add the vanilla and continue whipping until stiff.
6. Transfer to a pastry bag.
Chocolate glaze:
• 12 ounces semisweet chocolate
• 2 ounces cocoa butter or vegetable oil
1. Melt the 2 ingredients together in the top of a double boiler or a bowl set over barely simmering water.
Note-Here's the marshmallow recipe I made. You will have a lot more than you need for the cookies-prep a pan as if you're making the regular marshmallows, and you'll have a cookie sheet full of them.
STRAWBERRY MARSHMALLOWS
(A variation on a recipe from Martha Stewart.)
4 envelopes gelatin
1/2 cup strawberry puree(frozen is actually better than fresh unless you have acess to very flavorful local strawberries)
1 1/4 cups water
3 cups sugar
1 1/4 cups light corn syrup
1/4 tsp salt
1/4 tsp orange flower water (optional)
Powdered sugar and potato starch for dusting
Line a sheet pan wtih 1″ rim with aluminum foil. Coat the foil with vegetable oil or nonstick spray. Fit the mixer with the whisk attachment.
Mix the strawberry puree, orange flower water (if using) and 1/2 cup of the water in the bowl of a stand mixer and sprinkle the gelatin over to soften.
Put the sugar, corn syrup, remaining 3/4 cup water and salt in a heavy saucepan. Bring to a boil and cook until it reaches the soft-ball stage (234-240 F).
With the mixer at full speed, pour all of the hot syrup slowly down the side of the bowl. Be careful as the mixture is very liquid and hot at this point and some may splash out of the bowl – use a splash guard if you have one. whip until the mixture is very fluffy and stiff, about 8-10 minutes. pour mixture into the foil-lined pan and smooth with an oiled offset spatula so that it's level with the top of the rim (it won't completely fill the pan). Allow the mixture to sit, uncovered at room temp for 10 to 12 hours.
Mix equal parts powdered sugar and potato starch and sift generously over the rested marshmallow slab. Turn it out onto a cutting board or counter, peel off foil and dust with more sugar/starch mixture. Slice with a thin-bladed oiled knife or oiled cookie cutters. Dip all cut edges in sugar/starch mixture and shake off excess. Marshmallows will keep several weeks at room temp in an air-tight container.
Variation – Chocolate Marshmallows:
Replace strawberry puree and initial 1/2 cup of water in mixing bowl with 1/2 cup of cocoa disolved in 1/2 cup boiling water in a separate bowl. Soften gelatine in an additional 1/4 cup cold water in mixing bowl. Add cocoa mixture to mixing bowl and procede with recipe as above. This will produce a marshmallow with a strong chocolate flavor, but somewhat denser than the strawberry version. To get a lighter texture as well as a lighter chocolate flavor, reduce cocoa to 1/4 cup.
Variation – Vanilla Marshmallows:
Replace strawberry puree and initial 1/2 cup of water in mixing bowl with 3/4 cup water and 2 teaspoons of vanilla extract or the seeds scraped from 2 vanilla beans.
Milan Cookies
Recipe courtesy Gale Gand, from Food Network website
Serves: about 3 dozen cookies
• 12 tablespoons (170grams/ 6 oz) unsalted butter, softened
• 2 1/2 cups (312.5 grams/ 11.02 oz) powdered sugar
• 7/8 cup egg whites (from about 6 eggs)
• 2 tablespoons vanilla extract
• 2 tablespoons lemon extract
• 1 1/2 cups (187.5grams/ 6.61 oz) all purpose flour
• Cookie filling, recipe follows
Cookie filling:
• 1/2 cup heavy cream
• 8 ounces semisweet chocolate, chopped
• 1 orange, zested
1. In a mixer with paddle attachment cream the butter and the sugar.
2. Add the egg whites gradually and then mix in the vanilla and lemon extracts.
3. Add the flour and mix until just well mixed.
4. With a small (1/4-inch) plain tip, pipe 1-inch sections of batter onto a parchment-lined sheet pan, spacing them 2 inches apart as they spread.
5. Bake in a preheated 350 degree oven for 10 minutes or until light golden brown around the edges. Let cool on the pan.
6. While waiting for the cookies to cool, in a small saucepan over medium flame, scald cream.
7. Pour hot cream over chocolate in a bowl, whisk to melt chocolate, add zest and blend well.
8. Set aside to cool (the mixture will thicken as it cools).
9. Spread a thin amount of the filling onto the flat side of a cookie while the filling is still soft and press the flat side of a second cookie on top.
10. Repeat with the remainder of the cookies.