HAM, LEEK, AND THREE CHEESE QUICHE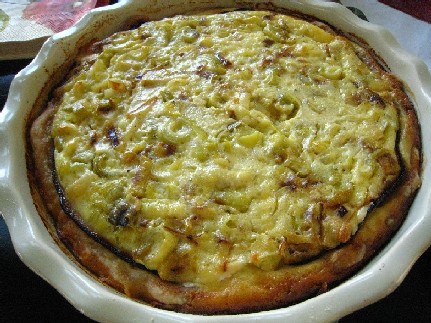 As I mentioned in a post last week, I made a quiche for a wedding shower brunch for one of my co-workers. I wanted to share this recipe with you, because I think it is really good.
The recipe came from Epicurious.com. The source of the recipe if from Bistro Jeanty, in Yountville, California. This quiche is very creamy and flavorful. I've made it twice now, and both times had to cook it for a LOT longer than what is called for. It calls for baking 1 1/4 to 1 1/2 hours. I forgot to keep track of how long it actually took to bake, but it was probably around 2 hours. The quiche is good served at room temperature also, so just plan on allowing enough time in case yours takes an extra-long time to cook also. The recipe also says it can be made a day ahead and reheated, but I haven't tried that.

Ham, Leek, and Three-Cheese Quiche Gourmet | April 2006
Adapted from Bistro Jeanty, Yountville, CA
Extremely creamy and rich, this quiche could be served for breakfast, lunch, or dinner. You can make your own crust, but the premade kind will save some time.
Yield: Makes 8 main-course servings
Active Time: 35 min
Total Time: 2 1/2 hr
1 round of refrigerated pie dough for a 9-inch pie (from a 15-oz package; not a preshaped frozen pie shell)
3/4 lb leeks (about 3 medium; white and pale green parts only)
2 tablespoons unsalted butter
1/4 lb thinly sliced smoked ham
3 oz Gruyère, coarsely grated (1 cup)
3 oz Italian Fontina, coarsely grated (1 cup)
3 oz whole-milk mozzarella, coarsely grated (1 cup)
3 large eggs
1/8 teaspoon freshly grated nutmeg
1/4 teaspoon black pepper
1 3/4 cups crème fraîche (from two 8-oz containers)
Special equipment: a 9-inch pie plate (4-cup capacity)
Prebake pie dough in pie plate according to package instructions, then remove from oven and reduce temperature to 350°F.
Meanwhile, halve leeks lengthwise and cut crosswise into 1/2-inch pieces, then wash well in a bowl of cold water, agitating leeks. Lift out and drain leeks in a colander and pat dry. Melt butter in a 10-inch heavy skillet over moderately low heat and cook leeks, stirring occasionally, until very tender, 8 to 10 minutes.
Line warm pie shell with sliced ham, overlapping layers as necessary to cover bottom and side of pie shell completely. Toss cheeses together and sprinkle evenly into pie shell (do not pack cheese), then spread leeks evenly on top of cheese. Whisk together eggs, nutmeg, and pepper until combined well, then whisk in crème fraîche until smooth.
Carefully pour half of custard on top of pie filling, gently moving cheese with a spoon to help custard disperse evenly. Slowly add remaining custard in same manner. Cover pie loosely with foil, gently folding edges over crust (keep foil from touching top of cheese mixture) and transfer to a baking sheet.
Bake until center of filling is puffed and set (center will be slightly wobbly but not liquid), about 1 1/4 to 1 1/2 hours. Cool on a rack at least 20 to 30 minutes before serving (filling will continue to set as it cools). Serve warm or at room temperature.
Cooks' note:
Quiche can be made 3 days ahead and cooled completely, uncovered, then chilled, wrapped in plastic wrap. Reheat quiche (uncovered) in a 350°F oven until warmed through, about 15 minutes.