SUNDAY SLOW SOUPERS #18 – CARROT ORANGE GINGER SOUP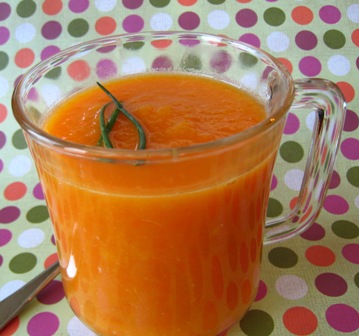 Okay, I know, I say this every week-I can't believe I've been making soup every week for the past 18 weeks. I was almost a little late with this one. It's Sunday morning, and I just made my soup, and just had a cup for breakfast.
This week's soup was chosen by Debrah. She chose a soup that she's been making for at least 20 years. It was a very easy soup to make-saute onions, garlic, ginger, and carrots in a little olive oil, cover with chicken broth and simmer until tender, puree, and add orange juice. How much easier could a soup be? I think you could also add different things to change the flavor of the soup-a little cream to make it richer, or a little curry powder, a little red pepper flakes… The orange flavor is really strong in the soup, and if you don't want a strong orange flavor I would suggest using maybe half of the amount of orange juice called for and use extra broth. Thanks Debrah for sharing a flavorful, healthy soup with us.

From Debrah:"It's been favourite for at least 20 years. I used to make this when I was doing location catering for film and tv production in Eastern Canada and it was a guaranteed winner for the segment of the cast and crew who liked healthy and tasty! It tastes so rich and creamy but has no added fat – no butter, cream, cheese, etc.! (what's a little olive oil between friends!) This would be suitable for two for a meal or four for an appetizer."
Carrot Orange Ginger Soup
1 large onion , diced
3 cloves garlic, minced or crushed
3″ piece of ginger root, finely diced(you can use more or less depending on preference)
8 large carrots, diced
1 large tetra pack of chicken or vegetable broth (if you use cans, you'll need between 1 and 2 cans, depending on how thick you want your soup)
1 1/2 cups orange juice
Saute onions, garlic and ginger in olive oil on low heat to soften and start to carmelize for only 10 minutes. Put in carrots and saute for 5 minutes to bring out the sugars. Add enough broth to cover the carrots and simmer till carrots are tender.
Remove from heat, place a small amount of broth and all of the carrots into blender and puree until smooth. Pour back into pot, add orange juice and rest of broth (or water) until you get the thickness consistency you desire.