MENDENHALL GLACIER – JUNEAU, ALASKA
I finished my blogging everyday in February, and then what happens? I haven't seemed to have the energy or desire to find things to write about. I will get better, I promise.
On Wednesday, I had to go to Juneau for work. It's about 1 1/2 hour flight from Anchorage. Wednesday was a beautiful sunny day in Juneau. The temperature was about 29 degrees F, but because of the sun, it felt much warmer. Mid-morning I took a quick drive to Mendenhall Glacier, which is right in town. The first photo here is harder to see the glacier in. It's the horizontal area above the trees.It had fresh snow on it, so the blue didn't show as much as it usually does.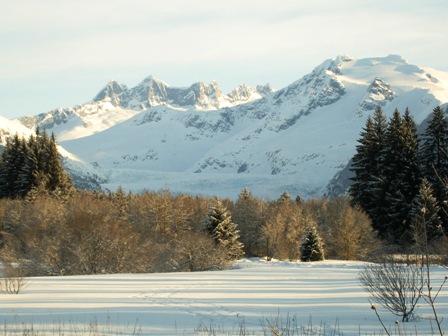 This second photo is a closer picture of the glacier. I wish I had more time than just the few minutes I had (and it also would have helped if I didn't have on a suit with dress shoes!). It's sights like this that really make you appreciate living in Alaska.