SUNDAY SLOW SOUPERS WEEK 5 – PUMPKIN SOUP WITH CHEDDAR AND PARMESAN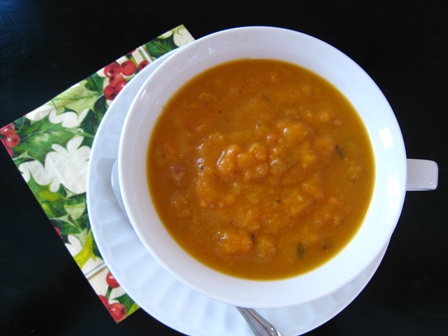 This week's soup came from Nancy. She had never made the soup before, but thought it sounded like a good soup for Christmas week. The recipe came from an old Bon Appetite issue.
I had never had pumpkin soup before-lots of butternut squash, etc. This recipe uses canned pumpkin. While the recipe was good, it wasn't my favorite. Could have been the canned chicken broth I used. I added some Sherry Rum Pepper Sauce to it, and that really helped brighten up the flavor. I think you could instead add regular sherry, or a type of vinegar.

Pumpkin Soup with Cheddar & Parmesan
8 Servings
8 bacon slices, chopped
3 tablespoons olive oil
2 large onions, chopped
2 medium carrots, chopped
2 celery stalks, chopped
8 cups (or more) chicken stock or canned low-salt chicken broth
2 16-ounce cans solid pack pumpkin
2 tablespoons chopped fresh thyme
1 cup half and half
1/8 teaspoon nutmeg
1 cup grated extra-sharp cheddar cheese (about 3 ounces)
1 cup freshly grated Parmesan cheese (about 3 ounces)
Saute bacon in heavy large Dutch oven over medium heat until brown, about 8 minutes. Pour off drippings. Add oil to same Dutch oven and heat over medium heat. Add onions, carrots and celery and saute until vegetables begin to soften, about 15 minutes. Stir in 8 cups stock, pumpkin and thyme. Increase heat and bring to boil. Reduce heat; simmer until vegetables are tender, about 20 minutes.
Puree soup in batches in blender. Return to Dutch oven. Mix in half and half and nutmeg. Stir in additional stock if soup is too thick. Season with salt and pepper. (Can be made 1 day ahead. Cover; chill. Bring to simmer before continuing.)
Combine cheeses in medium bowl. Ladle soup into bowls. Top each serving with 1/4 cup cheese mixture and serve.
Bon Appetit, December 1994
Christmas Past Meets Christmas Present