SUNDAY SLOW SCOOPERS – CREPES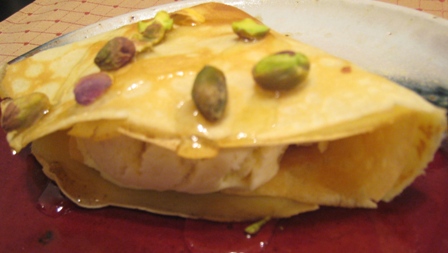 This week our Sunday Slow Scoopers selection was chosen by Sandi of Whistlestop Cafe Cooking. Sandi decided to choose crepes, one of the items that the author lists under "vessels". We didn't have to choose an ice cream to fill them with, but unfortunately for my weight, I'm now one who craves ice cream if I don't have it every week. Funny, because before we started Sunday Slow Scoopers, I liked ice cream but didn't eat it often.
The crepes were fast to make, and pretty easy. It does help to have the correct size pan though. Tilting the batter in a too large pan makes it hard to get even crepes.
I chose to fill my crepes with Turron Ice Cream. Turron is a Spanish sweet, formed into blocks and flavored with almonds, honey, and candied orange peel. The ice cream was another winner. The orange flower water gives it a very unique taste.
Turron Ice Cream Makes 1 1/4 quarts
1 1/2 cup half and half
1/2 cup sugar
1/4 cup good-flavored honey
Pinch of salt
1 orange
1 1/2 cups heavy cream
5 large egg yolks
1 teaspoon orange-flower water
2 tablespoons chopped candied orange peel
2/3 cup almonds, toasted and very coursely chopped
1/4 cup shelled unsalted pisachio nuts, very coursely chopped
I also added 1 tablespoon Grand Marnier
Warm the half and half, sugar, honey, and salt in a medium saucepan. Zest the orange directly into the mixture. Pour the cream into a large bowl and set a mesh strainer on top.
In a separate medium bowl, whisk together the egg yolks. Slowly pour the warm half and half into the egg yolks, whisking constantly, then scrape the warmed egg yolks back into the saucepan.
Stir the mixture constantly over medium heat with a heatproof spatula, scraping the bottom as you stir, until the mixture thickens and coats the spatula. Pour the custard through the strainer and stir it into the cream to cool. Add the orange-flower water (and Grand Marnier, if using) and stir until cook over an ice bath.
Chill the mixture thoroughly in the refrigerator, then freeze it in your ice cream maker according to the manufacturer's instructions. As you remove it from the machine, fold in the candied orange peel, almonds, and pistachio nuts.
Crepes Makes 8 crepes
3/4 cup whole milk
2 tablespoons butter, melted
3 large eggs
1 teaspoon sugar
1/4 teaspoon course salt
3/4 cup flour
Pour the milk and melted butter into a blender. Add the eggs, sugar, and salt. Blend briefly. Add the flour and blend until smooth. Transfer to a bowl and refrigerate for at least 1 hour. (You can make it in advance and refrigerate overnight.)
To fry crepes, let the batter come to room temperature, then whisk it to thin it out a bit.
Heat a 12 inch nonstick skillet over medium to high heat. When a few drops of water sprinkled on the pan sizzle, pour in 1/4 cup of batter and quickly tilt the pan so the batter covers the bottom. Cook the crepe for about 45 seconds, until the edges begin to darken. Use a flexible spatula to flip it over, then cook for another 45 seconds on the reverse side.
Slide the crepe onto a dinner plate, then repeat with the remaining batter.
To serve, fold the crepes in half and arrange them, overlapping slightly, in a buttered baking dish. Cover with foil and heat in a 300 degree oven for 10 to 15 minutes, until hot. Serve the hot crepes topped with a scoop of ice cream and a drizzle of sauce.
Storage-Crepes can be made in advance and, once cool, wrappted in plastic wrap. Store in the refrigerator for up to 2 days. To freeze crepes, wrap them in plastic wrap and then in aluminum foil. Crepes can be frozen for up to 2 months.