SUNDAY SLOW BAKERS-TARALLI WITH RED PEPPER AND OREGANO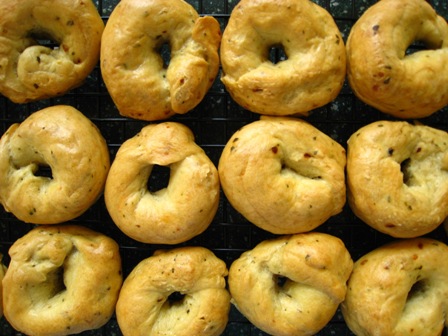 Only one week left of the Sunday Slow Bakers cooking from Gina DePalma's Dolce Italiano. This week was my choice, and I wanted to choose a savory item. Gina describes these crunchy, curly biscuits as the Italian version of a pretzel.
I'm not going to type the recipe here, as it is quite long. But here are the steps:
Mix flour, salt, sugar, oregano, & red pepper flakes in a mixer. Add olive oil and white wine. Beat until a dough is formed. After the dough has rested for 2 hours, you divide the dough and roll into long ropes. You cut those in lengths, then form them into their ring shape. You then drop them into simmering water, much like you would a bagel. After they cook and float to the surface, you drain them and place on a baking sheet. You then bake until golden brown. The cooking time was supposed to be 25 minutes, but I had to cook them over twice that length to get them done in the middle.
The results were not what I expected. Although they are kindof crunchy, it's not the dry crunch of a pretzel like we are used to. They are not dry inside. Not soft and doughy, but not dry and crunchy. I won't make them again (unless other SSBs have different results), but I have to say, the flavor is very addictive. I do love the heat from the red pepper flakes, and the taste you get from the olive oil and the wine. This is one recipe that I am especially anxious to read about the results that other slow bakers have had.
Only one week left for Dolce Italiano, and we decided we would transition into our Sunday Slow Scoopers by making a frozen concoction-Toasted Almond Gelato.