SUNDAY SLOW BAKERS-BALATON CHERRIES WITH GRAPPA AND MASCARPONE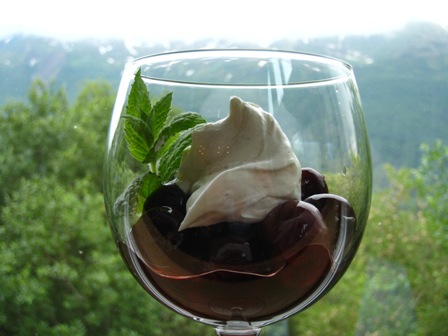 Time for another Sunday Slow Bakers. I might be the only one making this week's choice, as the recipe got changed and I wasn't aware until after I had already made this. As mentioned in earlier posts, we are still cooking from Gina DePalma's Dolce Italiano. This week's selection (that I made at least) was Balaton Cherries with Grappa and Mascarpone. I don't like Grappa, so I substituted Amaretto, and instead of Balaton cherries, I used Bing cherries. I also did not add the mint except as a garnish, as I wasn't sure if it would be good with the Amaretto. This was a very nice recipe. It is a cream that is similar to one we made a few weeks ago, with a combination of whipping cream and mascarpone cheese. This recipe had more mascarpone and the addition of vanilla bean, whose seeds looked really pretty among the cream. This cream would be good on top of any fruit. And the Amaretto flavor went so well with the cherries. Yum!!!
BALATON CHERRIES WITH GRAPPA AND MASCARPONE Makes 6 servings
(ciliege con grappa e mascarpone)
1 1/2 pints Balaton cherries or sweet dark cherries, pitted
1/4 cup plus 2 tablespoons granulated sugar
1/2 cup grappa
10-12 fresh mint leaves
1 cup mascarpone
1/2 cup heavy cream
1 vanilla bean
Place the pitted cherries in a large bowl. Sprinkle 1/4 cup sugar on them and pour on the grappa, using a large slotted sppon to toss the ingredients together. Tear the mint leaves in half and add them to the bowl, tossing again to coat the cherries with the mint. Place the bowl in a cool place or in the refrigerator for 2 hours, stirring now and again to distribute the juices evenly.
About 35 minutes before serving the cherries, place the mascarpone, heavy cream, and remaining 2 tablespoons sugar in the bowl of an electric mixer. Split the vanilla bean lengthwise, scrape out the seeds with the blunt side of a small knife, and add them to the cream. Whip the ingredients together on medium speed until firm peaks form. Chill the mascarpone cream for 30 minutes.
To serve, spoon a portion of the cherries into each of six dessert glasses. Top with a dollop of the mascarpone cream and spoon on some of the juices. Serve with biscotti alongside, if desired.