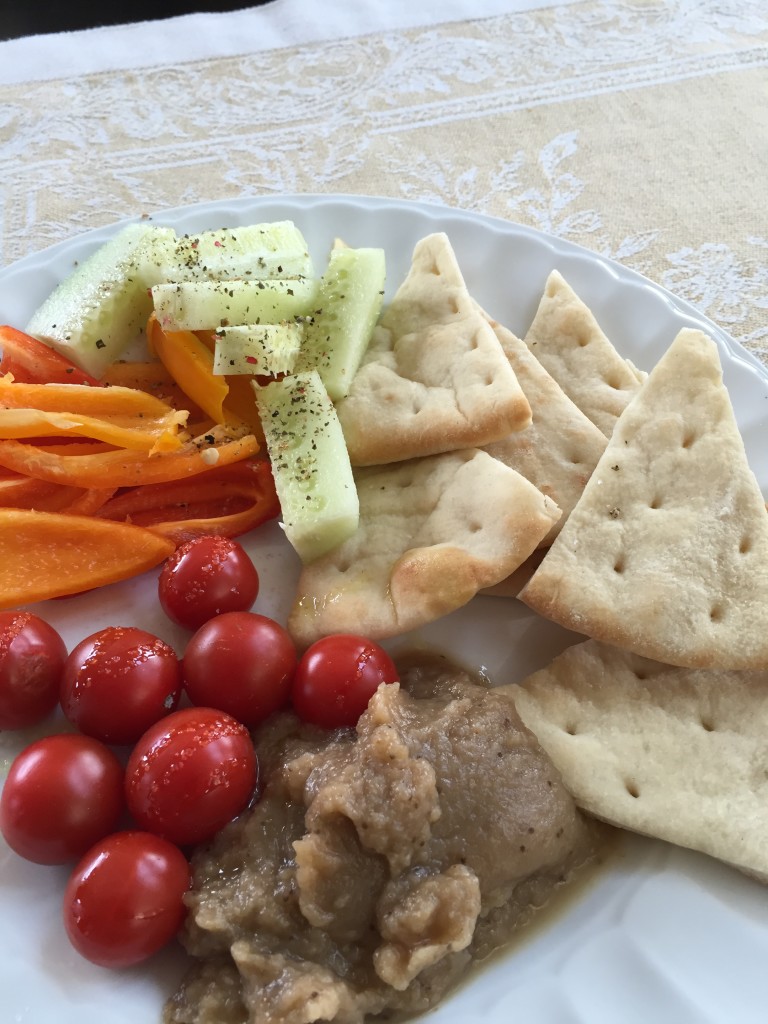 Do you have those evenings when you want to eat something that tastes good and is healthy for you, but you don't feel like cooking? That's when having something you made earlier in the week waiting for you in the fridge is a blessing. For me, that was David Lebovitz's Eggplant Caviar. It's the perfect spread for some pita bread (a great thing to stock in your freezer). Smoky, garlicky and just plain delicious. And very easy to make.  Served alongside some sliced cucumbers and peppers, and some cherry tomatoes drizzled with olive oil, it's a perfect meal.  Add a glass of wine, and maybe a piece of chocolate for dessert, and you have an easy delicious dinner.
EGGPLANT CAVIAR
Adapted from David Lebovitz's My Paris Kitchen
Serves 3-4 (recipe easily doubles)
1 globe eggplant
1/2 tablespoon olive oil
1 tablespoon freshly squeezed lemon juice
1 clove garlic, peeled and minced
3/4 teaspoon sea salt
1/4 teaspoon smoked paprika
Freshly ground black pepper
Preheat oven to 375 degrees F. Line a baking sheet with parchment paper or foil, brush it with olive oil and sprinkle it with salt.
Prick the eggplant a few times with a sharp knife.  Place the eggplant over the flame of a gas burner or a grill, turning as needed, to char the outside evenly.  Cook 5 to 10 minutes, depending on how smoky you want it to taste. (Don't forget the smoked paprika adds a lot of smoky flavor also.)
Trim the stems off the eggplant and split it lengthwise. Lay the eggplant cut-side down on the baking sheet and roast in the oven until it feels completely soft, 30-40 minutes.  Remove from the oven and let cool.
Scrape the pulp into the bowl of a food processor.  Add the olive oil, lemon juice, garlic, salt, paprika, and some pepper.  Pulse a few times, until the mixture is almost smooth.  Taste and add additional lemon juice or salt if needed.
This will keep for 4-5 days in the refrigerator.  It's best at room temperature.