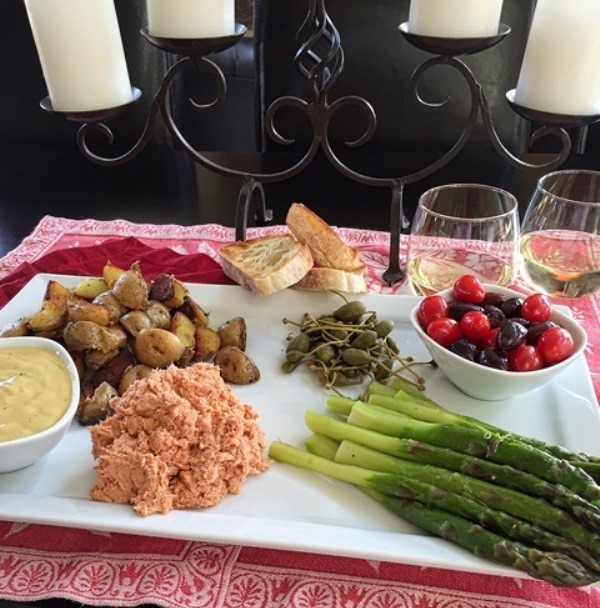 What do you picture when you think of a Nicoise Salad?  Potatoes, eggs, tomatoes, olives and tuna.  Tuna, right? Well, not me.  While a French Nicoise Salad is lovely, I live in Alaska and have a freezer full of salmon.  So rarely can I justify going to the store and buying a nice piece of tuna.  So what do you do in that case? Substitute salmon for the tuna.
My recipe is really twisted, much more so than just using salmon instead of tuna.  I was looking through the cookbook "At Home with Michael Chiarello" and came across a recipe for Napa Nicoise Salad.  So I had to take a closer look to see what makes his a "Napa" Nicoise Salad.  He makes this his own by deconstructing it.  And instead of a fillet or large chunks of tuna, he morphs it into a tuna mousse.  And the potatoes?  They're boiled first, then pan fried until they're crispy.  No green beans like some recipes call for, but instead asparagus is used.
So here's my take for an Alaskan/Napa Style Nicoise Salad.  Hmmm……  But it's really good so you should give it a try!  Salmon mousse to spread over toasted bread or just eat plain with the salad.  No, there's no lettuce.  Just tender asparagus, cherry tomatoes, olives, caper berries, and crunchy potatoes.  All drizzled with a red wine vinaigrette with the nice bite of Dijon mustard.
ALASKAN-STYLE NICOISE SALAD           Serves 4-6
For the potatoes:
16 small yellow flesh new potatoes, about 2 ounces each, unpeeled
Salt
1/2 cup extra virgin olive oil
8 cloves garlic, peeled but left whole
1 teaspoon minced fresh thyme
Freshly ground black pepper
For the salmon mousse:
14 ounces fresh salmon, poached or two cans (7 ounces each) canned Alaskan wild salmon
4 teaspoons fresh lemon juice
4 teaspoons soy sauce
4 teaspoons balsamic vinegar
2 tablespoons +2 teaspoons unsalted butter, at room temperature
Salt to taste
Freshly ground black pepper
2 tablespoons heavy cream
For the vinaigrette:
1/4 cup red wine vinegar
2 tablespoons Dijon mustard
1 teaspoon minced thyme
Salt
Freshly ground black pepper
1 cup extra virgin olive oil
For the Asparagus:
2 pounds asparagus, tough ends removed (I peel the ends)
1 cup water
1/4 cup extra virgin olive oil
Salt
Freshly ground black pepper
1 cup Sweet 100 or other small cherry tomatoes
2/3 cup oil cured olives
2/3 cup caper berries or 1/2 cup drained capers                                                                                Toasted bread slices
1. Boil the potatoes: In a saucepan, combine the potatoes with water to cover by 1 inch. Add 1 tablespoon salt and bring to a boil over high heat. Reduce the heat to medium and simmer until the potatoes are just tender, 10 to 12 minutes. Drain the potatoes in a colander and let cool to room temperature.
2. Make the salmon mousse: In a food processor, pulse the salmon to break it up. Add the lemon juice, soy sauce and balsamic vinegar and pulse to combine. And the butter and process until smooth, then stop the food processor and scrape down the sides of the processor bowl. Season to taste with salt and pepper and process again. Add the cream and pulse to blend. Be careful not to over blend once the cream is added or the mixture may split.
3. Make the vinaigrette: In a small bowl, combine the vinegar, mustard, thyme, 1/2 teaspoon salt, and 1/2 teaspoon pepper and whisk to dissolve the salt. Slowly whisk in the olive oil to form an emulsion. Set aside.
4. Cook the asparagus: In a large skillet, combine the asparagus, water, olive oil, 1 teaspoon salt, and 1/4 teaspoon pepper. Cover the skillet and bring to a boil over high heat. Cook until the asparagus spears are tender but not too soft, about five minutes. Set aside to cool. Drain well and pat dry before serving.
5. Cut the cool potatoes into quarters. In one or two large skillets over high heat, heat the olive oil. Just before the oil begins to smoke, add the potatoes, cut side down, in a single layer. Cook until the potatoes begin to brown on one side, about 10 minutes. Do not stir the potatoes as they brown, but tilt the pan occasionally to distribute the oil evenly. Add the garlic, 1 teaspoon each salt and pepper, and the thyme. Stir the potatoes once, then use tongs to turn each potato so that the unbrowned side is now facedown. Continue to cook until browned on the second side, about five minutes longer. Remove from the heat.
6. In a small serving bowl, combine the tomatoes and olives. Whisk the vinaigrette again and pour into a small serving bowl. On a large platter, arrange the potatoes, asparagus, caper berries, and salmon mousse in separate piles, leaving room for the tomato and vinaigrette bowls. Place toasted bread slices on platter or in a basket on the side. Serve while the potatoes are still warm.                7
Serve with a nice glass of white or rose wine and dream of being in France.  Or maybe Napa. Or Alaska.  All three are wonderful places to dream of.