Shrimp Filled Ravioli with Tomato Butter Sauce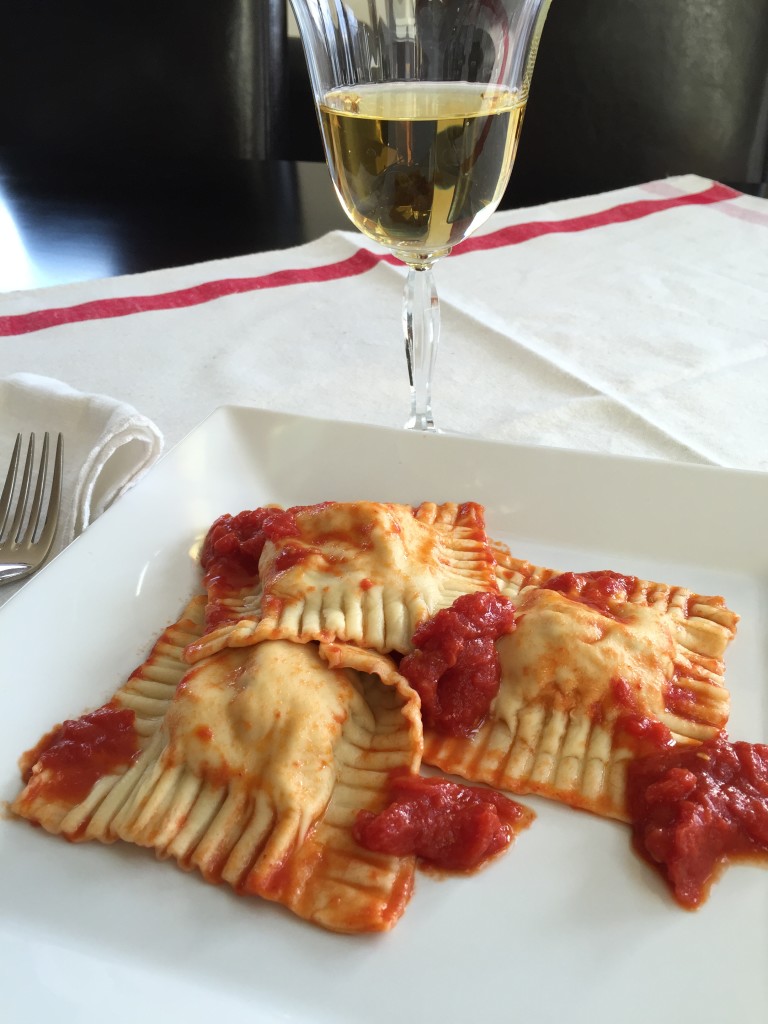 Here it is the beginning of May, and we still have a lot of shrimp in our freezer. Salmon too, although I'll eventually get around to canning that. Anyway, back to the shrimp. Scott took the boat out this weekend for the first time this season and will no doubt bring home fresh shrimp.  I'm trying to use as much shrimp as I can from the freezer to make room for the new.
I was trying to think of a different way to cook the shrimp last weekend besides just boiling it and I decided to do a stuffed pasta. At first I thought I would buy the big dried pasta shells and stuff them, but then I decided I'd make homemade pasta and make ravioli. So I needed to come up with a stuffing for them that used shrimp.
Most of the recipes I found called for shrimp but also a lot of ricotta. I really the shrimp to be the star here so I didn't want the addition of cheese.  What do you do in that case? Come up with your own recipe! Saute onion, garlic and shrimp together in butter. Add a little anise flavor with a liquor. I didn't have any Pernod so I used Sambuca. Finish with some basil. Then puree the mixture with some heavy cream. The filling turned out delicious! The hint of anise along with that little sweetness from the Sambuca added just the right touch. The pasta goes nicely with Marcella Hazan's famous Tomato Butter Sauce. The simplicity of the sauce was the perfect highlight to the ravioli and let the shrimp flavor really come through. This wasn't an easy or quick dish to make, but you could make both the sauce and the ravioli in advance then it would be much easier to pull this dish together.
Serve with a nice bottle of wine.  We drank a RiverBench Reserve Chardonnay, which paired very nicely with the shrimp.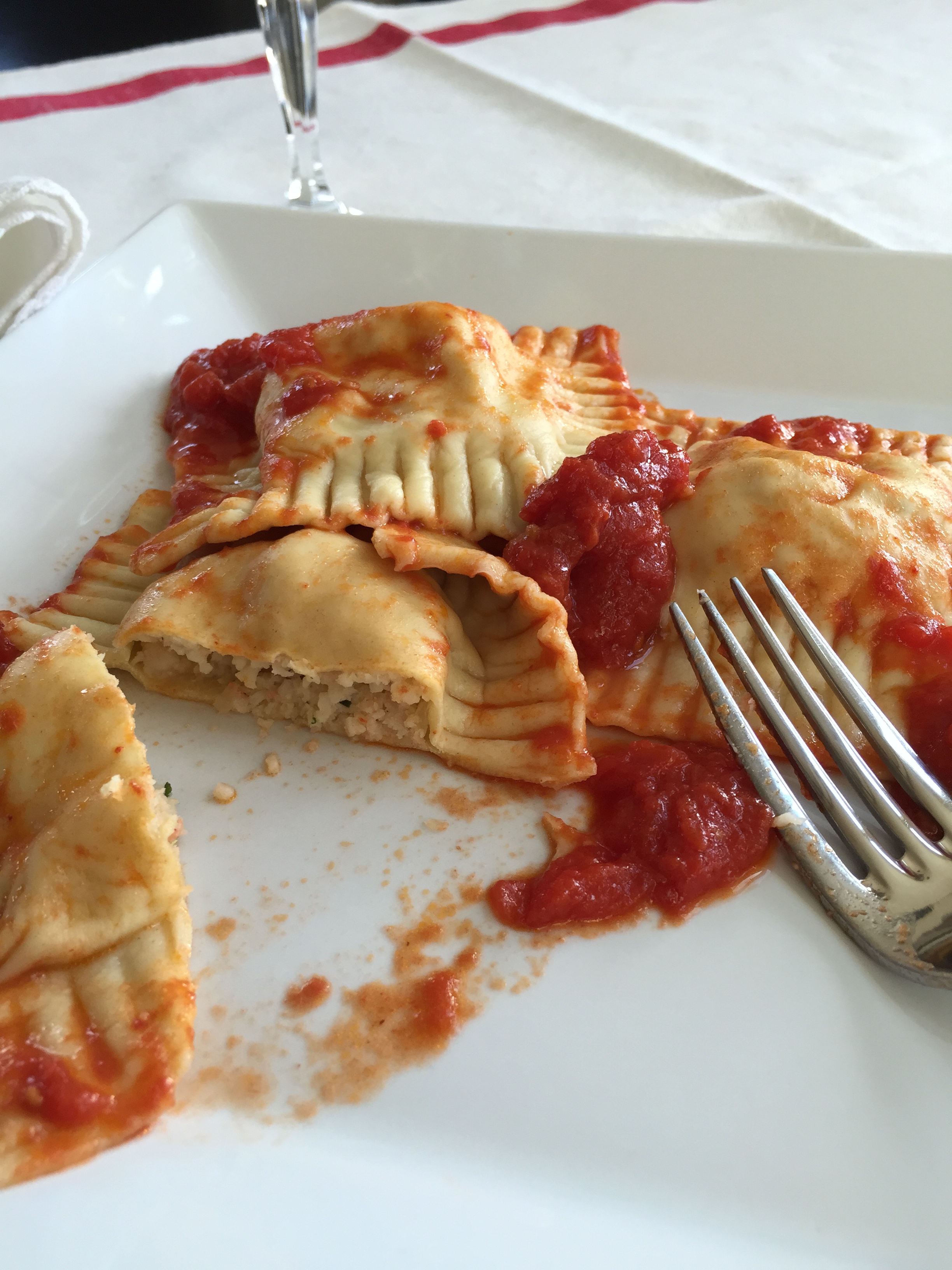 Shrimp Filled Tomato Ravioli                        Serves 4
Shrimp Filling–
1 tablespoon butter
½ onion, finely chopped
1 clove garlic, finely chopped
1 pound fresh shrimp, peeled and chopped
1 ½ teaspoon Sambuca or Pernod
6 leaves Basil, thinly sliced
Salt and pepper to taste
3 tablespoons heavy cream
Pasta Dough–
1 ½ cups all-purpose flour
3 eggs
Tomato Butter Sauce-
28 ounce can San Marzano whole tomatoes in juice, broken up with your fingers
5 tablespoons butter
1 sweet onion, peeled and cut in half
Salt to taste
To Prepare:
Shrimp Filling:
Melt butter in a skillet. Add onion and saute until soft.
Add garlic and shrimp and continue cooking until just cooked through. Note: I used ½ of the onion that I cooked in the tomato sauce and it worked perfectly. It was already cooked, so I finely chopped it and placed it, the chopped garlic and chopped shrimp into the pan at the same time and cooked until the shrimp was just cooked through.
Add the Sambuca and cook for a minute more. Stir in the basil, season to taste with salt and pepper.
Drain juices through a sieve and place in a bowl to cool.
When cool, place in a food processor along with the 3 tablespoons cream and lightly grind until mixture sticks together. You want to retain some of the texture. Place in the refrigerator to keep cool.
Marcella Hazan's Tomato Sauce:
Combine the tomatoes, their juices, the butter and the onion halves in a saucepan. Add a pinch or two of salt.
Place over medium heat and bring to a simmer. Turn heat to simmer, and cook, uncovered, stirring occasionally, for about 45 minutes. While stirring, mash any large pieces of tomato with a spoon.
Discard the onion before using the sauce. Set aside when done. Can be made ahead and reheated also.
Pasta:
Place flour on board or countertop. Make well in center and break eggs into center.
Using a fork, beat eggs until mixed. Slowly use fork to incorporate flour into egg mixture. As mixture comes together, use your fingers instead of the fork to continue pulling in as much flour as needed to make a soft dough that doesn't stick to your fingers too much.
Knead dough until soft and no longer sticky, adding flour if needed, about 10 minutes.
Set aside and cover with a towel for at least 30 minute
To Make Ravioli:
Divide pasta dough in half. Run half through a pasta machine, starting at 0 and ending up at a 5 or 6 thickness, rolling through at least twice at each thickness.
Place long piece of dough on floured counter. (Be sure and use enough flour or your dough will stick.) Spoon tablespoons of filling onto the sheet, spacing evenly with enough space to cut around and crimp.
Roll out second piece of dough. Brush first piece of dough with water around edges and place second piece of dough on top. Using a knife, cut in between each lump of filling, creating even squares of ravioli. Using a fork, crimp edges. Place on a floured sheet pan until ready to cook.
Bring tomato sauce back to a simmer.
Heat a large pan of water to boiling, salt, and place ravioli gently in water. Cook until al dente, about 4 minutes. Using a slotted spoon or spider, lift from water and drain gently on a kitchen towel.
To serve, divide raviolis among 4 plates and top with tomato sauce.
Enjoy!