Home Made Fettuccine with Cream and Butter Sauce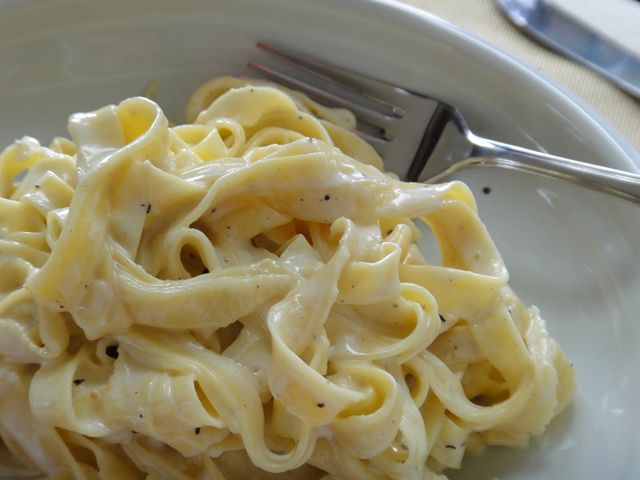 Wow, it's been a long time since I wrote an entry for this blog. Although I've been too busy since I started my newest job to have time to keep up with a blog, in many ways I've missed it.
Today I was thinking about the year (actually it took us more than a year) that a group of us cooked our way though Marcella Hazan's Essentials of Classic Italian Cooking and posted to our Pomodoro E Vino blog. I learned so much during that time and definitely became a better cook. I decided it was time for a big Italian dinner with homemade pasta. I don't even remember the last time I made homemade pasta. It was probably as I cooked my way through that book. I was wanting to use some cream I had in the fridge, so I decided to make a Cream and Butter Sauce, which is really an Alfredo sauce. But not the thick gloppy Alfredo sauce you most often see. Fettuccine would be the perfect pasta shape.
I forgot just how easy fresh homemade pasta is to make. 1 1/2 cups of flour, 3 eggs, and some strong arms as you knead for 8 minutes and you have perfect pasta.
Here I am tossing the pasta in the sauce. It's important to get each piece of pasta coated in that lovely sauce.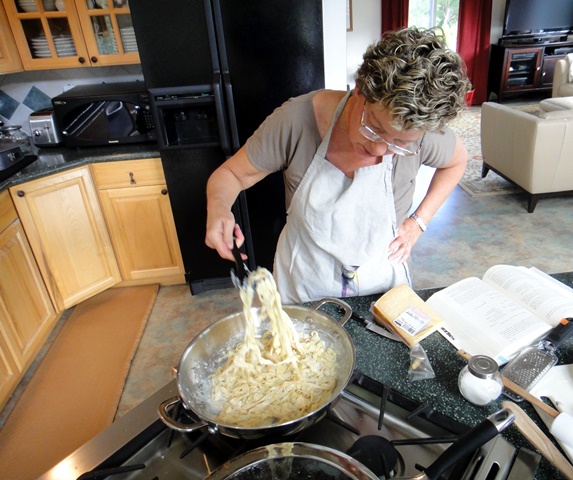 Cream and Butter Sauce For 4-6 servings
Adapted from Essentials of Classic Italian Cooking
1 cup heavy whipping cream
2 tablespoons butter
1 lb homemade fettuccine
2/3 cup freshly grated Parmigiano-Reggiano cheese
Salt
Freshly ground black pepper
Whole nutmeg
In a pan large enough to toss your pasta, place 2/3 cup of the heavy cream and the butter. Heat over medium flame and cook about a minute, until cream and butter have thickened a little. Turn off the heat.
Cook the pasta until just barely done, just a minute or two. Drain the pasta.
Add the drained pasta to the pan with the butter and cream, turn the heat to low, and toss the pasta thoroughly, lifting it up and moving it around in the pan, coating each piece of the fettuccine.
Add the remaining 1/3 cup of cream, the grated Parmesan cheese, a pinch of salt, a few grindings of black pepper and a couple of gratings of nutmeg. Toss again briefly until the pasta is well coated. Taste and add more salt if needed, and serve immediately. Enjoy!