Black Magic Cake with Cream Cheese Icing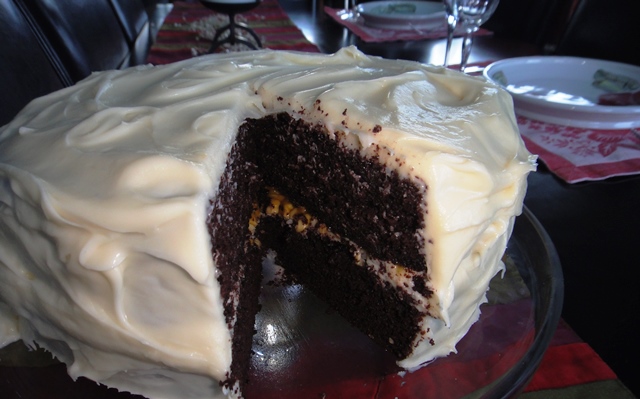 For Christmas this year, Scott asked for a carrot cake or a red velvet cake with cream cheese icing. We had 2 packages of cream cheese in our refrigerator that needed to be used, so the search was on for the perfect recipe. I knew I didn't want to make a red velvet cake. I just don't get it. It's a chocolate cake with lots of red food coloring. I hate red food coloring as I think it has an awful bitter taste. So I decided to do a google search for chocolate cake with cream cheese icing, and I was brought to the website ofhttp://whiteonricecouple.com/. They featured a Black Magic Cake with a butterscotch bourbon filling and a cream cheese icing. Perfect.
The cake was very moist. And very good. I think I'll be making it in the future as it's a perfect dark chocolate buttermilk cake. It was probably made even better because I used the wonderfully dark rich Valhrona cocoa. The butterscotch was very sweet and well, buttery. And bourbony. And the icing a nice tangy sweet. It had the addition of orange bitters, which I've never heard of using in a cream cheese icing. It was a great addition as it took that overly sweet edge off that icing with powdered sugar can sometimes have.
I would make this cake again. Just beware that it is very sweet. Scott has such a sweet tooth that it was just perfect for him. A couple of days after Christmas and the entire cake is gone. And yes, it was just me and Scott eating it. Some me, mainly Scott. Just so you know.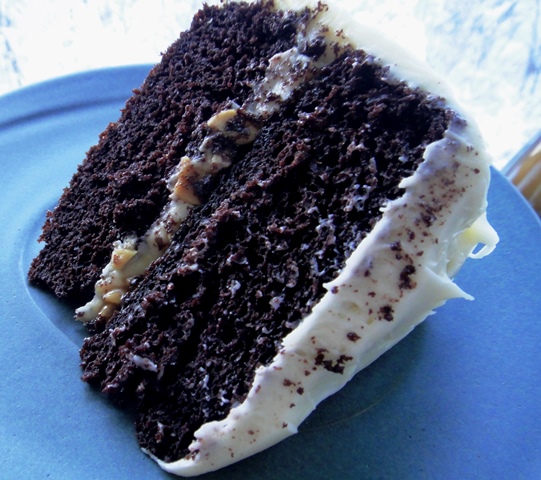 Black Magic Cake with Bourbon Butterscotch Filling and Cream Cheese Icing

Ingredients:
Butterscotch Ingredients:
•1/4 cup (60 g) unsalted Butter
•1 cup (220 g) Golden Brown Sugar, tightly packed
•1/2 cup (120 ml) Heavy Whipping Cream
•1 teaspoon (5 ml) Vanilla Extract
•1 1/2 Tablespoons (22 ml) Bourbon
•Sea Salt to taste (@ 1 teaspoon (5 g))
Chocolate Cake Ingredients:
•2 cups (400g) Sugar
•1-3/4 cups (220g) Flour
•3/4 cup (65g) unsweetened cocoa powder
•2 teaspoons (10g) Baking Soda
•1 teaspoon (5g) Baking Powder
•1 teaspoon (5g) Sea Salt or Kosher Salt
•2 Eggs
•1 cup (240ml) Buttermilk
•2/3 cup (160ml) Espresso or Strong Coffee
•1/3 cup (80ml) Bourbon
•1/2 cup (120ml) Vegetable Oil
•1 teaspoon (5ml) Vanilla Extract
Cream Cheese Frosting Ingredients:
•1/2 cup (115 g) unsalted Butter, room temp.
•2 – 8oz pkgs (455g total) Cream Cheese, room temp.
•1 teaspoon (5 ml) Vanilla Extract
•4 cups (455 g) Confectioners Sugar
•few dashes Orange Bitters (optional)
additional ingredients
•1/2 cup (65g) Roasted Peanuts, roughly chopped
Directions:
Butterscotch Directions
1.In a saucepan, melt the butter over low-medium heat. Just before butter is completely melted, add the brown sugar, stirring to completely moisten the sugar.
2.Gently cook, stirring occasionally, until the mixture caramelizes and transforms from its initial graininess to a smooth "molten lava". Make sure to get the corners of the pot and watch closely because the texture will change quickly, 3-5 min of total cook time.
3.Whisk in all of the cream at once, and continue whisking until the the liquid is homogenous. Cook for another 7 minutes, whisking every few minutes.
4.Turn off the heat and let cool for 15 minutes. Add half of vanilla extract, bourbon, and sea salt, then taste for flavor. Add more of each until the flavor is perfect to your palate. Allow to cool for at least 45 minutes to determine texture. You may want to slightly re-warm the butterscotch when pouring it between the cake layers.
Cake Directions
1.Heat oven to 350°F. Grease and flour two 9-inch round baking pans.
2.Sift then whisk together sugar, flour, cocoa, baking soda, baking powder and salt in mixer bowl for at least 20 seconds. Beat in eggs, buttermilk, espresso, coffee, bourbon, oil, and vanilla extract until well combined. Make sure to stop and scrape the bottom of the bowl once or twice to get everything well mixed.
3.Divide batter evenly between the two prepared cake pans.
4.Bake 30-35 minutes or until a toothpick comes out clean when inserted into the middle of the cakes. Allow to cool for 10 minutes, then release cakes from pans onto wire racks to cool completely. While the cakes cool, make the frosting.
Cream Cheese Frosting Directions
1.In a mixer, beat the butter until light and fluffy. Add cream cheese and beat until light and fluffy.
2.Stir in confectioners sugar, vanilla extract, and bitters then slowly increase speed and beat until incorporated. Set aside until ready to frost cake.
Final Assembly
1.Put a dab of frosting in the middle of a cake circle or plate (the frosting helps keep the cake from sliding around). Place the first cake layer on a cake circle or plate. Line several strips of wax paper around base of cake to help keep circle or plate clean.
2.Put about 3/4 cup of frosting in the middle of the cake and spread the frosting working from the center out, leaving a slight built up edge on the outer rim. When finished, you should have nice thin layer of frosting over most of the top surface of the cake, with a little wall on the outer rim that will help hold in the butterscotch.
3.Pour butterscotch over the thin frosting layer, spreading it evenly over the bottom cake layer. Sprinkle the roasted peanuts over the butterscotch. Take the second cake and place on top of the peanut layer.
4.Spread a thin layer of frosting over entire cake as a crumb coat. Place in the freezer to chill for about 10 minutes, then add the rest of the frosting and evenly spread across and on the edges of the cake. Remove strips of wax paper at base of cakes. Serve immediately or refrigerate for up to 3 days. Bring to room temperature before serving if possible.
Recipe Source: WhiteOnRiceCouple.com.