Fig and Fennel Caponata (well, sort of)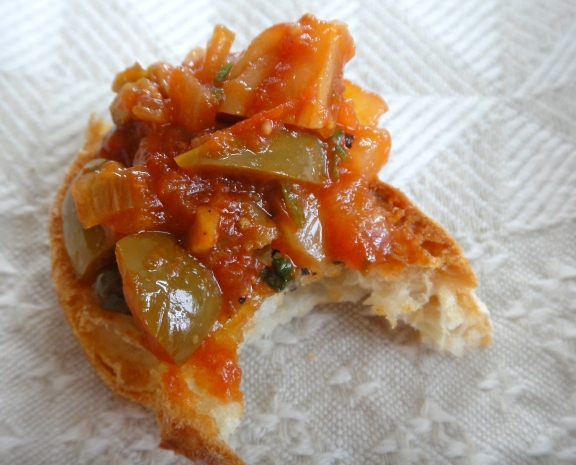 I don't seem to cook from recipes much anymore. I tend to just throw things together when I make our dinners, and yes, if we do have guests over, I follow recipes. But we haven't had anyone over for dinner in a long time.
This morning, I watched Barefoot Contessa. She made what she called a Fig and Fennel Caponata. Caponata usually contains eggplant. Instead, she used fennel. I love fennel, and had to make this. As soon as possible. Never mind that my husband was out of town and I knew I would probably end up eating the entire recipe myself. In one sitting, I was afraid.
So I went to the store and picked up a few ingredients, and a short while after that I had this amazing appetizer. Sweet and salty and tangy. The best flavor combinations. I've only had it on toasted bread so far, but later this week I'm going to serve it on top of halibut, as I think this topping will go really well with the mild fish.
So run to the store and pick up the ingredients to make this. I think you'll be very happy. This might just become my signature appetizer.
Fig and Fennel Caponata
Adapted from Foodtv.com Serves:6 to 8
(If you want specific measurements, look up the recipe at foodtv.com. I didn't measure the onion or fennel, but instead just used what I list below.)
Ingredients:
3 tablespoons good olive oil
1 medium red onion, finely diced
1 large fennel, diced (1/2-inch-dice)
3 garlic cloves, thinly sliced
1/3 cup good sherry vinegar (my store was out of sherry vinegar so I used 1/2 sherry wine and 1/2 champagne vinegar)
1 cup canned crushed tomatoes in puree
8 dried Calmyrna figs, stems removed and 1/4-inch-diced
2 1/2 tablespoons light brown sugar, lightly packed
2 tablespoons drained capers
1/2 cup green olives, pitted and coarsely chopped, such as Cerignola
1 teaspoon grated orange zest
Kosher salt and freshly ground black pepper
1/3 cup freshly squeezed orange juice
3 tablespoons chopped flat-leaf parsley
Grilled bread for serving
Heat the olive oil over medium heat in a 10-inch saute pan. Add the onions and fennel and saute for 7 to 8 minutes, stirring occasionally, until softened. Add the garlic and cook for one more minute. Stir in the vinegar, tomatoes, figs, and brown sugar, stirring to coat everything with the tomatoes. Stir in the capers, olives, orange zest, 1 1/2 teaspoons salt, and 1/2 teaspoon pepper. Bring to a boil, then lower the heat and simmer for 8 to 10 minutes, until thickened. Stir in the orange juice and parsley. Taste for seasonings; it should be very highly seasoned. Serve the caponata warm or at room temperature with slices of grilled bread.