Salmon with Mushrooms, Fennel, and Onions over Farro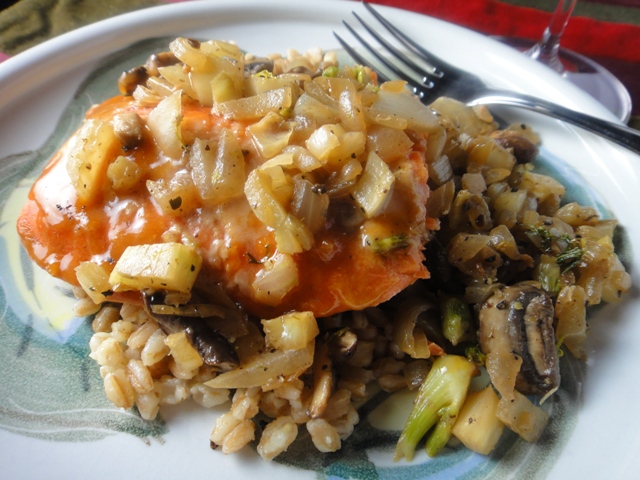 I haven't posted on my blog in a long time. I lost my motivation and have had trouble getting it back. It's not fun trying to take food photos in the winter in Alaska. I cannot time my food photos to be taken during the few hours of sunlight. So I have to use artificial light, and the Ego lights seem to do a good job.
I was in California last week and ate some fabulous food along with drinking some really good wines. I think this might have been enough to stir my interest back into blogging. I'm still trying to eat very healthy and I make a lot of baked fish and vegetables, which is nothing to put on the blog. But I think I'll try to cook something special once a week and post about that.
On to the food and wine….Last night I opened a bottle of a new wine we tried while in California. It's from a really great place called Casa Dumetz Wines. I'll go into more detail in an upcoming post, but I'll give you a little information here today. The winery's tasting room is named Babi's Tasting Room and it's in Los Alamos, California. The winery is owned by the really sweet Sonja Magdevski. The wine we had last night was Gravitas Grenache 2011. I'm sure I had tasted grenache before, but really didn't know anything about it. The is a really nice wine, with lots of berry flavor.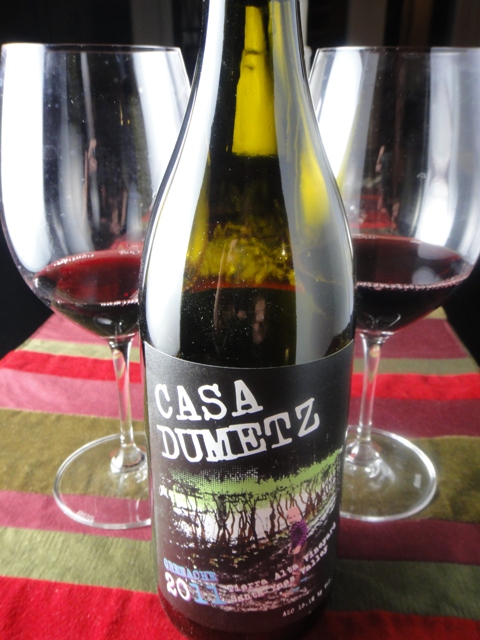 The wine paired very well with my entree, which was salmon. I'm not going to give you a recipe for the salmon, but instead will explain my method.
First, I cooked a pot of farro. I bought some packages of 10 minute farro at Trader Joe's (oh, how I wish there was a Trader Joe's in Alaska). Just the farro cooked in chicken broth. Full of that chewy texture with the earthy taste. Next, I heated a little olive oil in a large skillet. I added 1 chopped onion and 1 chopped fresh fennel bulb and sauteed until beginning to soften. Then I added a cup or two each of sliced cremini mushrooms and shitake mushrooms, and fresh thyme. I deglazed the pan with some sherry, seasoned with salt and pepper and some porcinin mushroom rub. I continued cooking until all was soft. Next, I took a salmon fillet and placed it skin side down on a foil-covered baking sheet. I mixed together some plum jam (the best I've ever tasted, which I brought back from Paris), dijon mustard and a little olive oil. I spread that over the salmon and seasoned with salt and pepper. I baked that in a 325 degree oven until just firm to the touch. Do not overcook – you want your salmon to be rare in the middle. I then plated by placing a scoop of the farro on a plate, placing a piece of salmon on next, then topping it with the mushroom mixture. It was delicous. I love the earthy flavor of mushrooms and farro together, and they pair beautifully with salmon.
If you want to read about some wineries around Los Alamos, California, check back on my blog soon. I'm going to do a write up on our trip and I'll write about the wineries we visited and some of the great food we ate.