Sweet Potato Black Bean Poblano Soup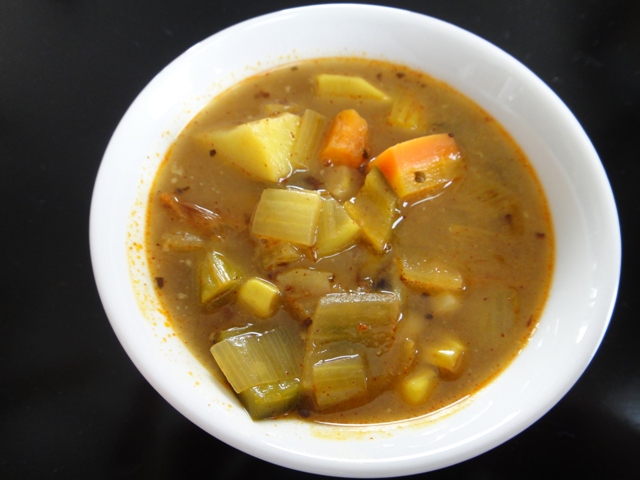 On a recent Sunday, I made two kinds of soup. The first one you saw posted earlier – Mushroom Farro Soup. I also decided to try a soup from a new cookbook I got – True Food by Andrew Weil. Well, I sort of tried the soup from the book. The soup turned out thinner than I wanted, so I added black beans (and more corn) to the soup. That also adds more protein, making this soup more of a complete meal. I'm also giving the recipe with less water. I didn't like the soup as thin as it was. The soup tasted good. It was different to have the flavors of the southwest (poblano peppers, chili powder, cumim) combined with coconut milk. The coconut milk added richness to the soup.
Sweet Potato Black Bean Poblano Soup
1 large sweet potato, peeled and diced
1 small onion, diced
1 cup corn kernels (I used frozen corn but fresh would be great)
2 carrots, diced
1 small fennel bulb, diced
4 garlic cloves, mashed
1 poblano chili, seeded and diced
2 tablespoons olive oil
1 tablespoon chili powder
1 teaspoon ground cumin
1 teaspoon dried oregano
1/4 teaspoon cayenne pepper
1/2 teaspoon turmeric
1/2 to 1 teaspoon salt
1/2 teaspoon freshly ground black pepper
1/2 cup white wine
1 (14 oz) can light coconut milk
2 cans black beans, rinsed and drained
1/4 cup chopped fresh cilantro
2 or 3 scallions, thinly sliced
1. Turn oven to broil. Line a baking sheet with aluminum foil.
2. In a large bowl, toss together the sweet potato, onion, carrot, corn, fennel, garlic and poblano. Add the olive oil and toss to coat. Spread the vegetables in a single layer on the prepared pan and broil for 5 to 7 minutes. Remove from oven, stir, place back under broiler for another 5 to 7 minutes, or until the tops of vegetables are brown. Be sure not to burn.
3. Transfer the vegetables to a large stock pot. Add the drained beans, chili powder, cumin, oregano, cayenne, turmeric, salt, pepper, wine and 2 quarts of water (or enough water to cover vegetables). Bring to a simmer over medium-high heat. Reduce the heat and simmer for 45 minutes.
4. Remove the soup from the heat and stir in the coconut milk. Serve topped with cilantro and scallions.