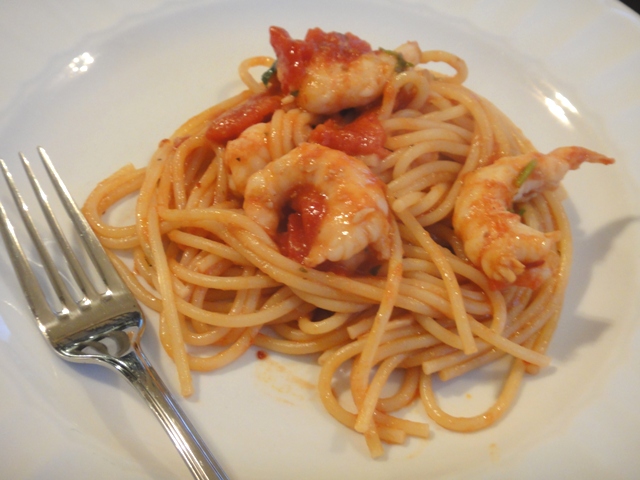 I was looking for a recipe that I used to make that was from Cooks Illustrated. It was for Shrimp Fra Diavolo. It was a nice spicy dish that had a great layer of flavors due to the use of wine and cognac in the sauce. I searched and searched and couldn't find the old recipe. I went to the web and started searching, and found several variations. Listed below is my variation. One thing I changed was to use crushed tomatoes instead of chopped ones.
I love this dish, and could probably eat about 2 or 3 times as much as I should. Why don't you try this recipe and see what you think.
Shrimp Fra Diavolo SErves 4-6
1 lb. large shrimp, peeled
1 teaspoon red pepper flakes
6 tablespoons olive oil
1 teaspoon salt
1/4 cup cognac or brandy (I only had a little of each, so used both)
12 medium garlic cloves, sliced thinly
1/2 teaspoon sugar
1 (28 ounce) can crushed tomatoes
1/2 cup dry white wine
1/4 cup minced fresh parsley leaves
1 pound linguine or spaghetti
Bring a large pot of water to a boil. It should be up and boiling and ready to add the pasta when your shrimp is ready.
In a large bowl mix the shrimp, half of the red pepper flakes, two tablespoons of the olive oil, and the salt. Toss gently to evenly coat the shrimp. Place a large skillet's over med high heat, and when hot, add the shrimp in a single layer and cook without stirring until they turn pink and get brown spots on the bottom. This only takes about a minute or so, depending on the heat of the skillet.
When shrimp is cooked on one side, remove from heat,stir the shrimp, and add the cognac. Give it a few seconds to warm the cognac, and then wave a match over the skillet to ignite the cognac. Shake the pan a little to make sure it all gets a chance to burn. (If for some reason you're like me, and your cognac refuses to light, that's okay. Just place it back over the heat and reduce a little.)
After the fire goes out, take the shrimp out of the pan and place aside. Heat three tablespoons of the olive oil in the skillet, add the garlic, and cook over low heat, stirring constantly, for five or six minutes, until the garlic gets light brown. Don't let it burn. Add the other 1/2 teaspoon of the red pepper flakes, the salt, sugar, tomatoes, and wine. Simmer this sauce for ten minutes or so.
Your water should be at a boil right about the time your sauce is getting ready to simmer. Add a large pinch of salt to the water, and place the pasta in the pot of boiling water, stir, and cook until al dente, usually about 12 minutes. Drain. Add the drained pasta and the cooked shrimp to the skillet of sauce, stir, and if your pasta is too al denta, cook a minute or so more. Add the chopped parsley and serve.