Strawberry Pinot Noir Jam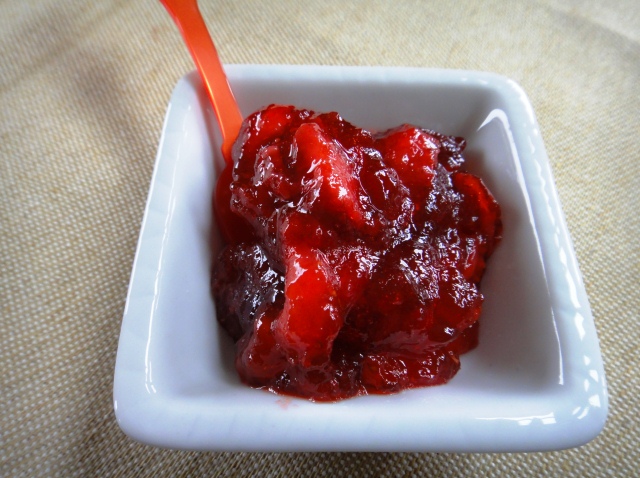 Last Saturday I got up early to go to one of the farmer's markets in town. It is early in the season here, and the fruits/vegetables that are at the market this time of year consist mainly of greens. But the reason I was going early was that one vendor advertised that he would have strawberries and possibly zucchini. There's not a lot of fruits available for sale that are grown here. And when you do see them, they're usually a very small container for a very high price. I paid $6 for each pint of strawberries, which I thought was a good price. So I bought 7 containers. They also did have a small box of zucchini, so I bought 10 of those also.
I had seen a recipe from Amy for Strawberry Pinot Noir Jam. I thought that combination sounded delicous, so that's one of the things I made with the strawberries. The jam turned out really good. I'm not sure that I can tell it has Pinot Noir in it, but I think it does make it more complex tasting. Next time I think I might use double the amount of wine but reduce it down to the required amount to give it a more intense flavor.
STRAWBERRY PINOT NOIR JAM
Quarter 8 cups of strawberries. Place them in a large bowl with 1 cup sugar and 1/4 cup lemon juice. Stir to combine, and refrigerate for 1-2 hours,
Drain off the juice that collects in the bowl and place the juice in a large cooking pot. Add 1/2 of the berries, 1/2 cup pinot noir and simmer and until the berries are soft. With potato masher, mash berries into the syrup. Then cook a few more minutes to let thicken a little. Add the rest of the berries to the pan and cook 5-10 minutes. Mix 1 envelope no-sugar pectin with 1 1/2 cup sugar. Thoroughly stir into jam and bring to a boil for 1 minute. Taste, and add more sugar if you want. Process. (I use the method by filling hot sterilized jars with hot jam, placing top and ring on, then turning jar upside down for about 10 minutes then turning jar upright.