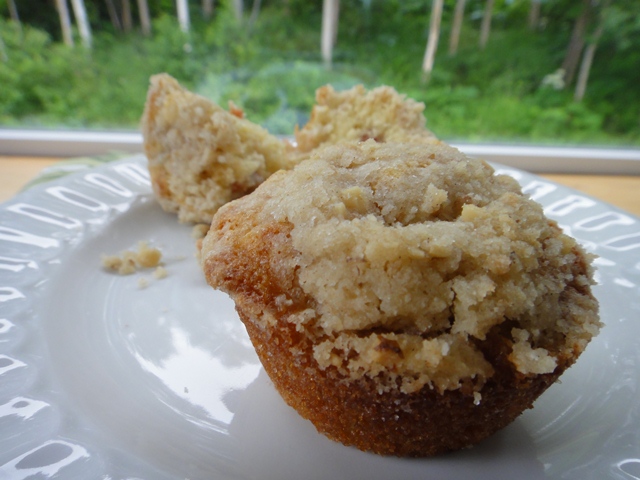 Yesterday I picked all of the remaining rhubarb in my garden. There was a huge amount, as anyone who has every grown rhubarb (at least in Alaska) knows you will end up with. I looked through recipes and decided that I would make rhubarb jam and if I had enough, rhubarb chutney. But this morning as I was slicing up all of that rhubarb, I decided I just had to make muffins.
I decided to alter a recipe from "The Riversong Lodge Cookbook" for Cranberry Muffins. The muffins turned out perfect. Sweet from the topping, but with a nice punch of tart from the rhubarb. And very tender. So chop up some rhubarb and give this recipe a try.
RHUBARB CRUMBLE MUFFINS Yield: 15 muffins
Muffins:
1/2 cup unsalted butter
2 cups all-purpose flour
2 teaspoons baking powder
1 teaspoon baking soda
1/2 teaspoon salt
1 cup sugar
1 cup milk
2 large eggs
1 teaspoon vanilla extract
1 teaspoon vanilla bean paste (if you don't have this, you can either use the seeds from one vanilla pod, or just add an extra teaspoon of vanilla extract)
2 cups sliced rhubarb
Topping:
1/2 cup sugar
1/2 cup all-purpose flour
1/4 cup unsalted butter, chilled and cut into 1/4-inch cubes
3/4 teaspoon cardamom
1/4 cup finely chopped walnuts
Preheat oven to 375 degrees F. Grease 15 muffins tins. Set aside. Melt the 1/2 cup butter and cool to room temperature.
Combine the flour, baking powder, baking soda, salt and sugar in a medium bowl. Combine the milk, melted butter, eggs, and vanilla in a second bowl, blending well. Combine the flour mixture and the egg mixture, and stir until just mixed. Fold in the rhubarb. Fill each muffin tin two-thirds full with the batter.
To make topping, combine the sugar, flour, butter, cardamom, and walnuts together, pinching and mixing until crumbly. Sprinkle the topping over the muffins.
Bake in the center of the oven for 15-20 minutes, or until a toothpick inserted in the center comes out clean.