Almond Cake with Chocolate Chips and Liquor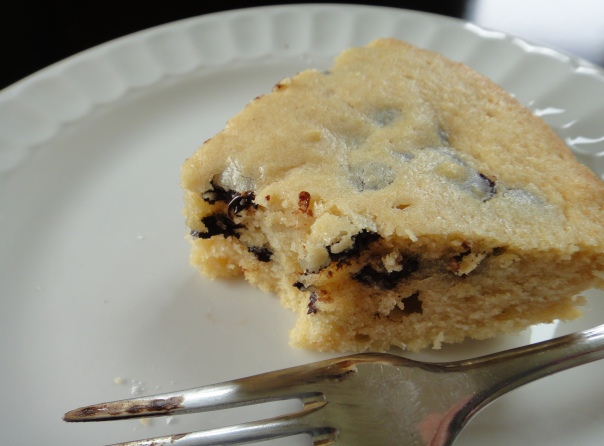 I had a tube of almond paste that hit its expiration date, so it was time to do some baking. I decided I wanted an almond cake and I began looking through cookbooks for a recipe I wanted to try. I browsed through Dolce Italiano by Gina DePalma. I love this book and found a recipe for an almond and raisin cake, flavored with vin santo. I had enough almond paste to make 2 cakes and decided to make 2 different cakes. One I made with dried cherries and amaretto and the other I used dark chocolate chips and a mixture of Bailey's and Creme de cocao. They were both delicious. The one with cherries was a little drier and crumblier and I enjoyed a slice with coffee for breakfast. The chocolate one made a great dessert.
Almond Cake with Bittersweet Chocolate Chips. Makes one 9″ round cake
2 cups all-purpose flour, plus more for dusting pan
3/4 cup Bailey's, Creme de cocoa, or a mixture, or any other liquor you'd like to use
1/2 cup dark chocolate chips
1/4 cup almond flour
2 teaspoons baking powder
1/2 teaspoon kosher salt
1/2 cup (1 stick) unsalted butter, softened
3/4 cup granulated sugar
3 ounces almond paste
2 large eggs
1/2 teaspoon pure vanilla extract
1/4 teaspoon almond extract
1/4 cup whole milk
Confectioner's sugar for dusting top
Preheat oven to 325 degrees F. Place rack in center of oven. Spray a 9×2″ round cake pan with nonstick cooking spray and dust with flour, shaking out excess.
In a medium bowl, whisk together the all purpose flour, almond flour, baking powder, and salt and set aside. In the bowl of an electric mixer with the paddle attachment, beat the butter and sugar on medium speed until creamy and light, about 2 minutes. Add the almond paste a little at a time and beat on medium speed until the mixture is fluffy and lump-free, about 1 minute.
Beat in the eggs, one at a time, followed by the vanilla and almond extracts, scraping down the bowl after each addition. On low speed, add half the dry ingredients, beating well. Scrape down the sides of the bowl and add the milk, beating well. Beat in the remaining dry ingredients on low speed, then switch to medium speed and beat for 30 seconds. Switch back to low speed and beat in the chocolate chips and liquor.
Pour the batter into prepared pan and smooth surface with a spatula. Bake for 30-35 minutes, or until a toothpick inserted in center comes out clean. Allow the cake to cool in pan for 10 minutes, then invert onto a wire rack to cool completely.
Before serving, transfer cake to a serving platter and dust with confectioner's sugar.