Sweet Corn Cakes with Shrimp
A co-worker of Scott's came over for dinner this winter and her and her husband were so nice to bring some hostess gifts. One of the gifts they brought was a cookbook titled "The Fishes & Dishes Cookbook". It is a cookbook full of recipes and stories from Alaska's commercial fisherwomen. I looked through it and saw some really interesting recipes, but like so many cookbooks I have, I never made anything from it.
Scott took the boat out for the first time this season this weekend, and unfortunately things did not go as planned. They put out the 5 shrimp pots Friday evening, anchored up for the evening and went and pulled them the next morning. They got about 4 gallons of shrimp in that pull, but then the engine would not start up on the boat. It took them 3 1/2 hours, going 6 miles/ hour, to make it the 21 miles back to Whittier, using an 18 hp kicker motor. And on top of that, the weather was not nice. In some areas there were rough seas, with it alternating between heavy rain and snow. When using the regular engine, you're out of the elements. But when using the kicker, Scott had to sit on the back of the boat, exposed to all of the lovely weather, steering the boat with a long handle coming out of that motor. My arm would have fallen off after 3 1/2 hours of that.
Being that the shrimp was quite precious after all of that work, I decided to do something different with them than just boiling them. I flipped through that cookbook that I mentioned earlier, and the first recipe I saw was for Sweet Corn Cakes with Shrimp. I thought that sounded perfect.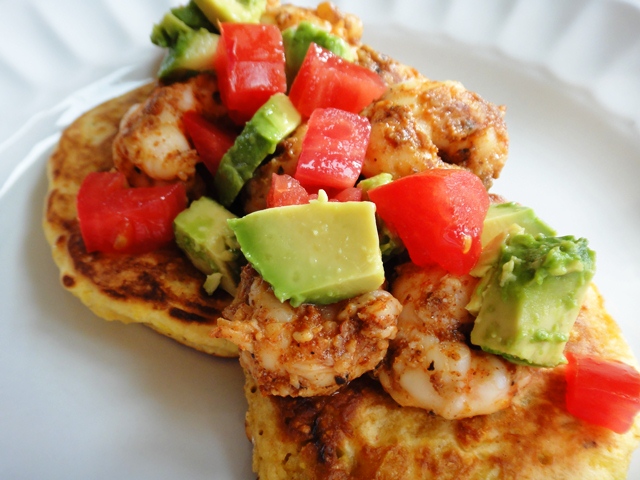 They were really good. Slightly sweet corn cakes topped with spicy shrimp and fresh tomatoes and avocado. I will be making these again, and now I'm really anxious to try some other recipes from the book.
Sweet Corn Cakes with Shrimp
Makes 4-6 servings
Corn Cakes-
1/2 cup fine cornmeal
1/2 cup unbleached white flour
1 teaspoon baking powder
1/4 teaspoon salt
1/4 teaspoon paprika
1 teaspoon sugar
2 eggs
1/2 cup buttermilk
2 cups fresh, cooked corn kernels( I used thawed frozen corn)
1/2 cup chopped green onion
2 tablespoons butter
2 teaspoons canola oil
Shrimp Topping-
1/2 teaspoon mild chili powder
1/2 teaspoon cumin
1/2 teaspoon paprika
1/2 teaspoon sea salt
1/2 teaspoon freshly ground black pepper
1 pound small to medium shelled shrimp
2 teaspoons canola or vegetable oil
2 tablespoons lime juice
1 avocado, diced
1tomato, finely diced
Chopped cilantro leaves, for garnish
To make the corn cakes, in a med. bowl, mix the cornmeal, flour, baking powder, salt, paprika, and sugar. In a separate small bowl, whisk the egg lightly, and whisk in the buttermilk. Make a well in the corn,earl mixture, and whisk in the egg mixture just until smooth. Fold in the corn kernels and the green onion.
Heat 1 tablespoon of the butter and 1 teaspoon of the oil in a large nonstick pan over medium heat. Add 1/4 cup corn batter to the pan for each cake, and flatten it out. Fry the corn cakes for about 2-3 minutes on each side, until they are golden brown and cooked through. Remove to a plate and keep warm by covering with a paper towel. Add the remaining 1 tablespoon butter and 1 teaspoon of oil to the pan, amd fry the remaining cakes. Set the cakes aside and keep warm.
To make the shrimp topping, in a medium bowl, mix the chili powder, cumin, paprika, salt and pepper together. Add the shrimp, and toss to coat.
Heat 2 teaspoons of the oil over medium- high heat in a medium skillet. When hot, add the shrimp and cook, stirring occasionally, until done, about 3 minutes. Remove the shrimp from the heat. Add the lime juice to the shrimp, and toss.
Place two cakes on each plate, and top with some of the avocado, the tomato, and the shrimp. Sprinkle with the cilantro.