This was our last day in Paris. I wanted to spend the day just wandering around, enjoying a last view of the sights. One thing I had not done was eaten as many pastries that were listed on the blog Paris Patisseriesas I had wanted. So after starting the day doing a little advance packing, we began on our journey to find Jacques Genin where I planned on having a chocolate eclair. We had trouble finding it. I think we'd be a lot better off sometimes if we used a map and our instinct and skipped the Mapquest directions. By the time we found this chocolate shop and tea salon, it was pouring down rain. It was about lunch time, and we hadn't eaten, but we decided instead of lunch we'd sit down in their beautiful salon, dry out, and enjoy a relaxing afternoon. I ordered a chocolate eclair and Scott ordered a caramel eclair. They were both great, but I enjoyed those couple of bites of Scott's that I managed to get him to give up more than I enjoyed mine.



I also had Scott order a hot chocolate. I couldn't look like a pig, could I? I didn't order an extra cup at first, but can you see how thick this was? It was like melted chocolate with no milk or cream added. And it was very bittersweet, even though it looks quite sweet in the photo. Although we didn't use it, they even bring cubes of sugar to add if you'd like. There was no way he was going to be able to drink it all himself, so luckily I was able to share.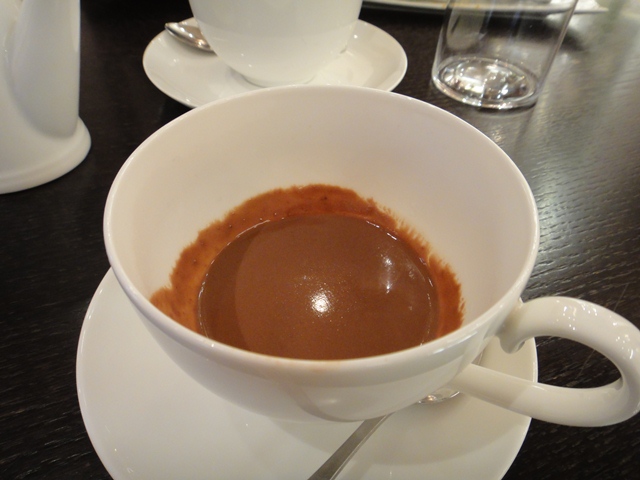 Here are some photos of the beautiful interior of this salon.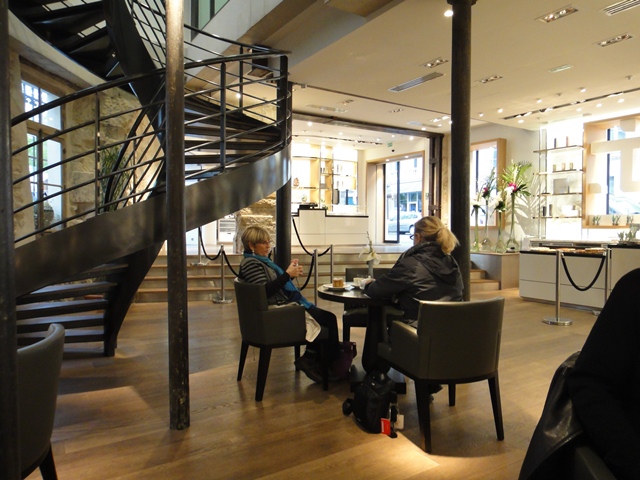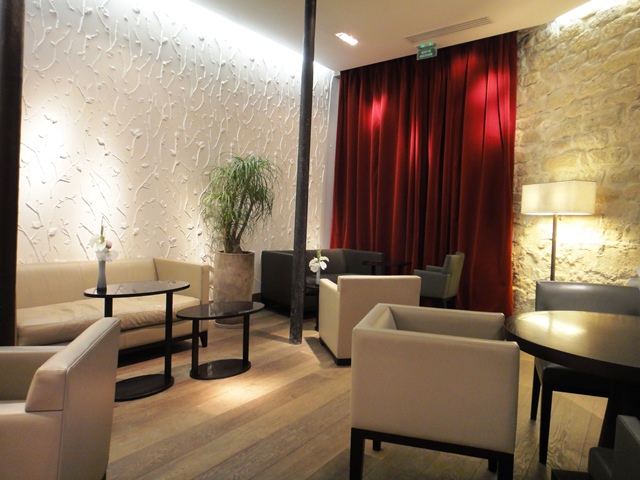 We didn't buy any chocolate here to take with us, but we bought some of their delicous caramels. The best were the mango passion fruit. They tasted like pure butter with the burst of fruit. I also had to have a little tin of pate de fruits. The flavors were all amazing, but the pineapple was the best.
After we had our fill of chocolate and the rain almost stopped, we decided to skip the Metro and walk over towards the Seine. It wasn't the best day for walking – very windy and raining off and on, sometimes downpours. But I wasn't going to sit in our apartment on our last day. Scott loves to look at boats, and he saw a spot where he could walk close to the houseboats that were docked along the Seine. I followed his wishes, and we walked along in the cold rain. The wide path we were on gave way to a very narrow path as we rounded a corner. I never saw any signs that said we shouldn't be there, but it did not look like any place we should (or would want) to be. Scott was convinced that if we kept walking, we would be just fine. I really expected to see the French police, not able to speak English, pull up alongside of us on the river with their guns pulled demanding what we were doing. Luckily, that never happened. My other fear was that we would come upon someone whom we didn't want to be close to when we were in such a vulnerable place. Luckily, we only saw the remnants of where people had been, but no actual humans were seen. As you can see in the photos I took later of the ledge we had been walking on, you have a steep wall on your left and a drop-off then the Seine river on your right.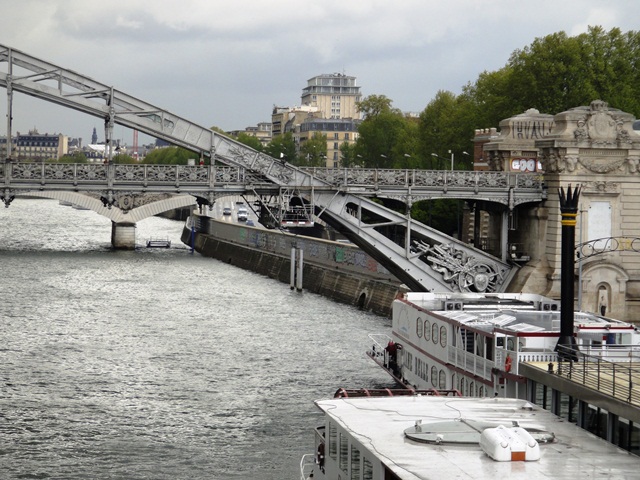 Can you even see that small ledge we were on? It looks quite small, doesn't it?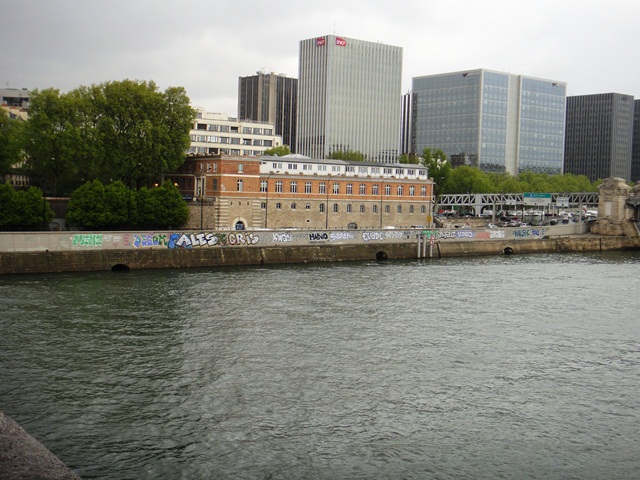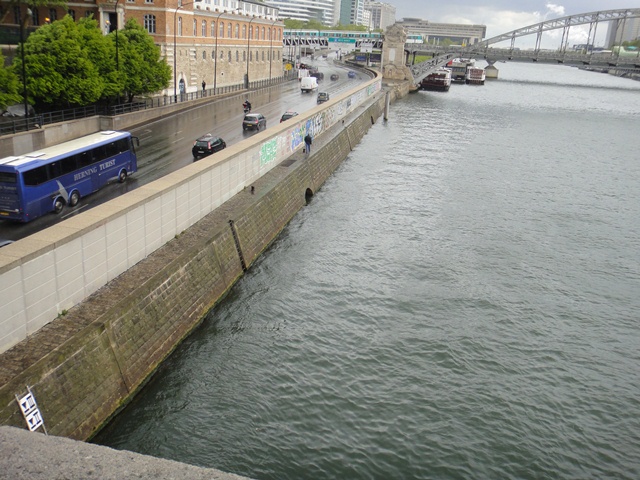 As I was taking a photo after were were well away from there, I actually saw someone else walking along the ledge. It is a little wider here than in other parts, but maybe we weren't in an area that was as bad as I thought.
After deciding to keep walking, rather than turn around and go back the way we came, we eventually came to an area where we could walk up away from the river. I wasn't sure we could walk there at first since all I was able to see was a busy highway. But there was a path, and we walked up the path then across a bridge to the other side of the Seine. At that point, when I was still feeling a little wobbly-legged from the stress of thinking I was going to be thrown in jail, the weather decided to give us a powerful downpour. Wasn't that a nice way to say welcome back to civilization. We didn't know where we were at, but thought we knew what direction to walk, so we continued along and eventually came to a Metro station where we hopped on a train back to our apartment. An adventurous way to end our trip in Paris.
For dinner, I had made reservations at Les Bougresses, a bistro where we had eaten the previous week and really enjoyed. You can feel very comfortable here when you don't speak French, as at least one of the servers speaks English.
Here's a photo of Scott as he was ready to start his meal.


Scott started with escargot and I started with a salad of melon and cured ham. Delicious.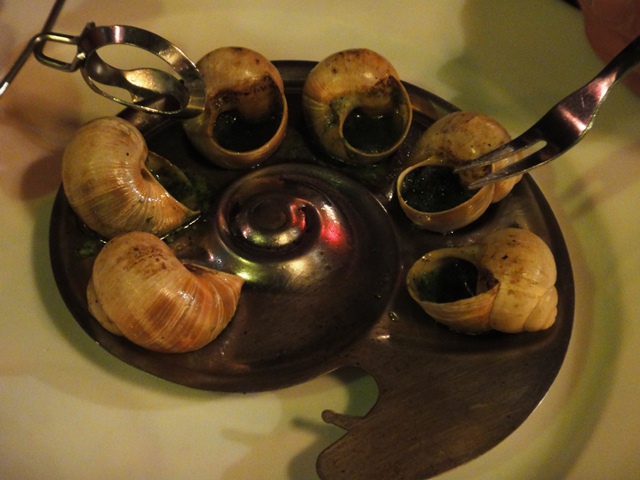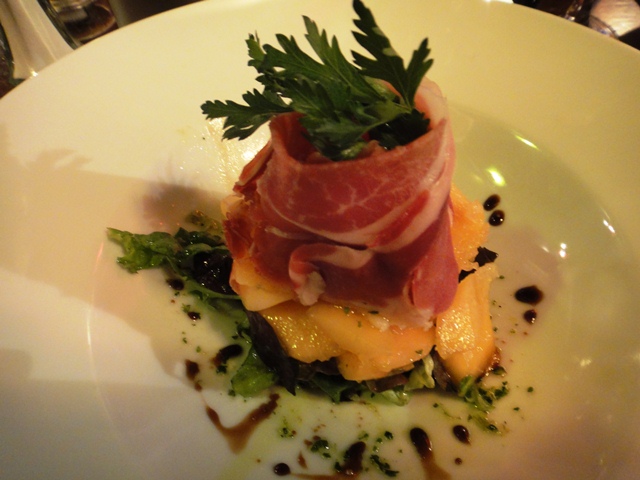 For his main, Scott had duck in a fig sauce. I had that the first time we were there, and it was very good. I decided to have stuffed vegetables. There was a potato, a red pepper, and zuchinni stuffed with a ground meat and rice mixture. All placed on a delicious meat "gravy". Very very good. I skipped dessert, but Scott had the profiteroles. It was a very nice way to spend our last evening in Paris.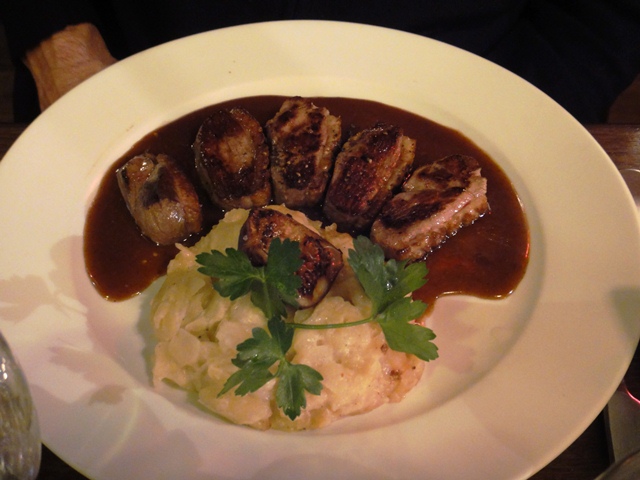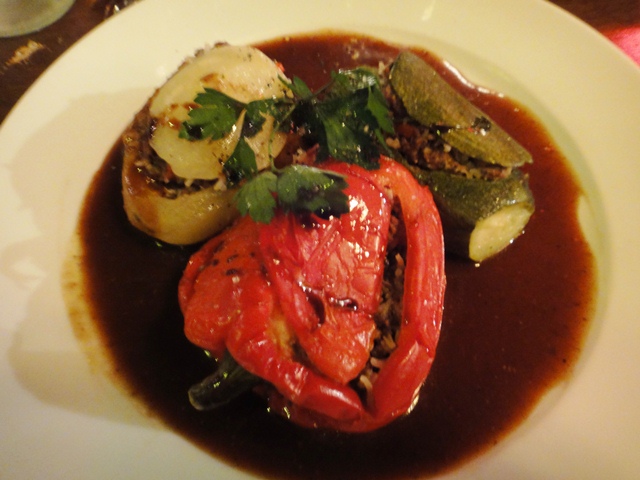 We decided that we wanted to go to the Eiffel Tower for one last view of the sparking tower before we left the next day. As I mentioned in an earlier post, it's just magical.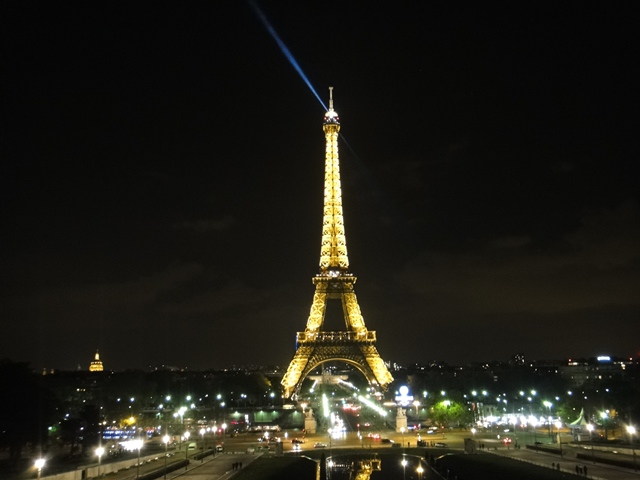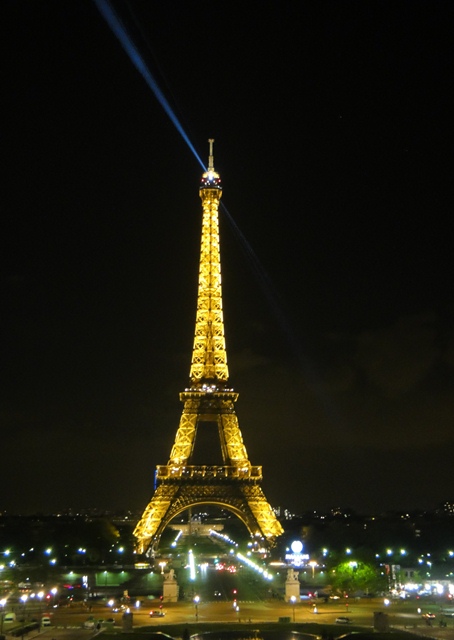 That's our 2012 trip to Paris. I hope you enjoyed following along. I'm going to write up a blog entry about the apartment we rented, the transportation company we used to and from the airport, and other things like the benefits of a Museum Pass.