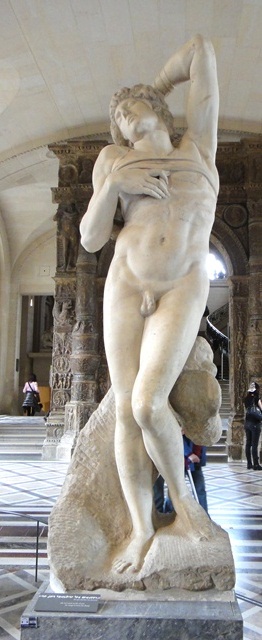 Michelangelo's Dying Slave
Today was our second to last day in Paris. We decided to go to the Louvre in the morning. We came across an entrance to the Louvre where our Museum Pass got us right in the door without waiting in any lines. I was so glad to have that Museum Pass, because when you got past that entrance, throughout the day we saw huge lines of people waiting to get inside. I don't know if April is always a lot busier than October, but last time we were here, although it was crowded, it wasn't nearly as crowded as it was this visit. And unfortunately, we were both at a point in our trip where we were really tired of crowds. So we didn't stay but a couple of hours at the Louvre this trip. I love sculpture, and that was the area where we spent our time this visit.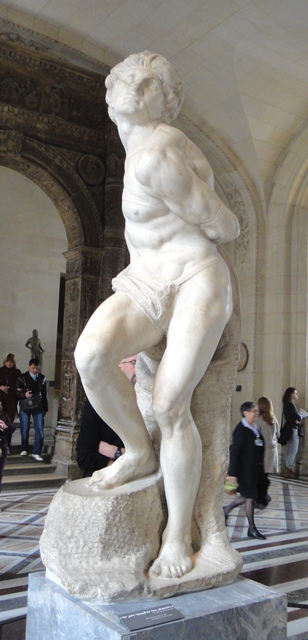 Michelangelo's Rebellious Slave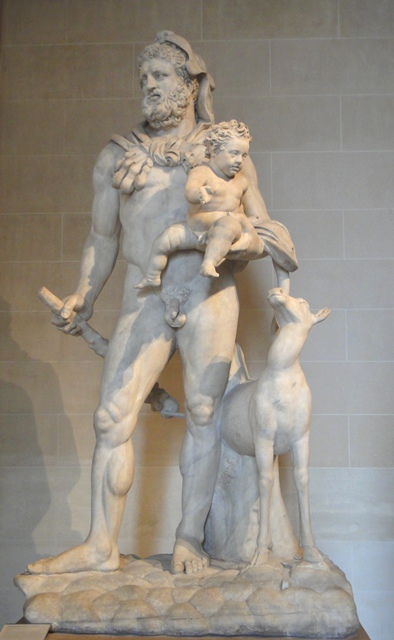 After we left the Louvre, Scott really wanted to go to the National Maritime Museum. So we took the Metro over and had a quick visit. If you're interested in maritime, ship models, etc. you would enjoy this museum. That's not my thing, but I did enjoy looking around for a bit. That's an advantage of having the Museum Pass, because you can get into the museums without paying, and you don't feel guilty if you just stop in for a quick look.
Below is a photo of a boat that was built for Napoleon.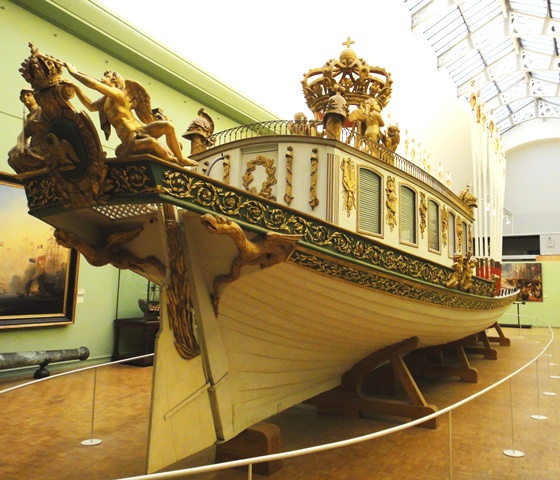 This last photo is from the front of a boat, but I don't remember which one. You can see the incredible beauty that these boats had and the detail that went into them.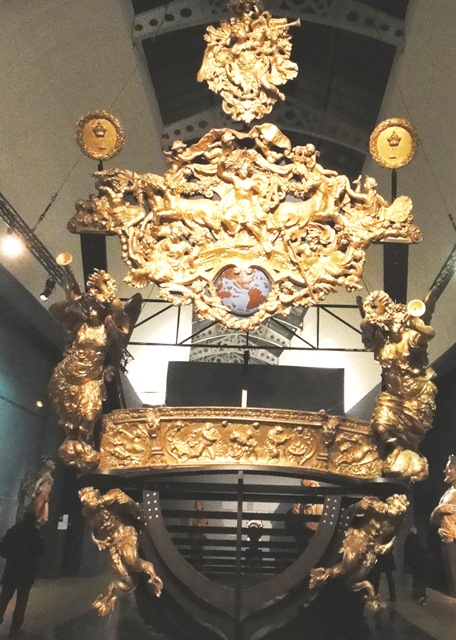 That evening, I had made reservations for us at Le Verre Vole. This is a wine bar that was just a 5 or 10 minute walk from our apartment. It is in the Canal Saint Martin area, an area that is supposed to be an upcoming and hip neighborhood. I had read that they spoke English there, but only one of the staff that night did, and not very well. You've got to make reservations here. It's a tiny place, and is very busy. I tried to make reservations for 8:30, and was told I could have 8:00 and we had to leave by 10:00. I hadn't heard of anywhere else giving you a time frame like that. (Or at least that's what I thought he said during our phone conversation that was hard to understand. Who knows, maybe he told me I could have a table at 8:00 or 10:00.)
They are a wine shop also, so you could choose a wine from their shelves and pay a 7 euro corkage fee, or they had 6 or 7 choices of wines by the glass. We chose to just order by the glass. I started off with a fish soup, which was a thin flavorful tomato broth with little clams. (Sorry, no photos. For some reason I didn't take any). I had a glass of white wine to accompany my starter. It was a strange color-very golden, but tasted very good. I'm not sure if it was that dark color because it was unfiltered and they only sell natural wines there or what. Scott had some type of a veal dish with a vinegar sauce that was served cold and was very flavorful. For my main, I had a sausage that contained some type of ground meat and swiss chard. They brought you Dijon mustard to put on it. It was good, and there was a huge portion, 2 large meatballs and some delicious potatoes. Scott had a pork dish, but I don't remember what it was. This is why I take the time to blog daily (okay, most days) while on vacation, because otherwise there is just too much forgotten. For dessert I had a very good rice pudding that had a layer of something very tart, which I think was passion fruit. I wish I could remember the name of Scott's. It was a large plate that had unsweetened yogurt on it, then crumbled on top was a chocolate cake. Strange. He did not like it. He scooped the cake part up and ate it, but didn't like the unsweetened tart yogurt. It was a fun evening, and I would like to go back and try other things from their small menu.