Today was a busy day. We took the train to Versailles. We got a later start than we planned, and it was sure crowded when we got there. We had our museum passes, which allow us not to have to stand in line to purchase tickets. There was a huge line out front, and unfortunately, that was the line you had to wait in to go inside, even those with The Museum Pass. Luckily, the line moved rather quickly.
Here is a picture of Scott and me in front of the Chateau.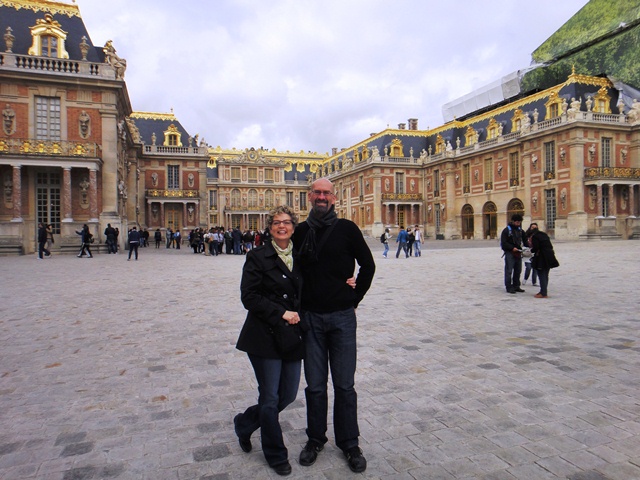 We visited the main palace first. It was so crowded, and while beautiful, I didn't enjoy it as much as I thought I would. I've seen a lot of beautiful palaces in Italy, but I think the main thing for me is that at this point in our trip, I was just tired of crowds. Pushy, unkind people trying to get a better view and not caring if they pushed you out of the way to get it. So we went through the Chateau rather quickly. Here's a couple of photos. It was posted that photos were not allowed, but there were guards all around and they never kept one person from taking them, so I decided it was okay.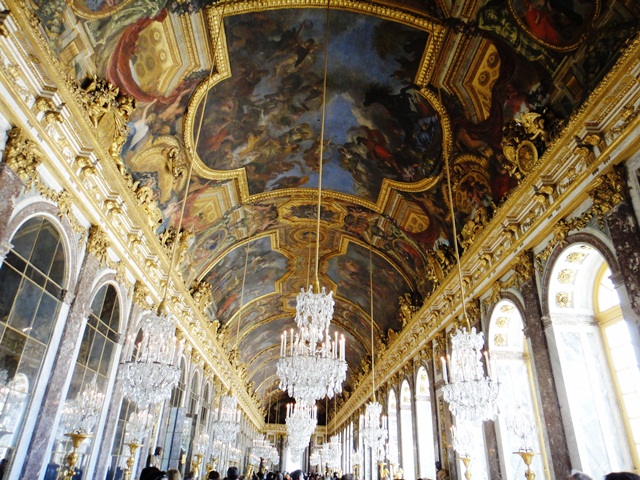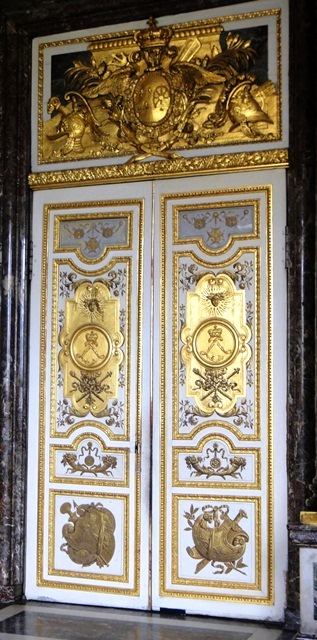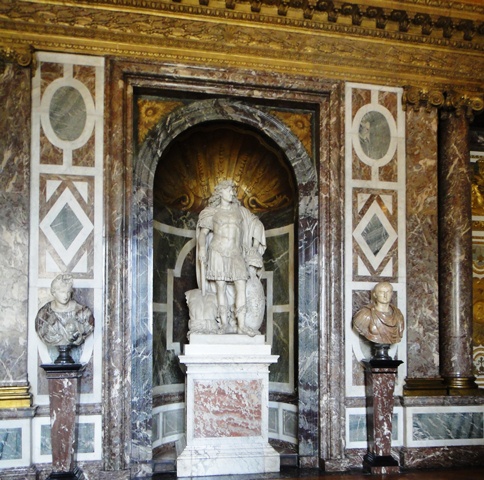 We were tired after viewing the Chateau, and we were hungry, as it was now lunch time. We decided to have lunch at Angelina, a restaurant right in the Versailles Chateau.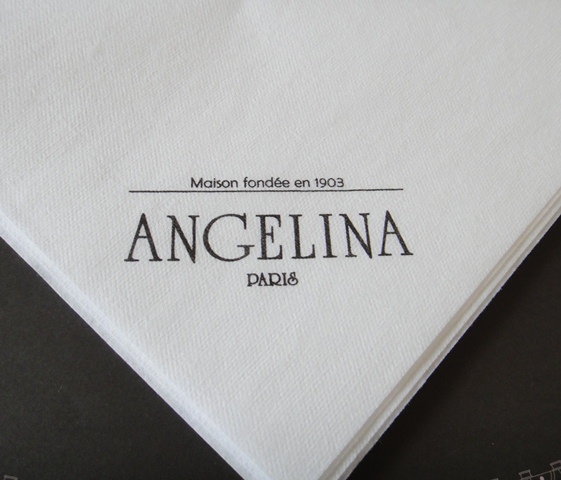 I had a salad with Fois Gras. It was good. Scott had the quiche, which was over-cooked and way too expensive for the quantity he got, but oh well. We each had a nice glass of wine, we were sitting down, and we were away from the mobs of people for a while.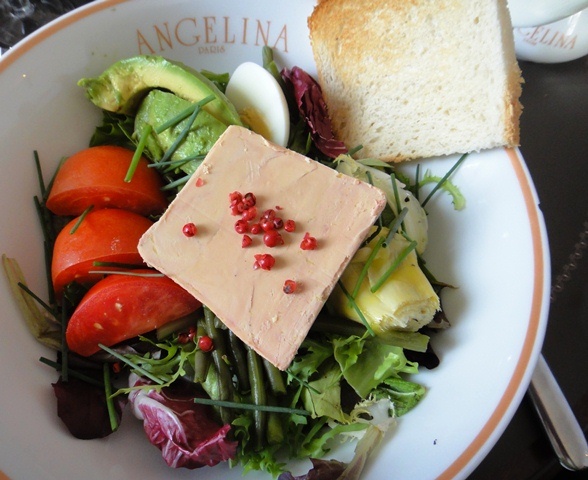 We had to splurge on dessert, and I'm very glad we did as they were excellent. Scott's was a coffe and milk chocolate tart which was luscious!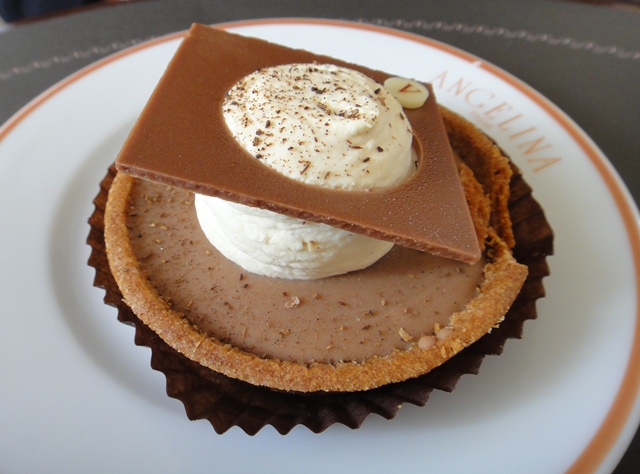 MIne was a chocolate and raspberry tart which was also very good, but very rich.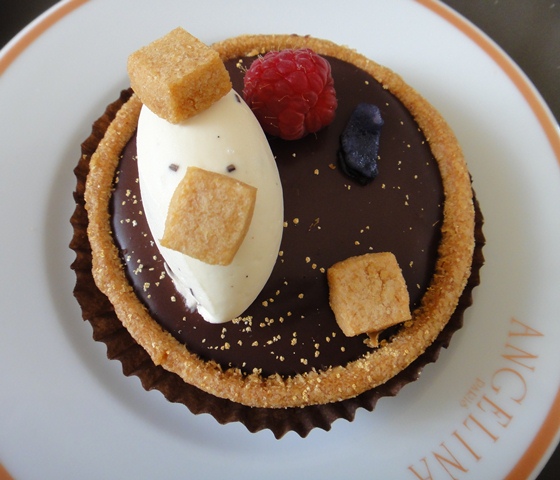 After lunch, we decided to visit the gardens. You have to pay an additional 8 euros to get in, as the museum pass doesn't include them. It was very well worth it. The gardens are so vast. I'm not sure how many acres they were, but they seemed to go on and on. I never saw one gardener, and I'm not sure how they can keep everything so groomed. There were some beautiful flowers in bloom, and the fountains and music were playing while we were there.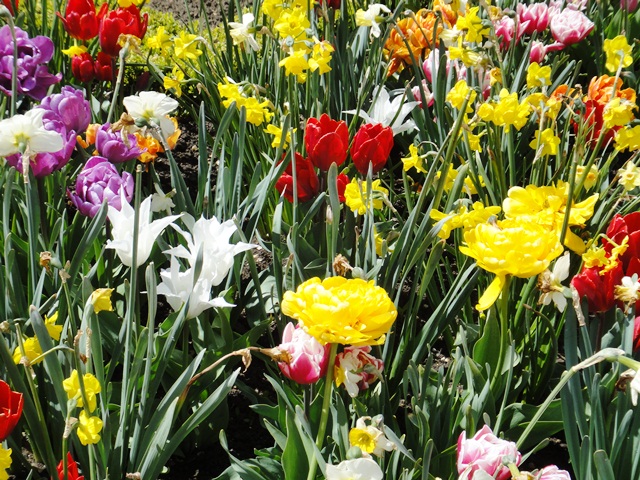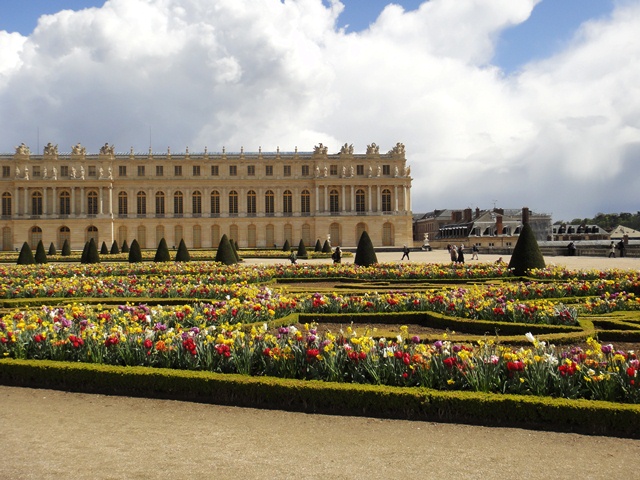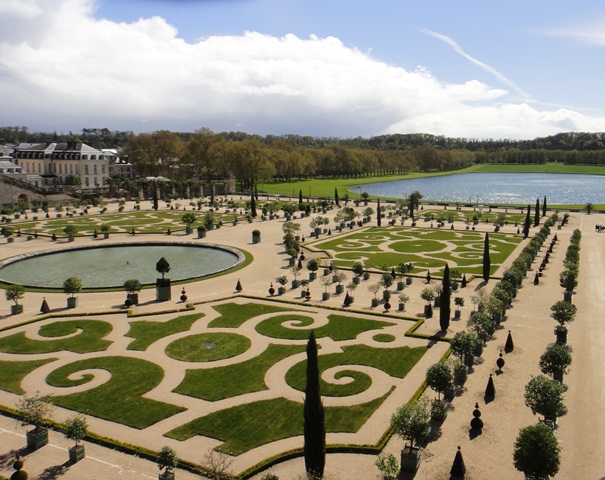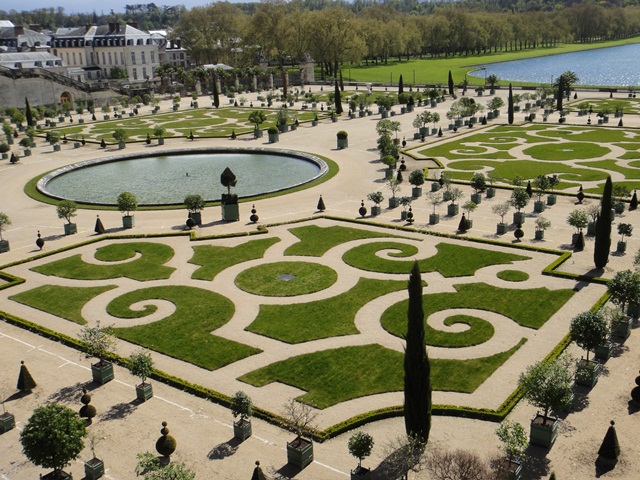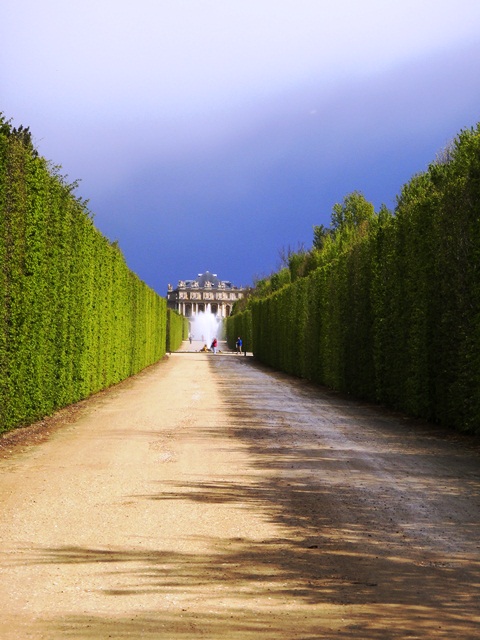 We next walked to the Domaine de Marie-Antoinette. Here's a few photos of where she spent her time and the gardens there.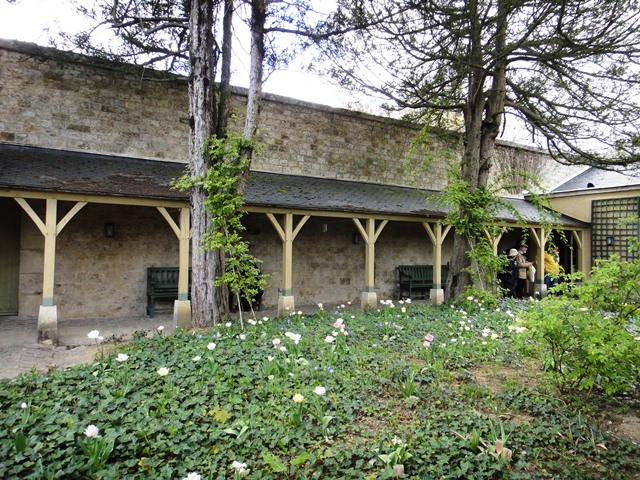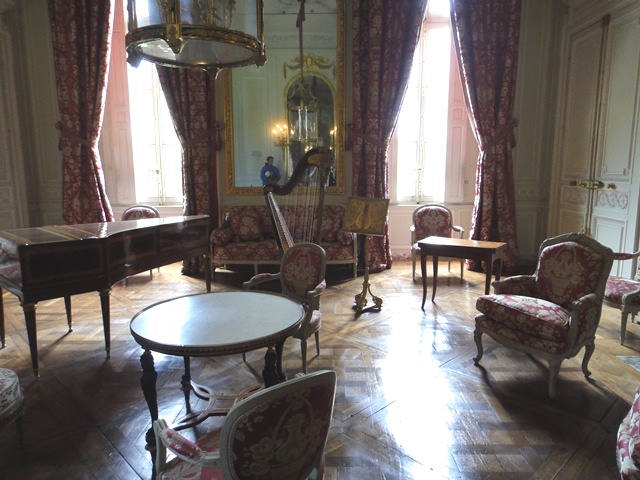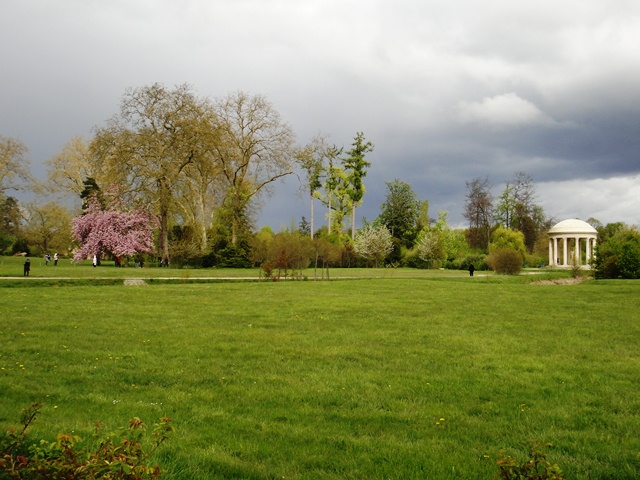 Some sheep from the farm. I love sheep and goats!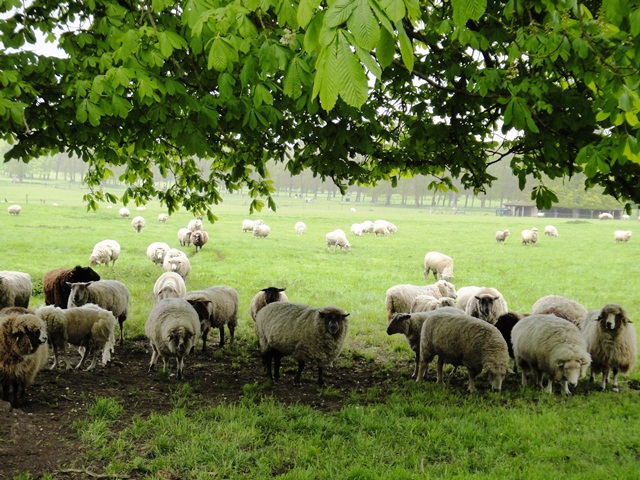 That evening, even though we were tired and it was threatening to rain, we finally got around to going to see the Eiffel Tower lite up at night. It was the highlight of my trip, even though it absolutely poured down on us while we were waiting for the flashing lights to start.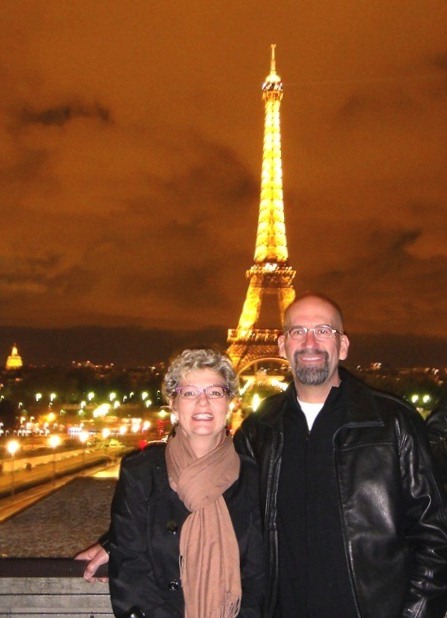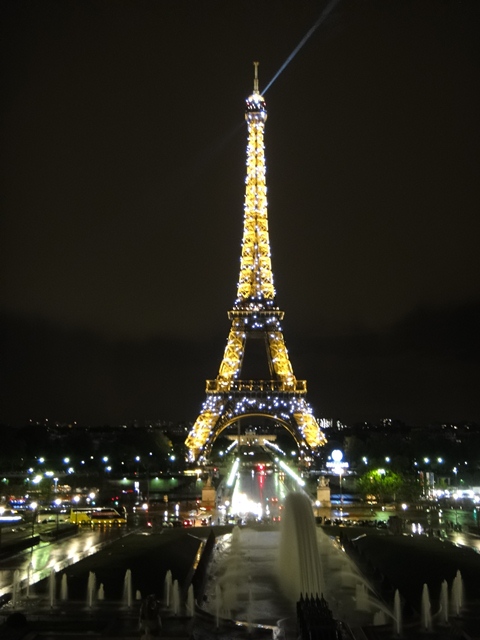 The flashing lights go off for 5 minutes on the top of the hour after it gets dark out. Here's a link to the video Scott took of them.
http://www.facebook.com/?sk=lf#!/photo.php?v=3753859402684&set=vb.1162403786&type=2&theater