Today we went to the Montmartre area of Paris. We chose to burn a few more calories and walk up the hill to Sacre-Coeur Basilica rather than take the funicular. At the base, here is the view of Sacre-Coeur.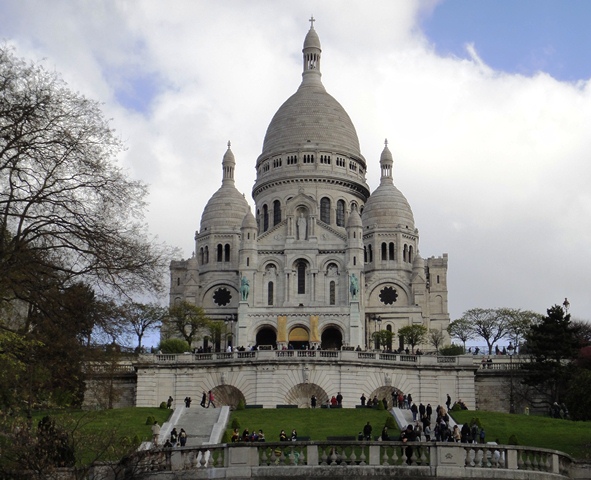 When you're at the top, you are at Paris's highest point at 420 feet. Here is a photo of the city below.


The church looks very old, but it isn't. It was built between 1875 and 1919. There are 5 domes on the basilica, and because the exterior is laced with gypsum, it whitens with age. We went inside. The interior is full of very colorful mosaics. I can't show you photos, as you are prohibited to take any.
We next went to the Church of St. Pierre-de-Montmartre. This is one of Paris's oldest churches, dating from 1147. The photos below show the outside of the church, then the interior.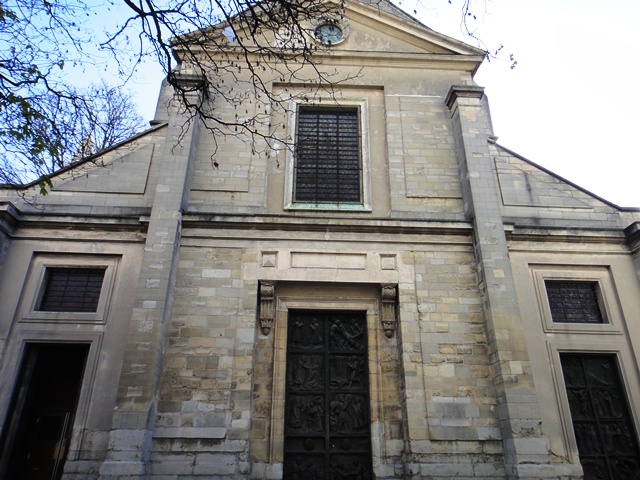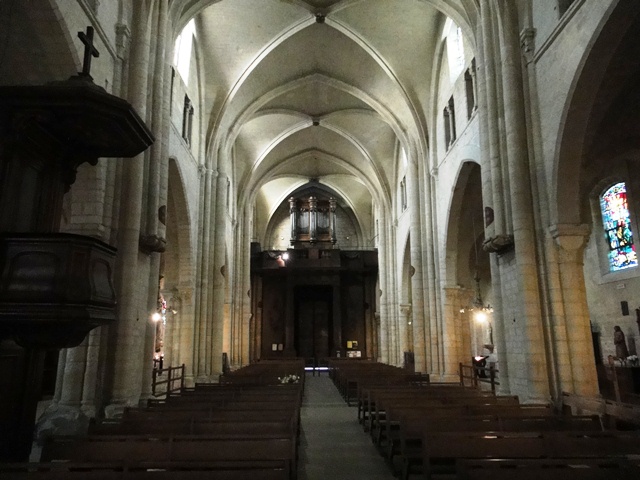 I had read that Montmartre area is very crowded, but I wasn't prepared for the crowds in the main part of town. Too touristy for me. We walked around and enjoyed some of the more residential streets which were very quiet.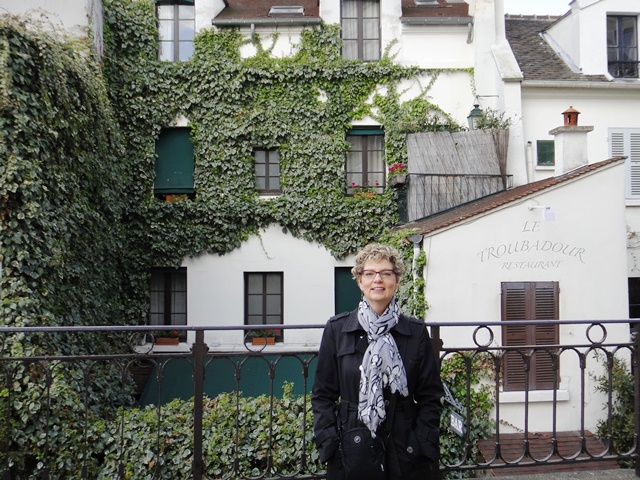 We decided to have lunch at a restaurant that was just off the busy square, but on a quiet street. The name of the restaurant was Butte en Vigne. We didn't eat until 1:00, but we were the only ones there until almost 2pm, when 2 more groups came in. It appeared that most visitors were sitting at the cafes just having drinks and eating crepes or sandwiches on the street. We welcomed the idea of sitting down to a quiet relaxing lunch. I started off with a country terrine and Scott started with the salade de chevre chaud. We were both very pleased with our choices.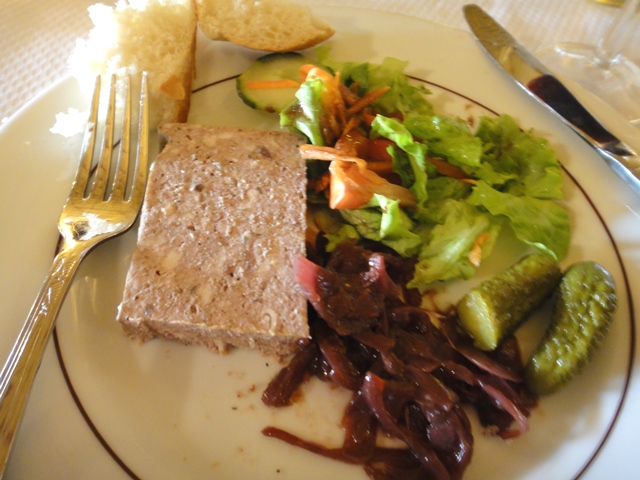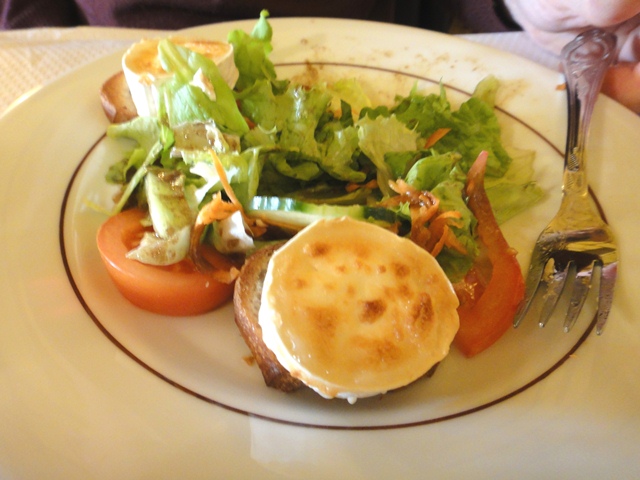 We both had the boeuf bourguignon for our plat. Although not the best I've had, it was good.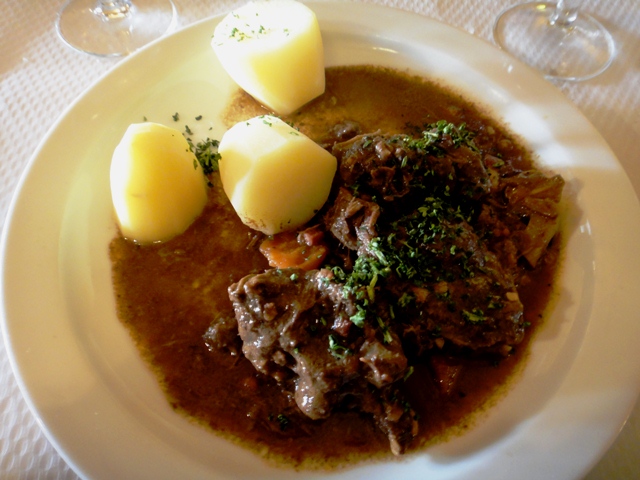 We shared a pichet of Cotes du Rhone wine. For dessert, I had a type of apple cake and Scott had a chocolate cake. Again, not the best I've ever had, but it did taste good. It was a nice relaxing lunch and we were able to rest and warm up a little. It's been cold today with a very brisk wind.
As we were walking downhill, I stopped at an adorable store called Sabre. They carried bright fun plates, cups, and utensils. I bought 2 espresso cups and small spoons. I'll have to wait until I unwrap them to show you photos.
At the bottom of the hill, we viewed the Moulin Rouge.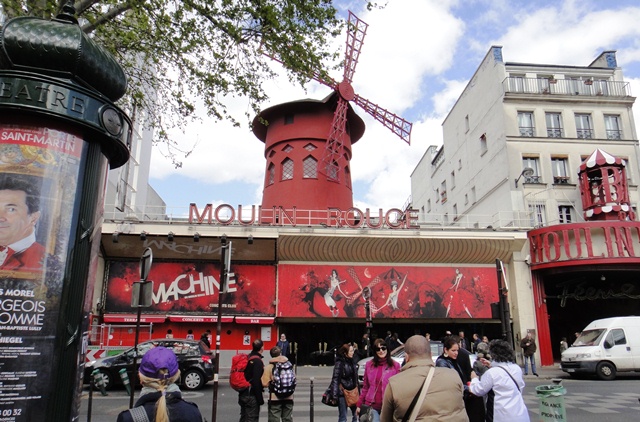 After this, we walked to a candy store that I had read about (and watched a video of) on David Lebovitz's blog. It's called A l'Etoile d'Or. It's owned by Denise Acabo, who told us she's had it for 40 years. She carries candies from all over France. I bought some Bernachon chocolates, which come from outside of Lyon. Bars filled with salted caramel and a type of orange filling. Also some caramels from Henri LeRoux, some prune-stuffed prunes, flavored marshmallows (chocolate, citron, and bergamot), as well as assorted other treats. Below are photos of the storefront, inside the store, and a photo of me and Denise.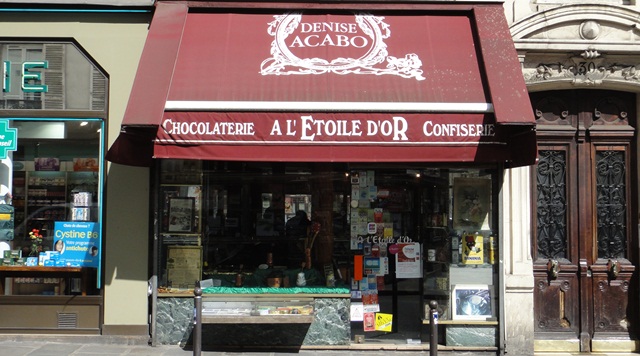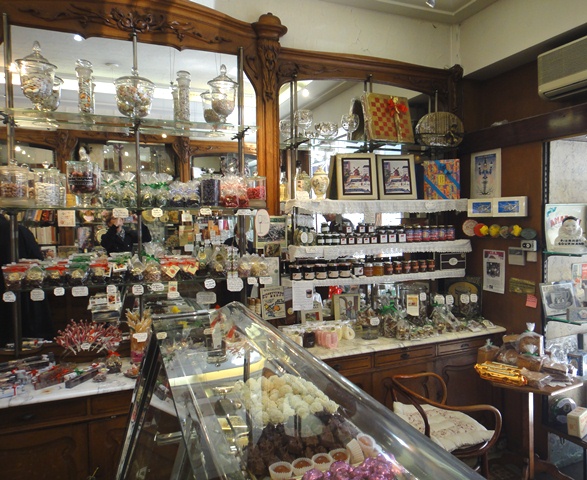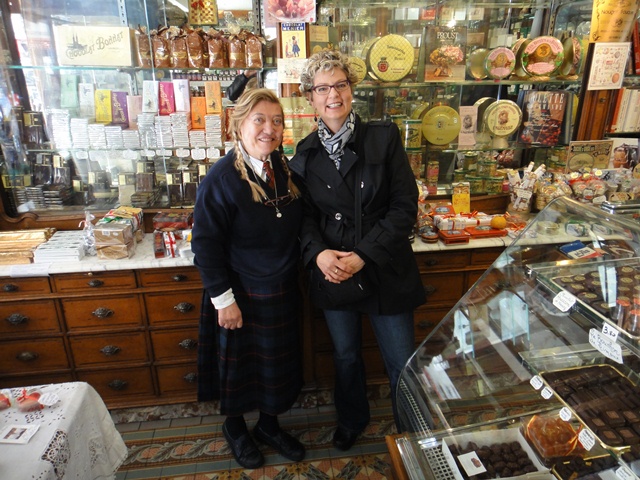 We came back to the apartment (after making a stop at our favorite bakery for more bread) and are doing some laundry before our trip to Brugge, Belgium tomorrow. We're planning on going to the Eiffel Tower tonight to see the lights. I'll post those photos later. I'm not taking my laptop to Brugge with us, so I'll post about that trip when we get back (we're only gone for 2 days). Au revoir!