This is how I started my day today. A wonderful Chausson Pommes from my favorite neighborhood bakery, Du Pain et des Idees.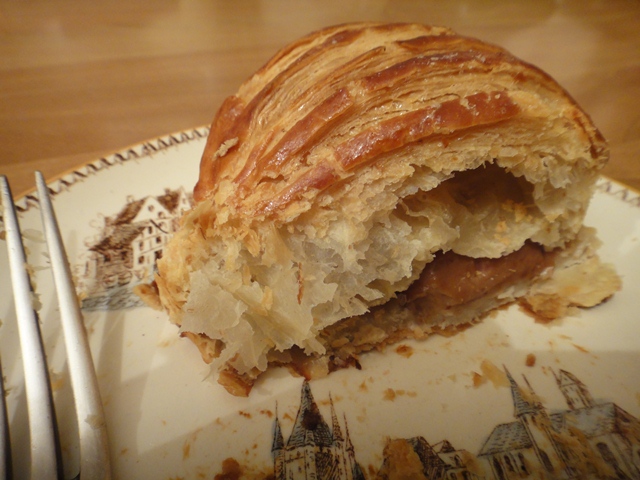 Today was a busy day. We left the apartment in the morning and didn't return until after 11pm. That's the first day we haven't returned to the apartment for a break sometime during the day. And my legs definately felt all of the walking I did.
We had a wine/cheese tasting scheduled for 12:30. We headed out early to find the location, and then just walked around the Seine river for a while. It was another beautiful day.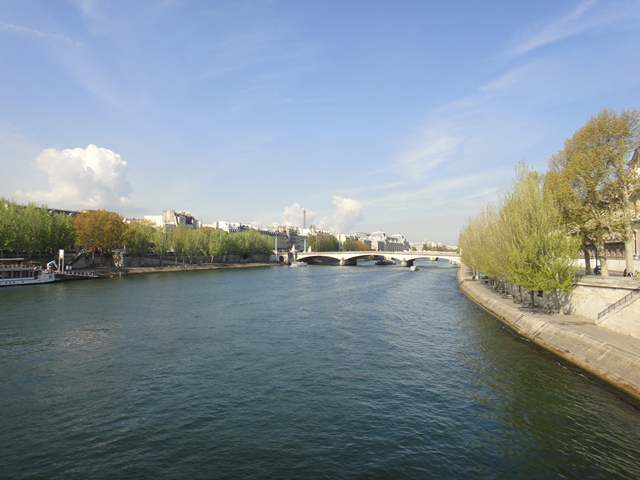 Along the way, we passed one of the bridges that is covered in love padlocks. There are many places around the world where these exist, and multiple stories about how they got started and what they mean. But here, mostly couples have a padlock engraved with their names, sayings, etc. They attach the padlock to the fence then throw the key into the water below.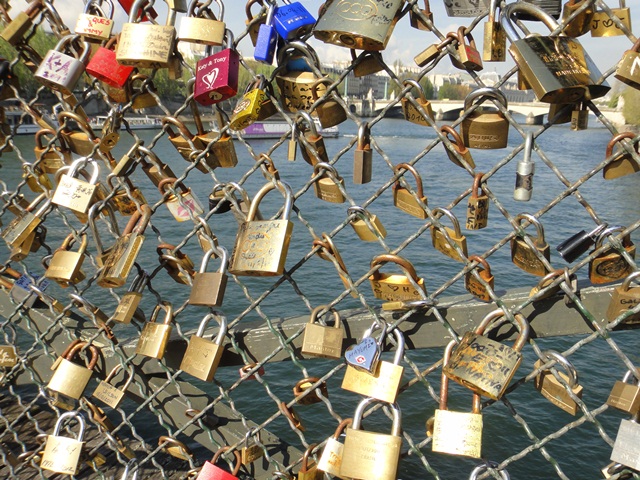 We did our wine tasting at O Chateau. This was a wine and cheese lunch tasting. Scott and I did the same tasting here in 2010, and enjoyed it so much that we suggested to some friends of ours that are here in Paris to join us again. I enjoyed it even more this time than last. We tasted 5 different wines, and had 5 different cheeses, along with some meats and bread. The sommier that led this comes from a 8 generation family of Champagne makers. He was very informative and I learned a lot that will help me in choosing French wines. We tasted a Champagne, a Sancerre from Loire, a Cote Chalonnaise from Bourgogne, a St Emillion Grand Cru from Bordeaux, and a Cotes du Rhone from Rhone. The cheeses were tried were a Cantal, Comte, Sainte Maure de Touraine, Camembert de Normandie, and a Saint Felicien. They were all very good and none too stong for my taste.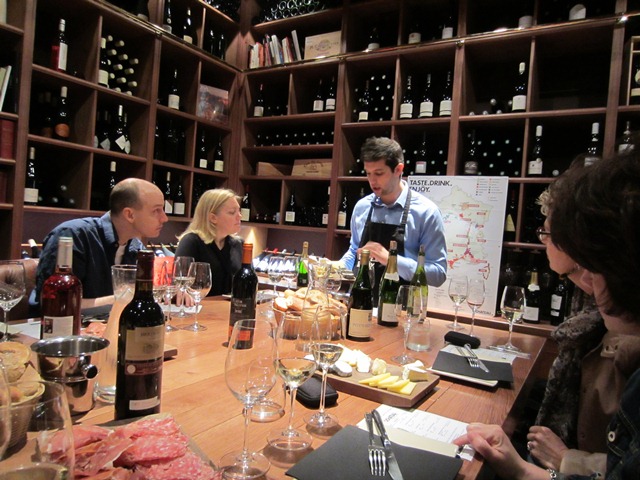 This is me and my friend Markayla. She's from Alaska but she and her family moved to Oslo, Norway a year ago. It was great to spend a couple of days with her and her family.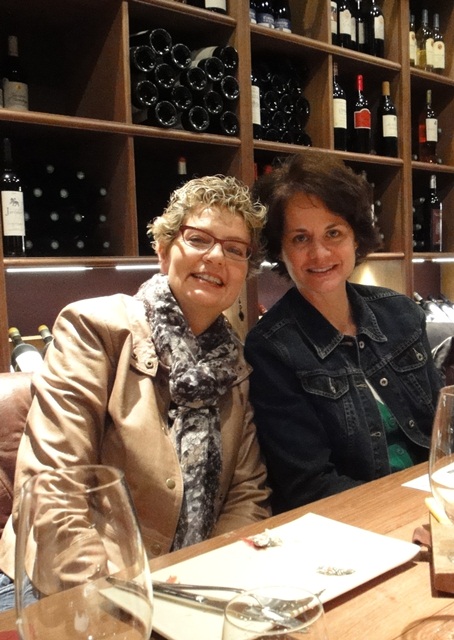 These are the cheeses we ate.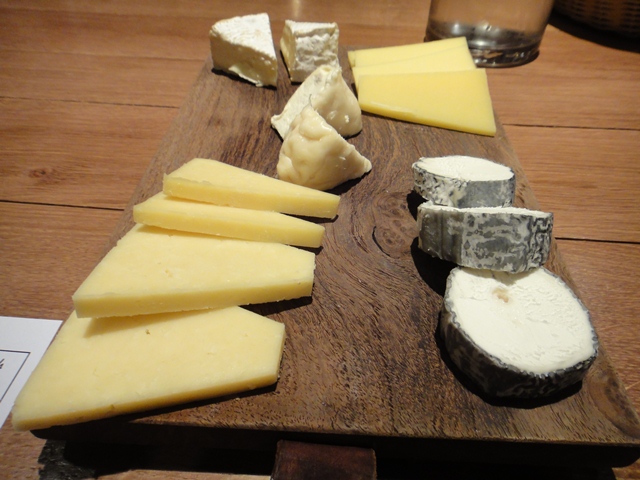 After the wine tasting, we went back to the apartment where our friends were staying, along with my friend's mother in law. The men rested up a while and we women went to a gallery to view an art exhibit. Afterwards we walked to Galeries Lafayette so they could show me the beautiful domed ceiling. I think I might have to make a return trip here and do a little shopping.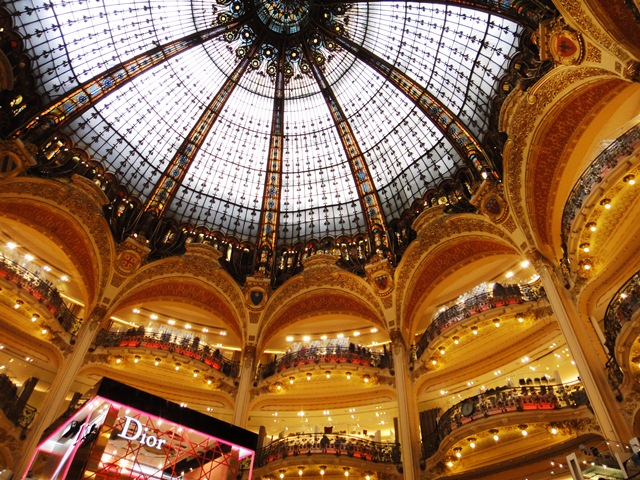 We went to dinner with our friends, along with our friend Jean's brother and his wife. They've lived in Paris the last 5 years, but will be soon moving back to Canada. They made reservations at Restaurant Le J'Go. We had a great evening with lots of good food and wine. I got to taste several new foods that I'd not had before. We all started with a first course. I had Poelees d'asperges vertes. It was green asparagus with pan-fried bacon. The lighting was very yellow in the restaurant, and my photos turned out terrible, so unfortunately, you won't be seeing photos of much. Jean had the Boudin de porc noir with sauce moutarde. He gave me a taste, and this was the first time I had tasted Boudin sausage, a sausage made of pork blood and pieces of fat. I was amazed that I liked it. Scott had a gaspacho of asparagus. I didn't take photos of the main dishes. Scott had roasted duck breast in orange sauce. Very tasty. I ordered a second starter instead of an entree. I had the Croustillants de pied de porc. I didn't know what this was other than pork feet. It was a fried patty of the feet along with a salad of lettuce, with chopped eggs and capers. Very different texture. Very gelatinous. But it tasted very good.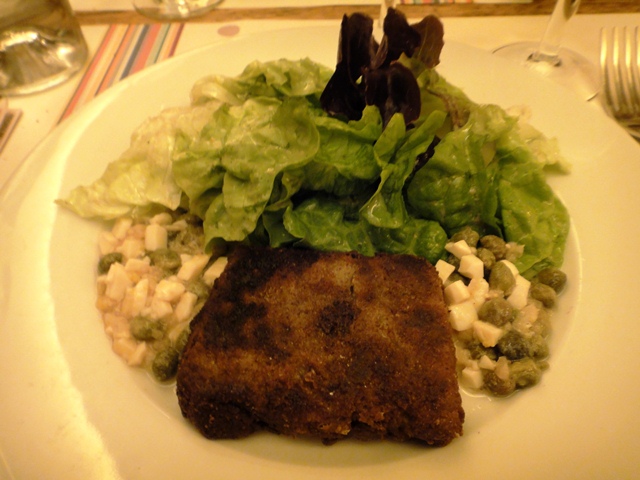 We all had dessert. I had a granita of strawberries. Very light and refreshing. The others had orange soup, a compote of apples and pears, or a Moelleux au chocolate. I won't show photos here, because they just are not good photos.
It was a very enjoyable day in Paris, with good friends, good weather, and good food & wine.